SHARING MY BATTLE Weekly Challenge! STONE GOLEM
Hello Splandsers!
Today I want to share my battle for weekly challenge!, Stone Golem.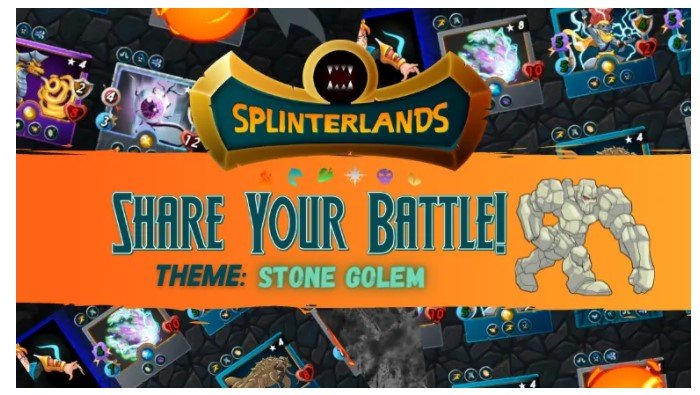 STONE GOLEM
The Stone Golems that reside around the Crags of Maglar are quite terrifying to any stranger who wanders into their domain. In spite of the sheer power and weight of them, these Golems are surprisingly gentle and peaceful. A good day for a Stone Golem is one in which he did a lot of heavy lifting.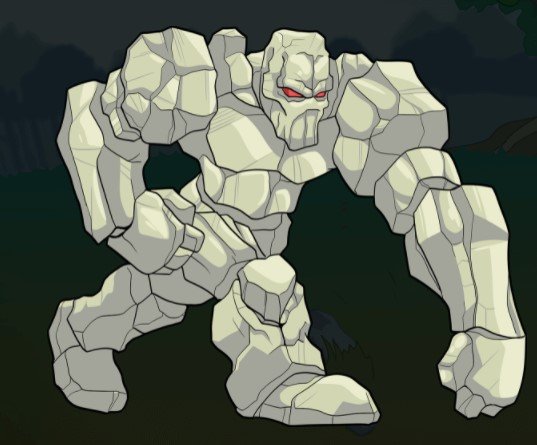 Battle Rule
Explosive Weaponry: All Monsters have the blast ability.
Manacost 22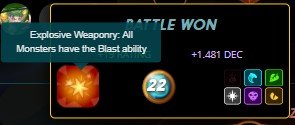 MY LINE UP AND POSITION
SUMMONER: LYANNA NATURA
Reason for Picking: She is a good summoner for a l5 to 20 mana cap battles. Also, she gives all the friendly monsters the "+1 lives" abilities. And the next one I thought is my opponent team is most using Water Summoner. So I choose her for magic attacks defence.
First Position Tank: Failed Summoner
• Reason for Picking: I choose him for the first tank because I want to reduce opponent team's damages and reflect some magic attacks. He is a common card of Earth Monster. He use mana cost 2, give speed 2 and lives 4.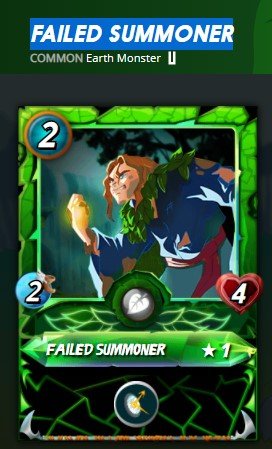 Second Position Tank: Stone Golem
• Reason for Picking: The best tank for a low mana cost battles. I like his ability that is to reduce some damage from melee and ranged attacks. He use mana cost 5 and gives speed 1, mele attack 1, lives 6 and shield 2.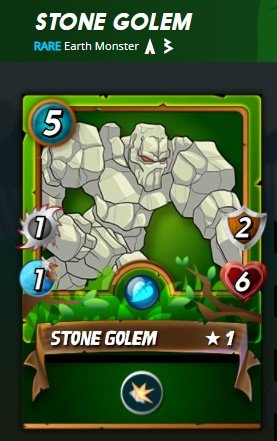 Third Position: Mushroom Seer
• Reason for Picking: A good rare card of Earth Summoner. He provides magic damage which is good support. I like his ability: Reduce the magic attacks of all enemy monsters. He/she use 5 mana cost, gives speed 1, magic attack 2 and lives 3.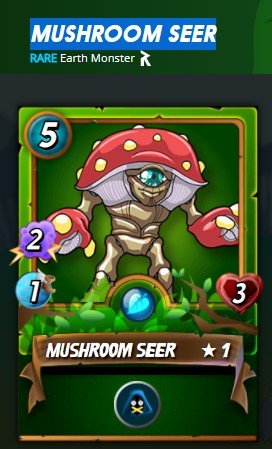 Fourth Position: Javelin Thrower
• Reason for Picking:A good ranged attacker. She is also a rare card of Earth Summoner. Mana cost 5, speed 4, range attack 2 and lives 4. "Piercing" is her special ability.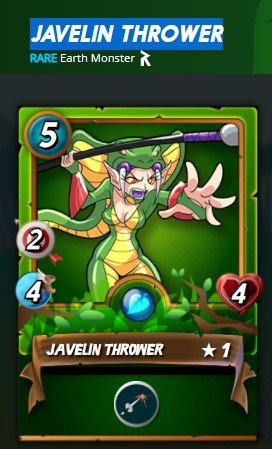 The last Fifth Position: Browine
• Reason for Picking:One of a good rare card of Earth Summoner. . Mana cost 1, speed 4, mele attack 1 and lives 1. "Swiftness" is his/her special ability. He/she is a cheap mana cost and good support speed upgrader and so I like this card.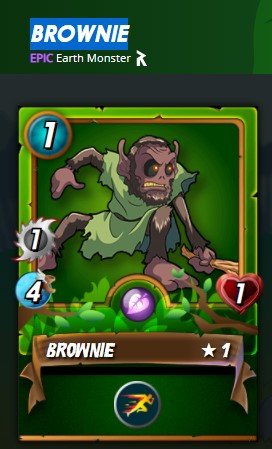 OK Lets See BATTLE ROUNDS
Game Rules: Explosive Weaponry
Mana Cost: 22
(PLAY BY PLAY)
==ROUND 1==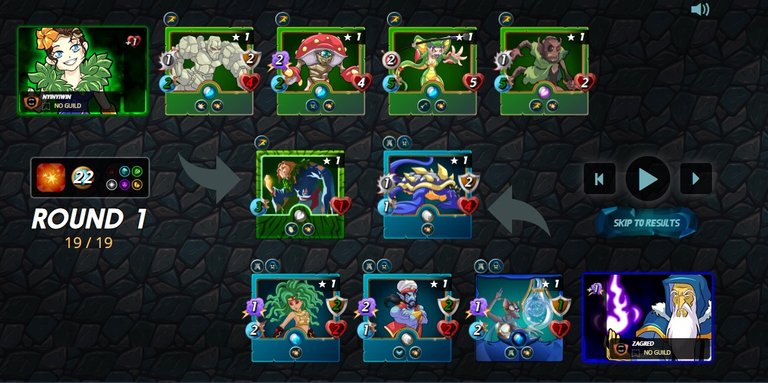 At the start of the first round after seeing my enemy used Water Summoner, It turned out as I expected. I knew that I will have the advantage as soon as the tank gets killed. At that first round end my First tanker the "Failed Summoner" is making good returns magic attacks.
==ROUND 2==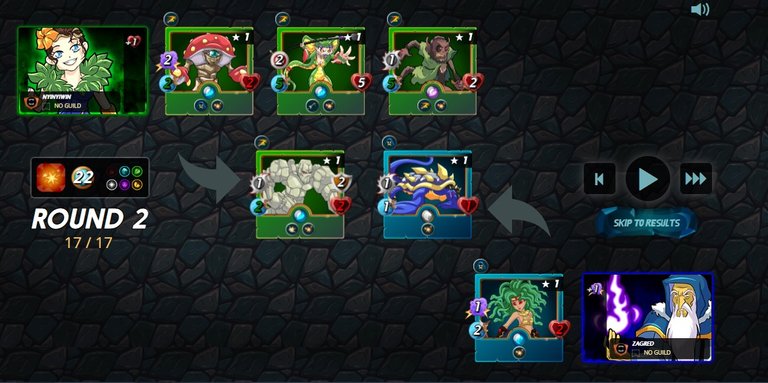 Enemy tank is now at 1 health and my first tanker "Failed Summoner" is fall. But my follower attacker "Mushroom Seer" and "Javelin Thrower" are knock down the enemy team follower monsters.
==ROUND 3==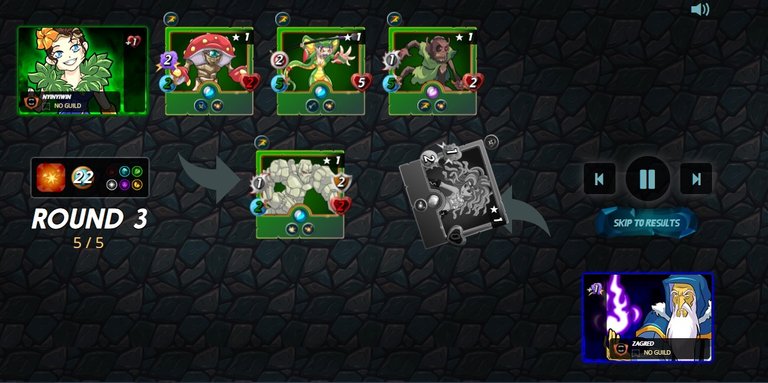 My guess is that my team's performance is absolutely excellent. The last enemy monster is fallen and my team is fall just only one first tanker.
Battle Results Reaction:
An excellent tank performance by Stone Golem and Failed Summoner that leads my team to victory. With the combined attacker of magic and range at the back with a backup 2nd tank behind Stone Golem. That was a great lineup for an Earth Elemental Team for a 15 to 20 mana cost battles. The victory was definitely won.
Tell us about your lineup
My lineup are consists of 2 tanks, first tanker is use for absorb damages and reflecte some magic attacks and second tanker is use for complete best tank. Then follower monsters as 1 magic attacker, 1 ranged attacker and one speed supporter.
Did your strategy work?
Yes it did work as the Stone Golem provides a good tanker at the first or second positions and the attackers behind are great support dealing damages.
What will you try differently next time?
I would love to twist some changes. But for now I like that lineup to work as it's really a good combination.
However, if I will use a higher level Stone Golem in the future, I will definitely use better cards to team up with.
Do you like the STONE GOLEM? Why or why not? ?
Because I'm in the
Bronze Leagues
, I love to use
Stone Golem
for a bronze leagues especially with low-cost mana battles.
In the future, I will try to use it on higher leagues as soon as I find my way as well to climb up there first.

If you want to watch the full gameplay of the game, please click on the gameplay link below:
If you are now ready to experience this, feel free to sign up with my ref link below –
(https://splinterlands.com?ref=nyinyiwin) to join this wonderful game and community at SPLINTERLANDS.
You can also see my battle gameplay at Twitter-

All images are take from Splinterlands Game sources
Special thanks to Splinterlands Game
Thanks you for visiting mypost. Good luck and see you around.
@nyinyiwin

---
---