Just Hosted My 1st Splinterlands Workshop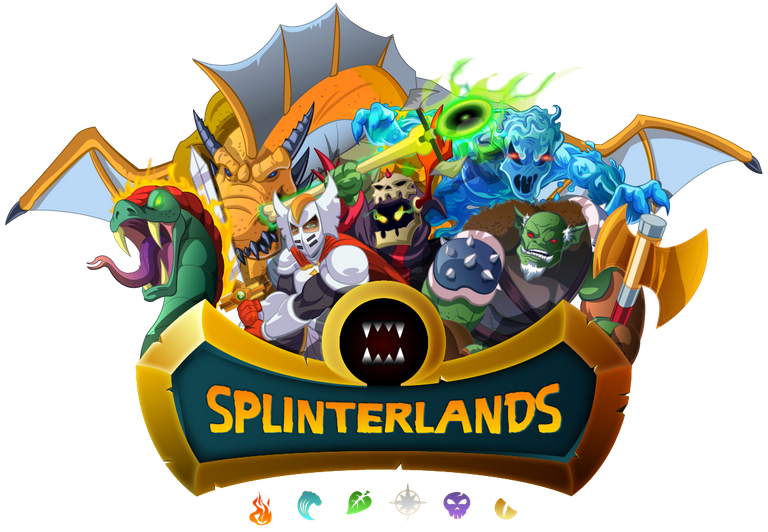 This past Sunday I hosted my 1st Splinterlands webinar for new players. The webinar was the final session of a 3 day HIVE workshop I made available for members of my discord. I started the Discord server roughly 2 months back to serve as a hub for all the individuals I network with and introduce to the crypto space.
As I stated earlier, the Splinterlands webinar was just one of a three day workshop focused on the HIVE blockchain as a whole. I've found that teaching individuals the HIVE ecosystem pretty much checks all the boxes when it comes to providing the whole Web3 experience (DeFi, trading, play2earn, content/asset ownership, etc.).
With that said, Splinterlands is a beast of an ecosystem on its own, and with the huge surge in Splinterlands users and the play2earn niche as a whole, I felt it having its own day was necessary.
The webinar ended up lasting 3 hours, just like the previous 2 HIVE sessions. Here is the mind map I used as a reference point. I'm old school and I've grown weary of having people look at boring slides during a screen share so I put it on paper and present from there.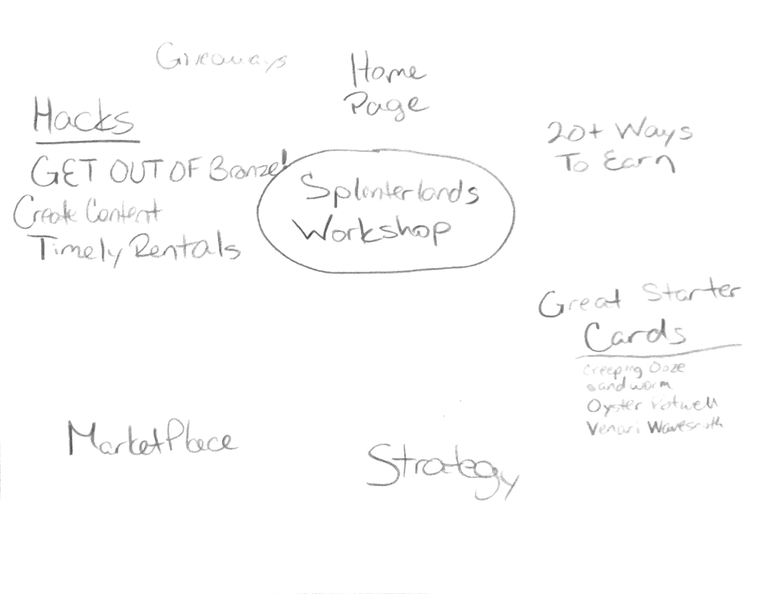 Usually when I present anything crypto-related, I like to start from the home page (12 oclock). This lets listeners hear the vision straight from the horse's mouth. So we started the workshop at the Splinterlands home page, Splinterlands.com.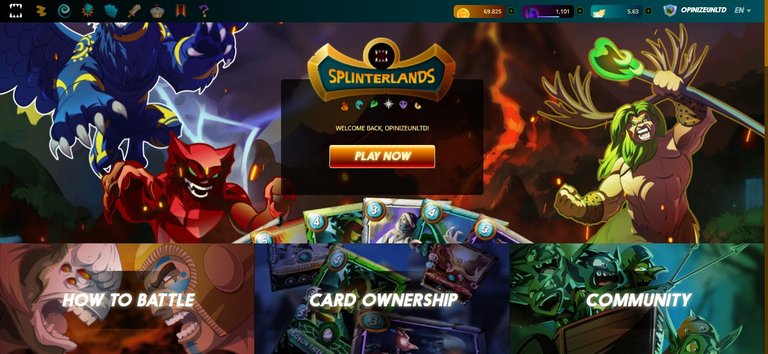 Home Page
Reading through the home page for my attendees made it easy to explain what Splinterlands is all about and directed them to 3 great resources to get more info and stay up-to-date.
The Discord, the Splintertalk blogging platform, the Telegram group, and all the social media handles. I find the Discord, Splintertalk, and Twitter page as the best resources for me.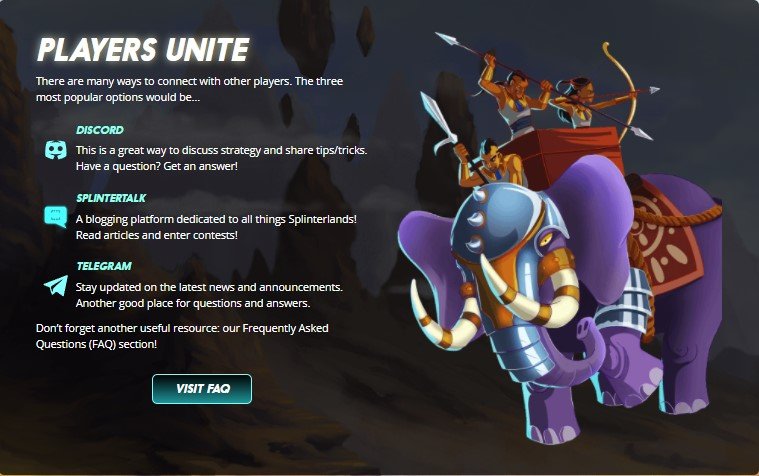 20+ Ways To Earn!
This teaching point was directly inspired by @rosiew's post, Splinterlands: 21 Ways to Make Money in this Crypto Trading Card Game. I wanted to show the value that Splinterlands gives back to players who commit time and/or funds to the community and this post did a great job of explaining the opportunities front to back.
Let's be honest, convincing adults its worth their time to learn how to play an online game can be a challenge. But using @rosiew's post as a reference to lay out the incentives made it that much easier.
To just name a few there is battling, staking, curating, providing liquidity, daily quest rewards, season rewards, trading cards, renting cards...and the list goes on.
Great Starter Cards
For those that actually want to focus on the play2earn aspect of Splinterlands, it was necessary to suggest some cards to snatch up on a low budget while they're still learning the ropes. Some cards I mentioned were Creeping Ooze, Sandworm, Owster Rotwell, and Venari Wavesmith.
I also mentioned the Furious Chicken, Axemaster, and Prismatic Energy for those looking to spend a little more to grow their deck.
Strategy
To show strategy to the players we played a few practice games and I went through my daily quest after renting up from the Silver 3 league to Series 2 (to show how that process works). Through these games I discussed basic strategies and how the different Splinters effect the game.
Marketplace(s)
Next it was on to the marketplaces. The marketplace environment on Splinterlands is a deep rabbit hole of its own so I only scratched the surface. Made a few rentals on PeakMonsters and a couple purchases on MonsterMarket, and explained why I used each platform for a specific function.
If you're not aware, PeakMonsters is the main marketplace for Splinterlands. It provides the most data, filters, and a robust rental market. MonsterMarket on the other hand gives you in-game credits as cash back when you purchase monsters for your collection.
Hacks
I went over 3 "hacks" I felt new players should utilize if they want to boost their earnings.
a) GET OUT OF BRONZE! - Whether its through buying or renting cards, don't spend too much time playing in the Bronze league. You want to at least be playing in the Silver league so you're eligible to receive Dark Energy Crystals (DEC), the in-game currency, and more season/daily quest rewards.
b) Create Content and/or Engage - Creating gaming content on HIVE is very rewarding at the moment. All the gaming communities here seem to have a great chemistry and are playing their part in pushing HIVE as a Web3 gaming hub.
By posting content in these communities you can earn crypto that can be used to invest back in the game, or HIVE in general. So if you want to stay in the know about play2earn gaming you should be engaging with the following HIVE front-ends:
Splintertalk.io
1Up.zone
Hive Gaming
And I couldn't forget about HIVE Pizza. I just recently took the time to look into the project and its a great one to tap in to. They're an active group and do a bunch to spread the love here on HIVE, especially for newcomers and in the art & gaming communities.
c) Timely Rentals - I thought it was necessary to go over the ebb & flow movement of the rental market and how renting towards the end of the season has its pros and cons.
For example, on one hand renting towards the end of the season may give you access to more season rewards, but on the other it will be much more costly because of the usual spike in prices at the end of each season.
Giveaways
When I can help it, I try to provide as much free information as possible to those genuinely trying to grow their knowledge base in this "New Money Matrix" (credit that quote to great educator @amir-el). So just attending my virtual HIVE workshop was free. However, to have access to the giveaways there was a paid option.
Those willing to pay for the 9 hour workshop received the following perks:
10 HIVE Power Delegation
Dark Energy Crystals to purchase Spellbook
Splinterlands In-Game Cards
I also walked all attendees through how to properly construct an Intro Post for their HIVE profile. When it was all said and done the workshop paid for itself.
Takeaways
Following the workshop I received some great feedback from the attendees (roughly 5-7 during the live webinar). A few of them are already hooked so I'll continue to guide them to my best ability. I'm glad I recorded all the sessions because the 3 hour webinars were very demanding. I didn't want to cut corners so the time spent was necessary.
Hopefully this post can help others, both sharing the game and those that are new to it.
---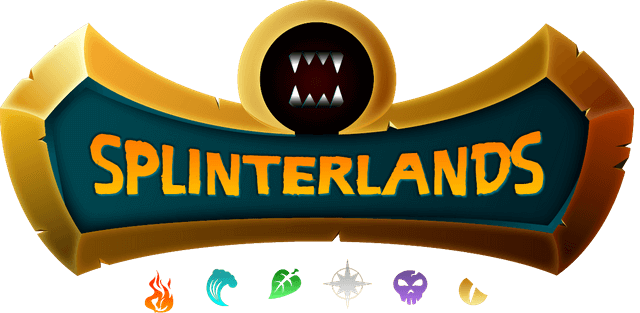 art by
@flauwy
JOIN THE SPLINTERLANDS!
---

Hop in the 1Up Zone!
---
---