SHARE YOUR BATTLE Weekly Challenge! MAGI OF CHAOS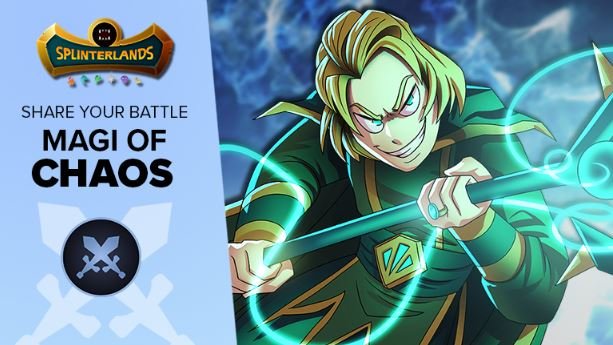 Hello there.
Today I'll share my battle using the Magi of Chaos card. It is a Neutral Epic Chaos Legion card. It has 2 Magic damage at 1BCX which is good when you want to focus on damage. It has average stats for 6 mana, but being a Neutral Monster makes it usable in all summoners.
---
The Ruleset:

We have a medium mana battle with Armored Up, and Keep Your Distance Rulesets. Only Water, Earth, and Dragon are available. Just looking at this I can tell that Magic is going to be the way to go. The extra armor makes Ranged awkward, and with no melee available, the Unicorn Mustang is gone which is a big magic deterrent. I'm definitey using Bortus for this battle.
For Water, I'm thinking they can use Oshannus or Nerissa. I plan to use Oshannus to counter magic, and add a Merdaali Guardian to hopefully out sustain them even if they use Bortus.
For Earth, they can use Goblin Psychic with Mycelic Slipspawn so I need to deal more than 3 damage per turn to deal with the heal.
For Dragon, they usually have high mana, so I don't expect them to go for this.
---
The Lineup:
| Card | Ability | Comments |
| --- | --- | --- |
| | All enemy monsters have -1 magic attack | With the rulesets, magic damage is the obvious choice. So I need to reduce that with Bortus. |
| | [Dodge] | I had 1 extra mana so I used the Chaos Agent to take a hit |
| | Void | Oshannus is a very strong card with Void that should counter most of the opponent's teams |
| | | I need a 2 magic damage attack in case the opponent used Kelya with Void or the earth team mentioned above. |
| | Tank Heal | I want the heal to out-sustain their damage |
---
The Battle:
---
Round 1: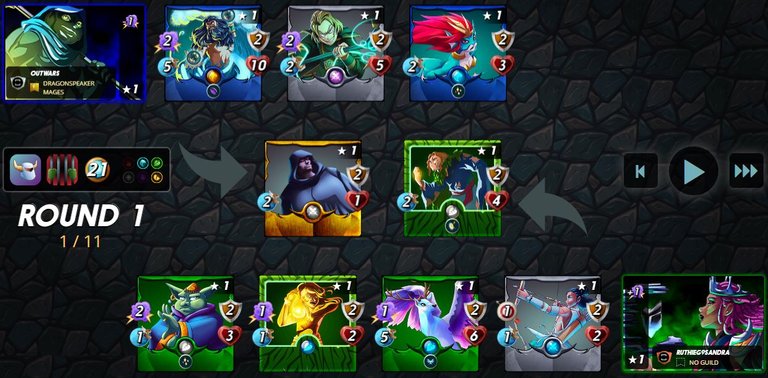 The opponent used an interesting team comp that I didn't consider. I think this is supposed to counter the Mycelic Slipspawn+Goblin Psychic team I mentioned above. But against my team, it should be an easy win for me since they can't kill my Oshannus.
Round 2: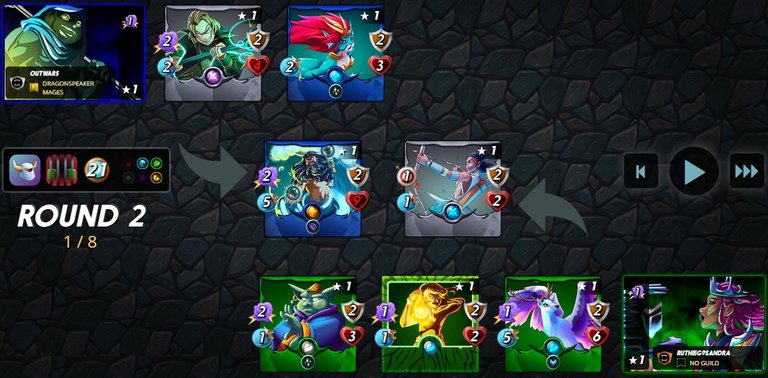 The failed summoner died on the first turn which was supposed to be their main tank. The 2 magic damage of the Magi of Chaos helped kill it quicker. If I had used the Ice Pixie with another magic monster this fight might have taken longer.
Round 3 - 6: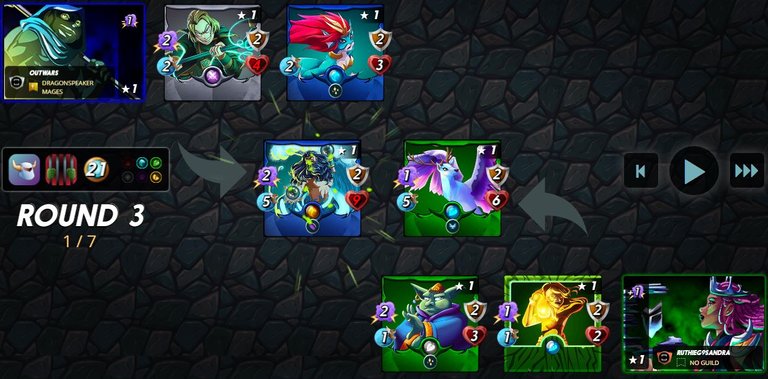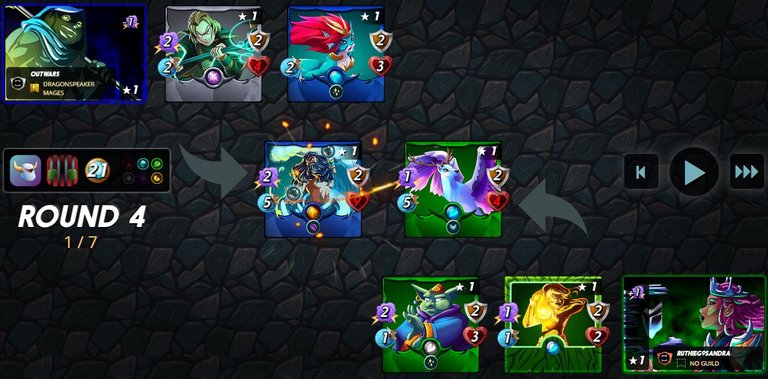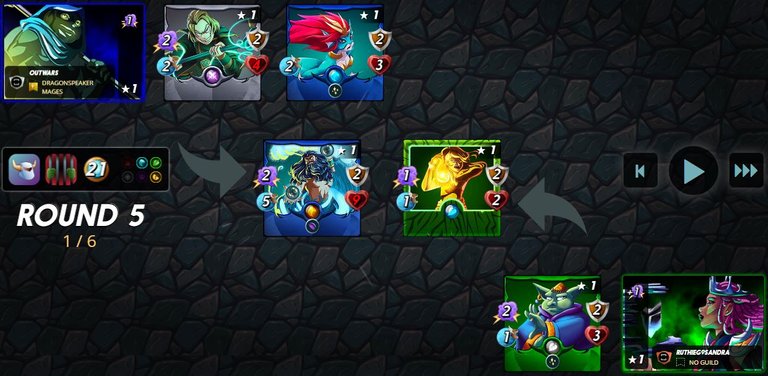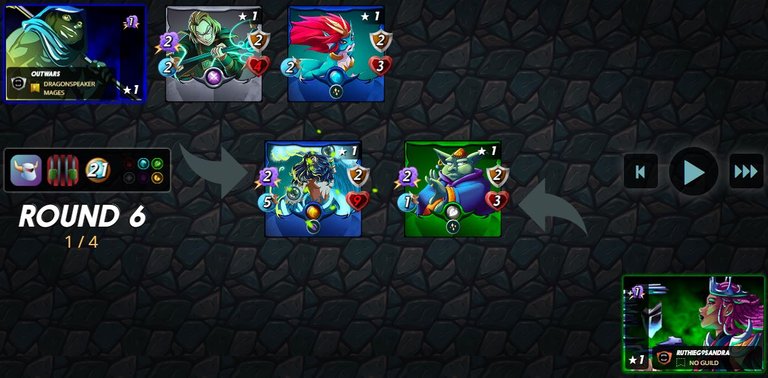 Since I cannot kill the Regal Peryton in 1 turn, the fight extended a bit, but I won easily.
---
The Result: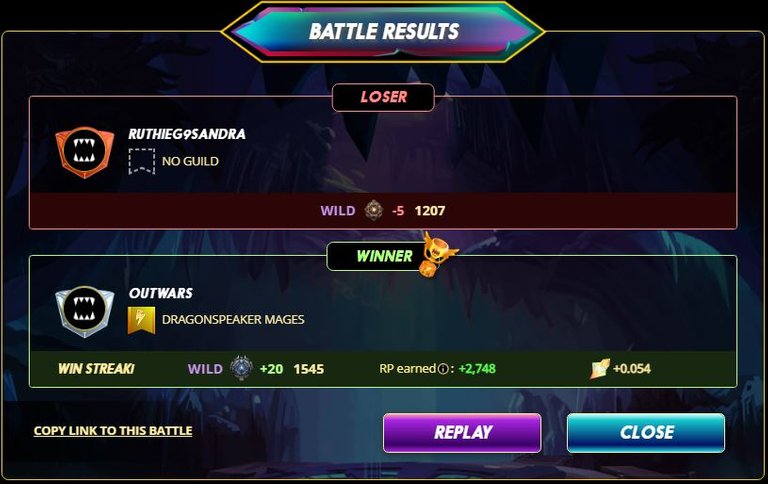 ---
Conclusion:
I think the winner was decided before the battle even began. My opponent tried to counter a different team comp, while my team counters theirs completely. For my side, I think I was flexible enough and was ready for the different teams that my opponent can use against me.
---
---