Splinterlands Week's Update Summary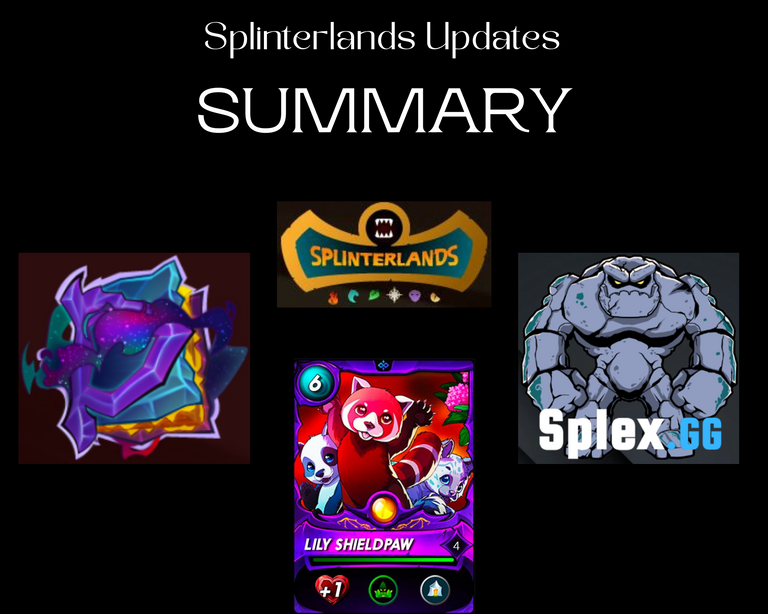 Hello there.
I know that in my last post I said I'll be posting about 1BCX cards. But over the past few days Splinterlands decided to put out a lot of updates and information, that I think I need to talk about.
This post is a summary of the things that are relevant to me, and for smaller/newer players. There are some topics like land that I won't touch on since 1. I don't have land, and 2. I don't have the funds and leveled up cards to build on the land and take advantage of it.
Without further ado, let's get into it.

Chaos Legion Pack Event
The first topic is about the Chaos Legion Pack Event. At the time I am writing this, there is only 111,163 packs left before the Legendary Summoner is released. Aside from its release, Splinterlands decided they will celebrate the end of CL Packs with an event.
Splinterlands will take note of pack buyers AFTER the 14M packs have sold. They will rank them based on the amount of packs bought. The top 10 accounts will receive Runis, and Land plots.
I will have to reiterate that only packs bought after the 14 million packs threshold will count towards this event. This is the list of rewards:
100 land plots
50 land plots
25 land plots
7 Runi
6 Runi
5 Runi
4 Runi
3 Runi
2 Runi
1 Runi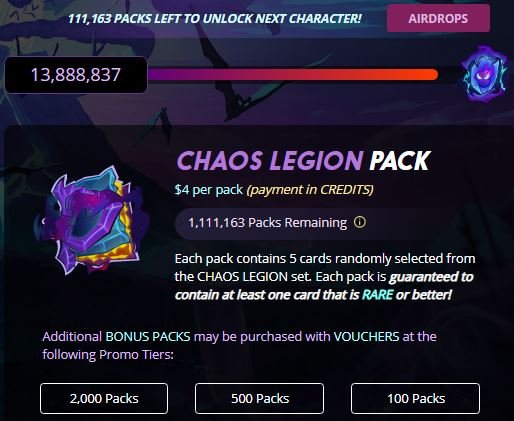 The rank 10th account will receive 1 Runi, while the rank 1st account will receive 100 land plots. While this might seem a lot, do note that group buys are allowed. In previous pack events, some groups offer discounts and a share of the rewards depending on the contribution. I probably won't be joining these, but I would like to highlight some effects of this event.
Chaos Legion packs are only 15M. The even will start when there is only 1M left, but that is not entirely true. In previous updates, half of these packs are already reserved. 200K packs will be reserved for the NFTY arcade plan, where they will create decks from these, and have them listed in NFTY arcade for new players to use. 300k packs will be kept for Season and Focus Chest rewards until Rebellion comes out.
That just leaves 500k packs left for this event. I'm not trying to bring hype or give financial advise, but together with this event and the daily burning, CL packs can be gone sooner than most think.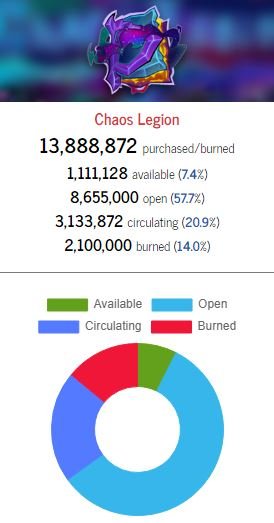 Another thing to consider is that there are still 3.1 million CL packs that are unopened. I'm assuming a lot of those will be opened once all airdrop cards are available for max value. Of course, a lot will still hold and sell it for profit. CL cards and pack prizes can increase a lot once it's out of print due to the FOMO, go lower once people realize there are a lot of it still in circulation, then eventually go higher in the long run once more are opened and combined resulting in scarcity. So plan accordingly what you want to do.

Dragon Summoner Lily Shieldpaw
The next topic is the next airdrop Dragon Summoner, Lily Shieldpaw. The art was decided by Byzantinist and the Red Panda Pool group, who were the highest pack purchasers during the pre-sale. You might recognize Byzantist who is also responsible for the Byzantine Kitty card.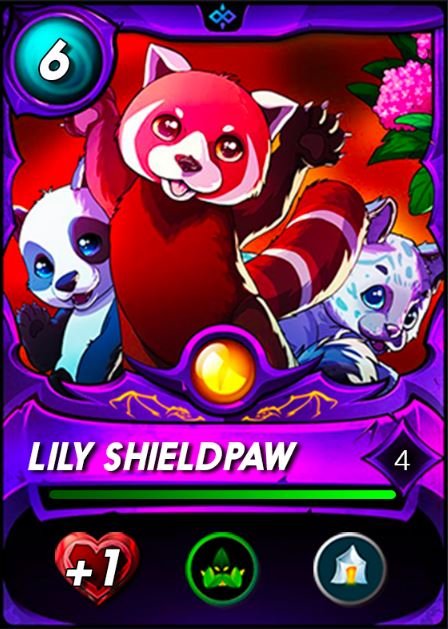 Lily Shieldpaw is a Legendary Dragon Summoner that gives allies +1HP, and the Camouflage ability. It also has Triage that can heal the backline monsters. It is safe to say that because of this card the Scattershot ability needed an update. Scattershot will now be able to hit Camouflage monsters in the backline. Using Taunt with Lily Shieldpaw will still work. The team made it so that Taunt takes precedence over Camouflage.
Since Scattershot was buffed, and because it is very useful in the Explosive Weaponry ruleset [Blast], some interactions need to be updated. Dispel and Life Leech won't active/apply their effects on the adjacent targets damaged. Only the main unit hit will be dispelled, as well as give Life Leech HP.
| Good With | Good Against | Weak Against |
| --- | --- | --- |
| | | |
Lily Shieldpaw has not yet been released, but these are the abilities that I think are relevant to it. Since the Backline has Camouflage, it is like you have a Taunt monster in the first position, since all attacks apart from Scattershot will hit it. You can also put a Taunt monster at the last position if you want to split the opponent's damage. Either way, having a Reflection Shield next to the first monster, and the Taunt monster is ideal to protect against Blast damage.
Choosing the first position monster is very important. If you can use one with Immunity, that is a lot of debuffs that you won't have to worry about. Harklaw, Caladuum, Forgotten One, and Almo Cambio are some of the ideal ones. If you can't use one with Immunity, it would be best to support it like a Tank monster. Stock up on Tank Heal, Cleanse, Resurrect, Protect, and Repair. For the backline, getting monsters that have low HP initially but can grow stronger over time are good since they are harder to hit. Life Leech and Scavenger are good abilities to have apart from the support abilities.
Lily Shieldpaw is insanely good against Opportunity, Sneak, Snipe, and Blast because it can direct most attacks and deal with them. It is weak against abilities that can work around its Camouflage and Triage. These include Affliction, Cripple, Scattershot, and Redemption. Since Taunt has good synergy with Lily, it is possible that a lot of opponents will bring Fury once they see you use Lily a lot.

Season Rentals and Market Listing Fee
Starting soon, the team will be implementing the Season Rentals and on March 7, 2023, the Market Listing Fee. Season Rentals has been requested by a lot of players for a long time. Currently you can rent cards on the market for how long you want, but if the owner decides to cancel your rental, you won't be able to do anything about it. This frequently happens near the EOS, where owners cancel and relist their cards for higher profit. With Season Rentals, I assume the game prevents the owner from cancelling the rent until the current season is over. From the image the team provided, the owner will set the rental price per day. So even if you rent in the middle of the season, Season rental price will still stay the same.
For the Market Listing Fee, this will apply for both Selling and Renting. Whether you want to sell a 1BCX card or a Max BCX card, a 1DEC fee will be charged. For Renting out cards, it applies for the initially listing, as well as the repricing of the cards. If the account doesn't have 1DEC in the account, it will then use 1Credit. So if you are using automated rental services like Splex, you can accrue a lot of charges with the way things are set up. Splex has released a statement that they are coordinating with the Splinterlands team, but as I am writing this, there have been no concrete statements yet on how they plan to adjust to this.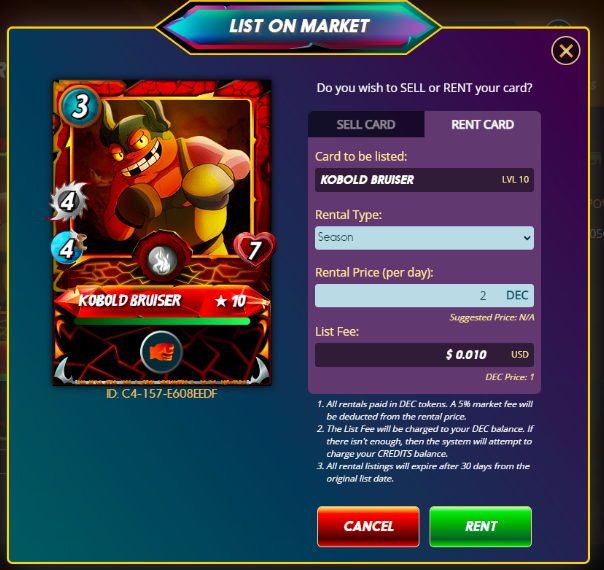 One thing to note is that if a card is not sold/rented after 30 days, it will automatically be delisted, and you will have to list it again and pay the fee. If the card IS rented within 30 days, its timer will reset to 30 days again. If you want to sell a card, I think it would be ideal to check check the bids to make sure you have a buyer, or set it a little bit higher if you want a chance to increase your profit.
If you want a silver lining, it is that the DEC collected from the fees will be burned. A lot of people are thinking that high BCX cards that get rented for a lot will not be too affected since the variance in profit can possibly pay for the fees. It is the 1BCX cards that are being rented out for .01DEC that will be greatly hit. Whether the amount of DEC burned is high or low, it will still help in pushing DEC to peg.
Some are saying rental prices will increase to 1.1DEC to offset the fee, while others are saying there will be even more .01DEC or lower because people will be fighting to get their cards rented, and not get delisted. As someone who rents out cards and rents cards, I will try to monitor the market after this change and adjust my strategy accordingly.

And that is it for my Splinterlands Week's update summary. Unless the team decides to drop a lot of information again next week, I plan to go back to my regular posts. Don't hesitate to share your thoughts in the comments, and I'll be happy to have a conversation with you.
And as always, these are Not Financial Advice, and Do Your Own Research.
If you want to start playing Splinterlands, you can use my link:
Splinterlands Referral Link
---
---