Pick your Epic Reward Card Giveaway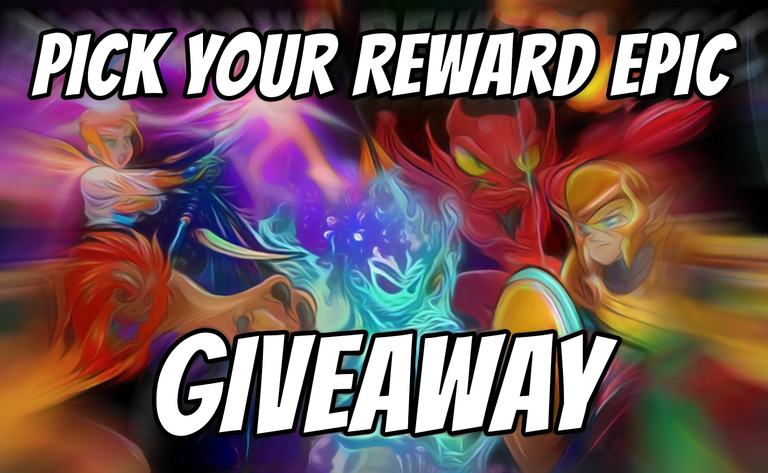 Epic Reward card of your choice Giveaway!
Yes no stress getting an epic reward card in your dailies or end of season rewards, just get lucky here and choose your most wanted Reward Card Epic!
💬 Comment the Epic Reward Card you want and you will enter the #splinterlands magic wheel.
You can earn extra entries by:
📧 Resteeming this Post
👉 Tagging a fellow addict
Winner Rare Summoner
Big thank you for engaging to:
@anouk.nox.spt, @axeman, @bitandi, @chireerocks, @cryptictruth, @ctrpch, @darkmrmystic, @definethedollar, @dexpartacus, @dogcatcowpig, @dumitiu, @elpenyar, @gillianpearce,, @gregory-f, @handtalk5, @heraclio, @hetty-rowan, @iike, @javiermurillo, @jjzigen0120, @jmehta, @johndoer123, @joseacabrerav, @jznsamuel, @karinxxl, @klismois, @lammbock, @lebastion, @lordwinty, @lozio71, @meditations, @methus, @minimining, @mk992039,, @newageinv, @pardinus, @pataty69, @philippekiene, @poyim, @ronaldoavelino, @sashas, @sumatranate, @taintedblood, @travoved, @tryskele, @tsnaks, @viniciotricolor and ofcourse @wonderwop (nice one Selenia😊)
And the winner is....
And the lucky winner is @viniciotricolor! You whished for any summoner so I have watched your deck and all summoners were the same level. So I have send you a Lyanna Inatura. Have fun with this nice card😍
Thank you for your time and meet you on the other side!
Proud member of Immortal Gods!

Proud citizen of NeoXian City!

---
---