NEW FEATURE: CREDITS for BIDS is here!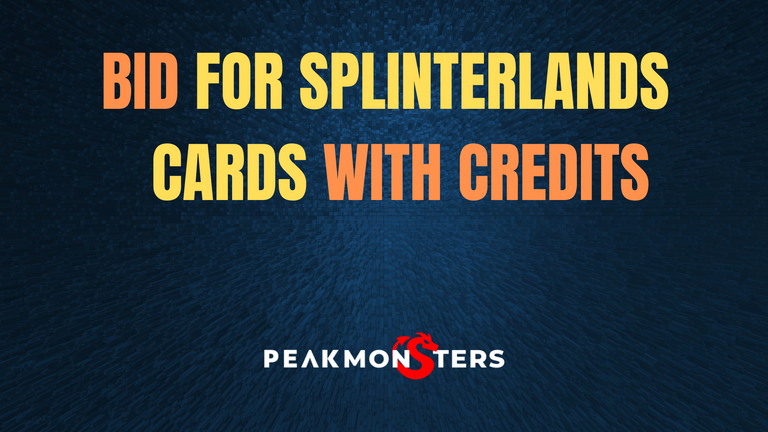 One of our most awaited features is now here! You may now use your Splinterlands CREDITS to BID for Splinterlands cards in PeakMonsters.

How to use CREDITS for BIDS?
Step 1: Allow CREDITS in Settings & Authorities
While logged in on PeakMonsters, click on the dropdown menu beside your username, then click on Settings & Authorities.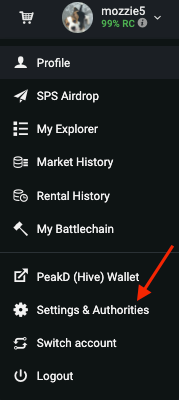 Settings & Authorities
After that, a pop-up similar to the one below will show.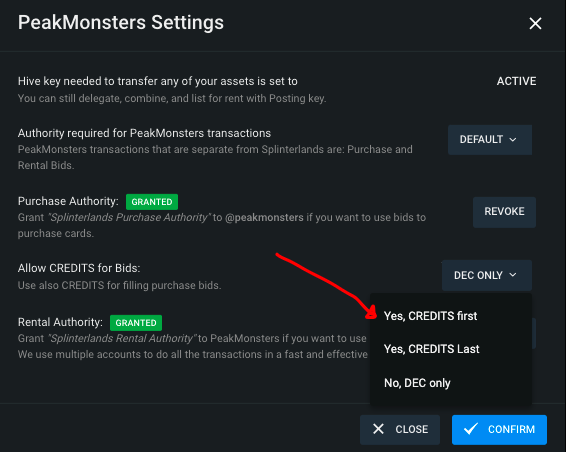 Allow CREDITS for Bids
Click on the dropdown beside Allow CREDITS for Bids, then select which option you prefer. You may choose to keep using DEC only or start using CREDITS by selecting one of the other two options.
Step 2: Place a purchase BID
After allowing CREDITS in the Settings & Authorities, the rest of the steps are now similar to how you would normally place a PeakMonsters BID on any Splinterlands card before.
While we are in the PeakMonsters marketplace, click on the BID button for your desired card.
If you are not yet familiar with placing BIDS for Buying Cards in PeakMonsters, we highly recommend that you check out this post.

BID button in Compare View
After that, setup the parameters for the cards that you want to buy. In this example, we will be placing a bid for 1 BCX of Uraeus at 0.298 USD.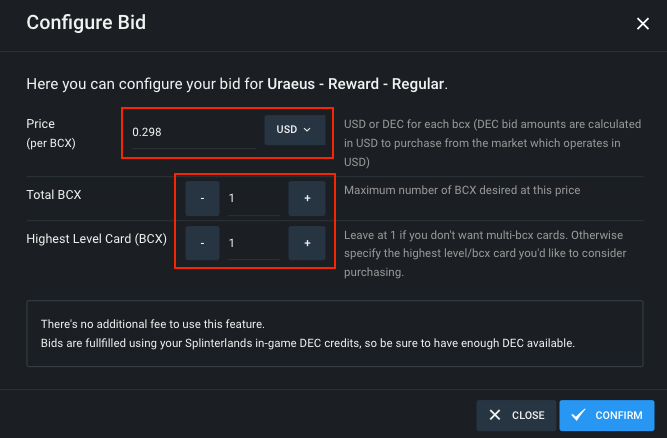 Configure BID pop-up
Step 3: Wait for your BID to be filled
For the final step, you simply have to wait for your bid to be filled. You may check your existing bids in your Profile page under the bid tab.

BIDS tab in Profile Page
As you can see on the image above, our Uraeus bid was filled. If you view more details on it, that purchase was actually filled at $0.292!
Was it purchased with CREDITS?


CREDITS history
Yes! Our Uraeus bid was purchased with CREDITS. As we can see, we were deducted 292 CREDITS from our sample account.
That's all folks. We hope that you love this new feature for PeakMonsters BIDS. As always, feel free to comment down below if you for your feedback and any issues encountered with our new feature.

PeakMonsters and Splinterlands links:
Other Social Media accounts:

---
---