Chaos Legion Packs: Worth it for 8USD?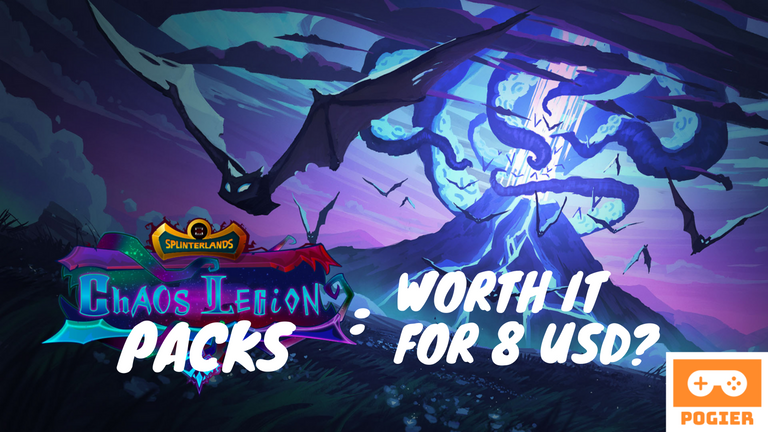 So with all the hype from the Chaos Legion presale almost over, we'll soon be entering the next sale, which will still require vouchers. Let's not forget the news regarding the group sale (formerly called private sale). Despite these information, why are there still people buying packs on the secondary markets? Let's check it out!
The Chart

As you can see, the price of a pack on the secondary market is more or less 8 USD. On average, 33k USD worth of packs are being traded daily. Does this mean that the market has already decided that this is the fair value? The more important question is, "Is it worth it?"
Benefits of Purchasing Now
Maximizing SPS Airdrop
With 300 aidrop points, it's expected that you'll get 9 SPS for every pack purchased. BUT, just to be on the safe side and considering the rise of overall airdrop points, then I think 5 SPS per pack can be a safe assumption.
Sure packs to open on December 8
We all know that the moment that CL comes out, people can dictate whatever prices they want, and some cards are sure to cost way more than they're really worth. This is the best time to sell those cards. The next time the cards will be that expensive is probably a few months after the packs get sold out.
Guaranteed Value on Initial Investment
If we look how DICE went more than 40x after 6 months, we can assume that the CL packs will go 10x once the packs are sold out. So for those looking to secure as much Chaos Legion packs as possible, then by buying at 8 USD, they can still be sold for a 4-5x profit after a few months.
Should you Purchase Now?
That's up to you. I'm going to try my luck with the pools especially by those reputable ones in the community. Hopefully I can get a lot of packs then.
Did I buy some packs from the Hive Engine?
YES! I'm so excited for the Chaos Legion to arrive and I'm sure I want to be part of the group that opens packs on day 1!
A few more days left before the Chaos Legion Arrives. How are you preparing?


If you want to create a new account, feel free to use my referral link below! I'd be happy to delegate some cards to help you get started.
https://splinterlands.com?ref=pogier
---
---