Chaos Legion: the Hope of the New Players!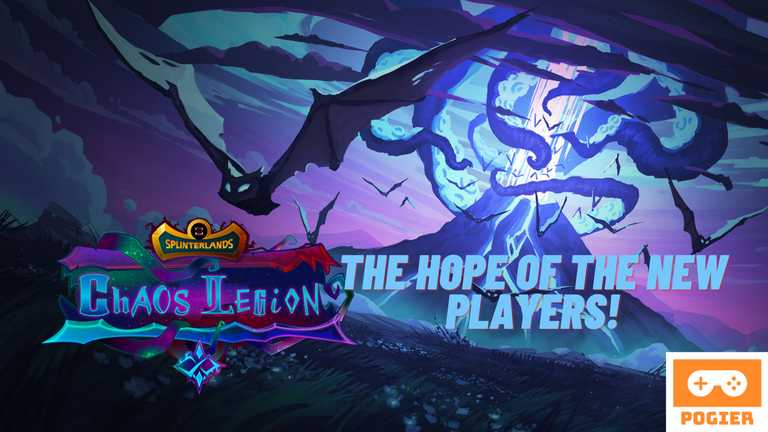 With the price of DEC coming down, the reward pool has also been getting smaller. This has created a situation where renting is no longer as lucrative of a way to earn money. FEAR NOT for the hour of CARD OWNERSHIP is upon us!
Card Ownership
Like any NFT game, Splinterlands is a game where you are encouraged to own cards and do with them as you please. You can sell them, play with them, or even just hold them for that sweet SPS airdrop.
Buy Packs
Like any card game, the chaos legion packs hold everything you may need, as long as you're lucky. Right now is the best time to buy, be it from the in-game store or the Hive Engine, you should start buying packs. Right now I encourage you to buy packs but not open it until the Chaos Legion Legendary Summoners are out. That way, you will have a chance to get them! Right now, I'm trying not to open my packs, but I do succumb to temptation every now and then.
Buy Cards
Once you understand how the game works, you have to think of the kind of deck you want to play with. Here's an article by @tardigrade123 that definitely deserves a read: Gold vs Regular cards - Is Gold worth it?
The basic gist of the article is if you believe in this game and it's future growth, you should be investing in gold cards as it gives more value to your investment. The biggest downside though is it costs more, but not too much more!
WARNING
Don't buy cards for the sake of buying cards. You should buy the cards that add value to your team, and will allow you to play better. If a card is expensive and OP but you barely get to use it because you don't have the cards for it, then it's not worth it. You have to find a good balance to make your money work for you. The better you get in the game, the more you will earn.
Whatever you choose to do,
Start rounding out your decks. No one can say for certain that cards will become more expensive or cheaper in the future, but the best strategy is to Dollar Cost Average. It is best not to believe you can predict the market, so that's where DCA comes in handy.

Credits
Cover photo created using canva.com and the included elements
Logos and images used are from Splinterlands

If you want to create a new account, feel free to use my referral link below! I'd be happy to delegate some cards to help you get started.
https://splinterlands.com?ref=pogier
---
---