⚡️SOCIAL MEDIA CHALLENGE : A TALE OF ELSIE AND THE WAR IN SOLAKI⚡️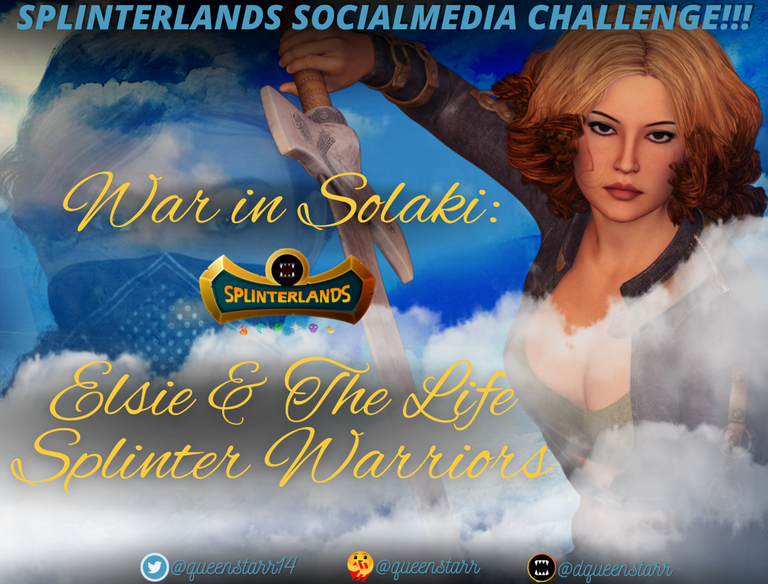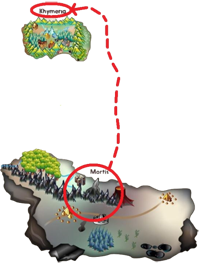 Elsie had finally arrived at the river Khymeve after traveling through Anumün from Mortis, the land of death. She had been perplexed by her encounter with the legendary Alric Stormbringer. He had informed her that only the Healer who resided in Khymeria could provide information regarding the whereabouts of her sister, the baroness. She collapsed to her knees and dragged her weary body closer to the water so she could drink from it. She had traveled for seven nights, encountered terrifying monsters en-route and pondered how to restore the

Dark Energy Crystal of her amulet because it had been worn out.
Elsie drank from the river and then collapsed on the wet grass on her back. She heard a noise coming from the bush as she closed her eyes and inhaled deeply.
"Oh no, not again!"
She said quietly to herself. She was too worn out to fight, yet if she didn't, she may allow herself to be taken or, worse yet, killed. When the noise persisted, she got to her feet.
Elsie focused her attention to a nearby bussel.
"Who could have left it here, Most likely a villager did."
she thought out loud to herself. Elsie continued to crawl until she saw a few feet away a gold crystal that was sparkling. Drawing even closer, she realized it looked familiar, almost similar to the

dark crystal on her amulet but more brilliant. According to legend, the

Splintershards were an extremely rare crystal with extraordinary magical properties that could grant it's owner incredible visions of the unseen world and even the future.
"Can this crystal show me where the baroness is? and who left it here, in the open, unguarded?"
She wondered aloud as her curiosity grew. It shone brighter the longer she stared at it. Elsie was unable to avoid losing her sense of what was possible and what was not. She then lightly touches it. The crystal suddenly emits a blinding light that pulls her straight into it.

Elsie finds herself floating as she softly lands on a hanging cut-out rock in a weird foggy land. Earlier, she had felt as though she was falling down an endless tunnel.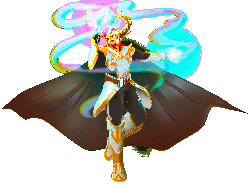 Looking ahead, she noticed a bright light speeding toward her. As she attempted to escape being hit, she heard a loud stump. She turned her head to look up and saw this amazing being in front of her with a human figure. The entity looked tenderly at Elsie.
"Greetings, Elsie. My name is Chanseus the Great and welcome to Solaki."
Despite her continued fear, Elsie manages to let an awkward smile.
"I barely touched on the Splintershards and what is this place, how did I get here...?"
Chanseus the Great instantly interjects and responds with a dainty smile on his face,
"I have something to show you"
A portal opened and Elsie couldn't believe her eyes when she saw her sister, the Baroness, in the direction Chanseus had indicated. The baroness smiled and turned to face her, and when they were close enough, they hugged. Elsie refused to let go of the hug.
"Let's be on our way home, I have so much to tell you. I have been seeking for you for so long, what are you doing here, but it doesn't matter, I've found you now."
Elsie began talking excitedly.
"I've waited and hoped to see you too. But, I'm happy here in Valhalla"
The Baroness spoke with teary eyes.
"Valhalla? but Valhalla is where warriors who die in battle go to. wha..what are you saying? You can't leave me all alone; I need you with me to retake our home, Anenon. "No, no, I do not accept this; you're coming with me."
Elsie sobbed as she cried out and the more she tried to drag the baroness along with her, something kept tugging them apart.
"I didn't survive the war against Zintar Mortalis. I can't go Elsie, the Splinterlands is not home for me longer."
Elsie pulled and hugged the Baroness even tighter, not wanting to let go. But a soft wind brushed through and the baroness faded with it. When Elsie opened her eyes, she was standing alone, hugging herself. She wept aloud and fell to her knees. Suddenly there was a loud stump and Chanseus the Great turned to Elsie and said,
Get behind that rock right away and stay there no matter what happens.
he spoke eloquently but authoritatively.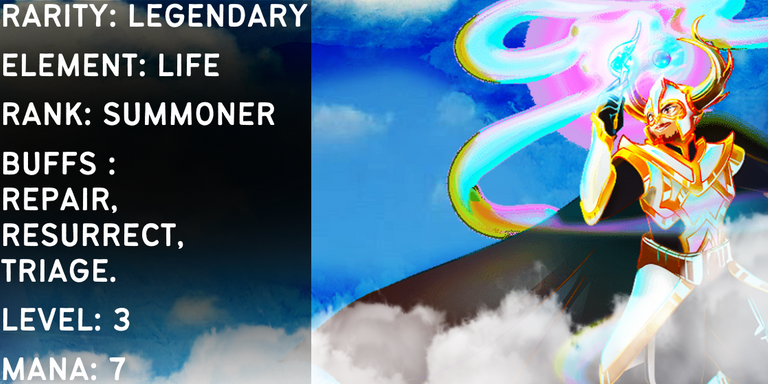 CHANSEUS THE GREAT is an extraordinary 3-star⭐️⭐️⭐️ being destined for greatness. He is a great summoner with supernatural abilities to grant Monsters willing to fight alongside him the

Repair ability which restores some armor to the warrior whose armor has taken the most damage in battle. He then grants the

Triage ability which heals the backline warrior's health each round and finally the

Resurrect ability which will bring back to life one warrior when it dies.
CHANSEUS THE GREAT uses strong his powers to summon his most powerful of warriors to battle.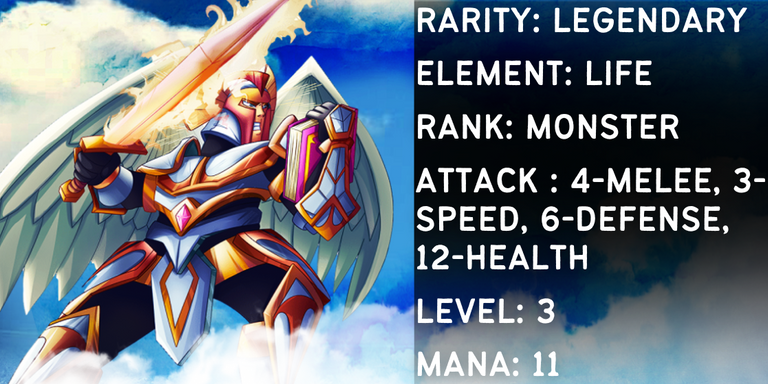 URIEL THE PURIFIER is positioned by CHANSEUS because of his high ranking as a formidable Solaki warrior and magnificent abilities. A 3-star ⭐️⭐️⭐️ warrior deserving of it's moniker, of which CHANSEUS is well aware of. His

Recharge ability makes him cause 3x the damage to enemy every round. He also uses his

Flying ability to fly over enemies with non-flying ability and fiercely attack them. Using his

Heal ability, he heals him each round, making him difficult to kill.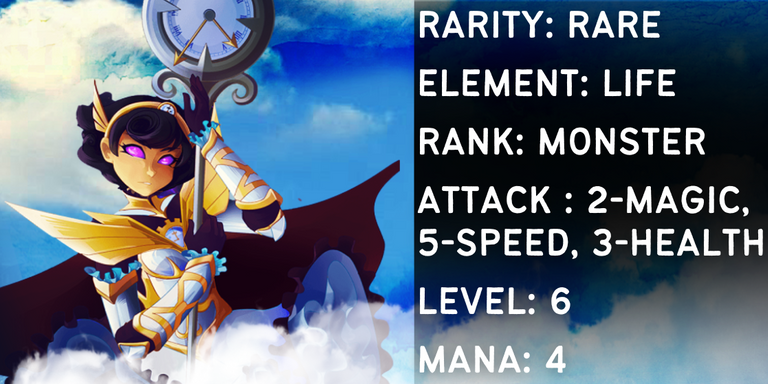 TIME MAGE is a 6-star ⭐️⭐️⭐️⭐️⭐️⭐️ warrior with the

Slow ability which reduces the speed of all enemies, allowing her team to attack fiercely, causing damage before the enemy has the chance to react. She is gentle, strict and an absolutely terror to her enemies, using her

Rust ability to reduce armor of enemies, leaving them exposed to damage.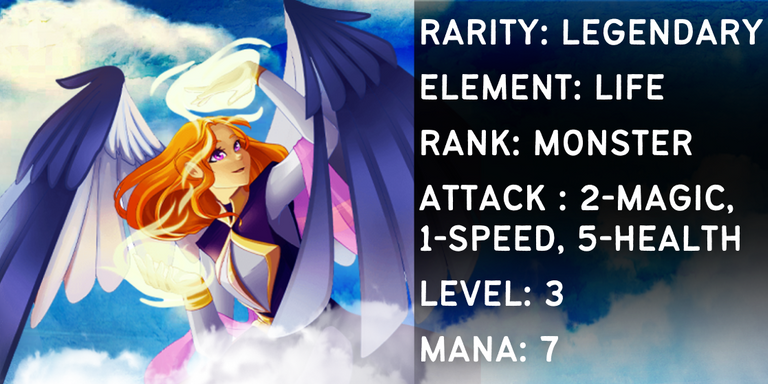 The delectable ADELADE BRIGHTWING ,Born in the city of Centrum, well respected and loves to help people. She loved watching soldiers in their gleaming armor and dragons soar through the skies, hoping one day she could fly as well. Her wish is finally granted, a 3-star⭐️⭐️⭐️ warrior with supernatural

Flying ability to fly over enemies with non-flying ability and fiercely attack them. She also has the

Repair ability which restores some armor to the warrior whose armor has taken the most damage in battle. Her

Immunity ability keeps her safe from deadly toxins and her

Resurrect ability will bring back to life one warrior when it dies.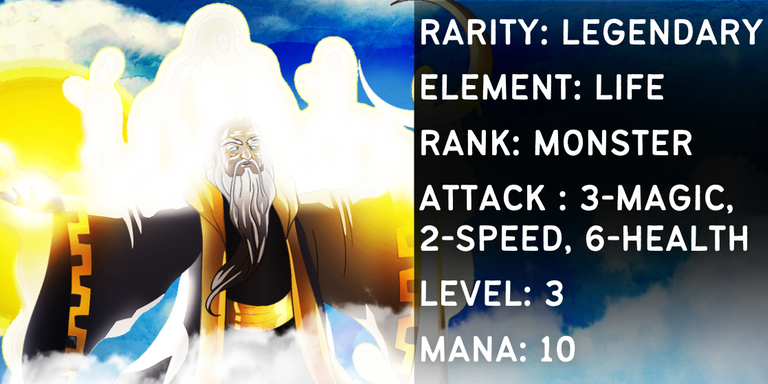 HIGH PRIEST DARIUS is the Silver Shield's highest ranking priest. A 3-star⭐️⭐️⭐️ magical being with unrivaled magical abilities throughout Splinterlands. He is fully deserving of his position and abilities. His

Resurrect ability brings back to life a fallen team warrior, whereas his

Weaken ability reduces the health of all enemy monsters in battle and his

Blast ability does additional damage to monster adjacent to the target enemy.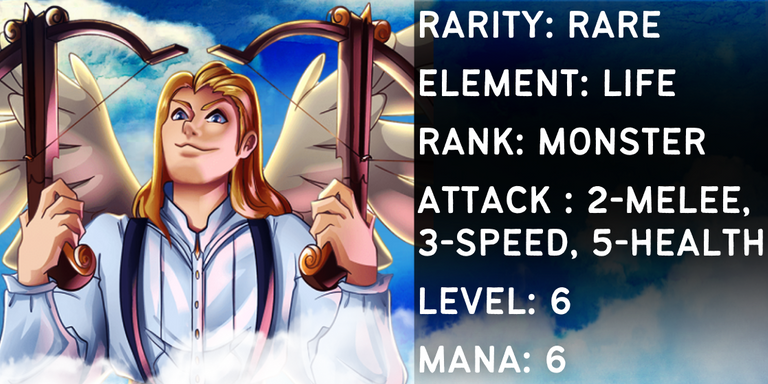 A 6-star ⭐️⭐️⭐️⭐️⭐️⭐️ warrior with the accurate range skill. His powerful crossbows is enchanted to fire bolts at extremely long distances. He has the

Double strike ability which allows him attack twice each time he strikes. He also has the

Flying ability to fly over enemies with non-flying ability and fiercely attack them.

A 5-star ⭐️⭐️⭐️⭐️⭐️ warrior well deserving of his moniker, think super man, think HERO OF BEYOND. He has the

Close ranged ability which helps him perform ranged attack from front or any position. His

Shield ability works to defend him against Melee and Range attack enemies and if he happens to be the only monster alive on the team, then his

Lasting standing ability will sustain him for longer with double stats.

⚔️ THE BATTLE ⚔️
---
As they all lined up for battle, the air became filled with the dread of an impending battle as the enemy mustered it's forces.
A faction of Solaki warriors had rebelled and been expelled. They've tried several times to gain access and seize power. Each Solaki warrior belonged to a rank and looked alike because they were divine beings, and from each rank, there was a cut out, a sector that demanded the forbidden and unthinkable from the orderlies. They had now bridged the gates, attempting to take over once more.
Elsie would support and fight with whoever was defending the citizens of this heavenly land and was gracious enough to let her know where her sister, the baroness, was. Battle mages don't typically engage in combat, but the chaos legion's harsh division had made her willing to engage in conflict. Despite Chanseus the Great's orders, Elsie advances. Elsie steps forward against Chanseus the Great directives, using her amulet, she reads out rules of combat, making the battle fair and square.
| | SUPER SNEAK: All Melee attack Monsters gain the sneak ability. |
| --- | --- |
| | TAKING SIDES: Neutral Monsters may not be used in battle. |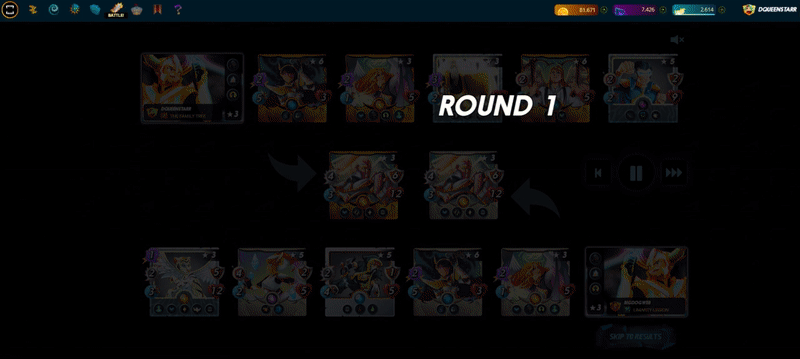 Massive divine abilities were displayed to begin the round. The enemy slowed down and corroded Elsie's team armor utilizing their potent spell caster staff. It's fortunate that her team too had TIME MAGE to pay it forward. HIGH PRIEST DARIUS, did not think twice to make all of the adversary creatures weaker. The two URIEL THE PURIFIERS then charged forward to engage in battle.
The first magic strike was delivered by TIME MAGE, the spellcaster. The Hero of Beyond was being attacked by ENEMY-KRALUS and ENEMY-SILVERSHIELD ASSASIN, who struck hard to defeat him. With their force, Elsie's team vigorously guarded and blocked every point of entry to the land.
---
---
It was a battle between the gods. The front and back line monsters' damaged shields were treated and mended by both Summoners. However, in an effort to remove them, ENEMY-KRALUS and ENEMY-SILVERSHIELD ASSASIN attacked and poisoned Warrior HERO OF BEYOND. When URIEL THE PURIFIER and PELACOR ARBALEST flew over, they targeted and killed the enemy, but the ENEMY-ADELADE BRIGHTWING, brought him back to life. ENEMY-URIEL THE PURIFIER was cast and killed by HIGH PRIEST DARIUS with a potent spell, but once more the enemy summoner brought him back to life. When ADELADE BRIGHTWING had had enough, she used a spell to defeat and vanquish ENEMY-URIEL THE PURIFIER.
---
---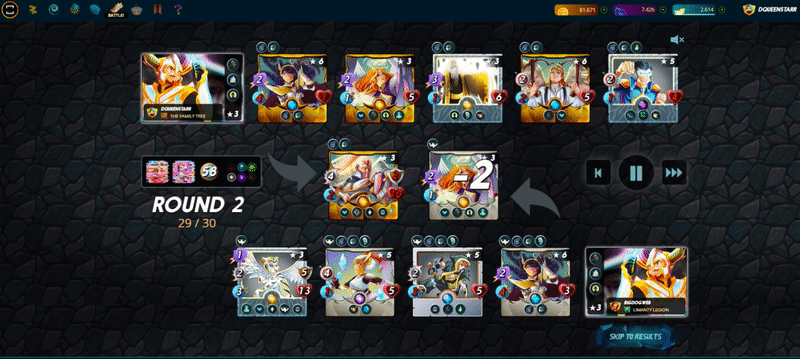 The fighting became furious, and Elsie's team was winning. PELACOR ARBALEST swooped in and delivered a double strike on ENEMY-TIME MAGE, eliminating her along with ENEMY-ADELADE BRIGHTWING. Combining their forces, HIGH PRIEST DARIUS and PELACOR ARBALEST kill ENEMY-SILVERSHIELD ASSASIN one at a time.
---
---
Furious combat broke out, and Elsie's team was coming out on top. PELACOR ARBALEST swooped in and struck ENEMY-TIME MAGE twice, taking out both of them along with ENEMY-ADELADE BRIGHTWING. HIGH PRIEST DARIUS and PELACOR ARBALEST killed ENEMY-SILVERSHIELD ASSASIN one at a time by combining their forces.
---
---
FLAWLESS VICTORY!!!

Elsie was astounded by the incredible battle. Chanseus the Great approached Elsie and looked her in the eyes once more.
"I'm sorry about your sister, the baroness. But she is in a much better place now and has received the honour she deserves. Elsie, you have a lot of work ahead of you, and Anenon relies on you to defeat the Chaos legion. The rebellion is forming alliances and breaking out. This has to stop or Splinterlands as we know it will come to an end. You are not alone; we are all here for you."
He said this while looking more tenderly into her now-teary eyes. Elsie collapsed to the ground once more, crying even harder. She kept replaying the times she had spent with her sister when they were young. Chanseus knelt down and stroked her shoulders. Immediately, it felt like she was falling through another portal, except this time she was spewed out of the Splintershards onto the wet grass she was lying on prior to the trance. She grabs the Splintershards and replaces it with the Dark energy crystals. Her amulet glows with a light she's never seen before.
Even though she would do anything to have her sister, the baroness, back, Chanseus's words kept coming to her. She got to her feet after feeling more strengthened, began to walk, then abruptly broke into a full sprint as she made her way back to Anumün. Returning to Khmer Princess was her plan. There was much work to be done.
🌬💀🔥🍃🌊🐉⚔️The End⚔️🐉🌊🍃🔥💀🌬
👉▶️CLICK ON THIS TO REPLAY THIS BATTLE◀️👈

⚔️WHY I CHOSE THE LIFE SPLINTER SUMMONER AND MONSTER CARDS⚔️
Splinterlands comes with a lot of deep thinking and strategies. You'll need attempt to forsee what your opponent with come at you with, hence, every card you pick would either bring victory or defeat.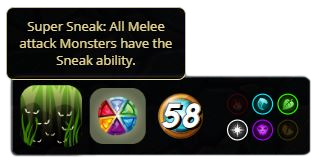 Although it appeared that I would have to adjust to the Super Sneak battle-rules since melee attacks gaining the Sneak ability would have a clear edge in battle and harm my back lines, I chose to field a full three boosted team of rangers and spellcasters. I anticipated that my enemy would focus on melee attacks. Therefore, the potent magic of spellcasters will be effective against opponent's team.
---
---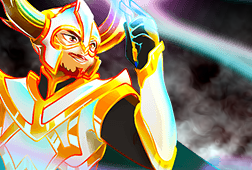 SUMMONER CHANSEUS THE GREAT's 3 abilities comes very useful in such Battle rule-set. Having all monsters with the

Repair ability ,

Triage ability and

Resurrect ability abilities topped with their unique abilities is what I choose to call Brute force and I enjoy using that for High Mana cap battles like this 58-MANA.
---
---
URIEL THE PURIFIER Although a Melee attacker with incredibly huge tank, will serve well as a Flying and Healing Monsters, his Recharge makes it even better. His ability to withstand for longer is something every battle mage will admire in battle. Now top all that with a Repair, triage and Resurrect ability and you have an undefeatable badass in front line.
---
---
TIME MAGE is relentless and strict. You'll definitely want her to help Slow down your monsters and same time rust their shield. Giving you enough room to cause or probably end the battle in just two rounds.
---
---
🌬ADELADE BRIGHTWINGS and 🌬HIGH PRIEST DARIUS make such a pair and somewhat have similar behaviors in battle. Although over time i have realized that Magic casters and rangers so well well, better than when paired with Melee attackers. Once spell caster Hits targets, The have a Ranger like PELACOR ARBALEST is best to comes, giving a double strike and vanquishing the enemy's monster.
I must Admit I must have made a blunder with 🌬HERO OF BEYOND as he didn't get enough room for his close range strikes, but luckily his Shield paid off. In summary it was an exciting battle to watch and definitely appreciate the use of strategy here.

EOS DIAMOND CHEST PULL
💗Splinterlands is such a rewarding game for sure, BUT, a huge gamble when it comes to pulling these amazing rewards from chest at End of Season [EOS]. This season was so difficult and rentals so expensive. I wasn't able to grind enough chest as I would've loved to But i was really pleased with my pull.
I did manage to pull Gold foil Level 3 Pelacor Conjurer , Golf foil Level 3 Merdhampir, 240.44 SPS , 408 MERITS and other regular level 1 cards with bunch of potions.
All in all, I am having fun, working my butt-off. Cheers to new season, let's see what that brings us🤞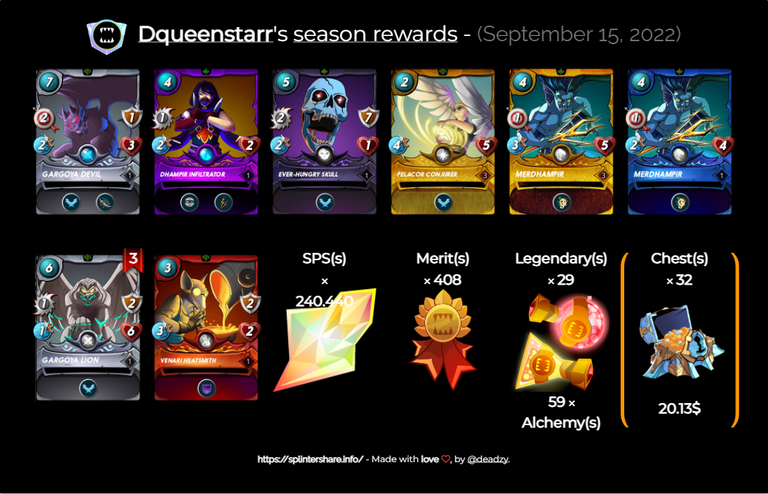 IF YOU REGISTER USING MY REFERRAL LINK >>> https://splinterlands.com?ref=dqueenstarr, I'll send you a perk of 500DEC. Simply log in with your Hive account username, follow the hive-keychain prompts and purchase the $10 Spellbook [can pay with Hive/HBD] to unlock your account's full potential. [P.S. You will also receive 3000 in-game credits back from Splinterlands as a gift for you to rent cards which is more than enough for a whole season at the early stage]. Once completed, leave a comment on any of my posts and I'll get back to you like Flash.

THE RIFTWATCHERS PACK PRESALE IS NOW LIVE!!!
The Riftwatchers are here with us and the Splinterlands will never be the same with it's invasion. A set of Fantastic monsters with powerful summoners will be on the lose in the next 56-minutes⏱.
"Each pack cost $5.00 USD worth of SPS + 1 VOUCHER. Implying, the Riftwatchers pack will require a VOUCHER token to purchase, both during the presale and afterwards."
A ton of SPS a.k.a monies is needed to afford though, we new players are doomed for the left overs, or even nothing atall, but we'll see🤞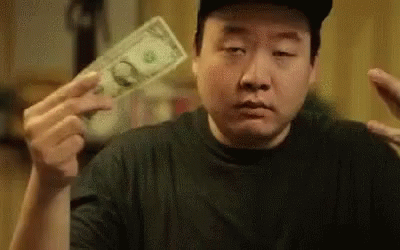 The Riftwatchers feature some amazing cards and my favourite two base on stats is from the Earth and Fire Splinter. I wish everyone buying packs and opening them Goodluck, may you pull great cards and gold foils🍀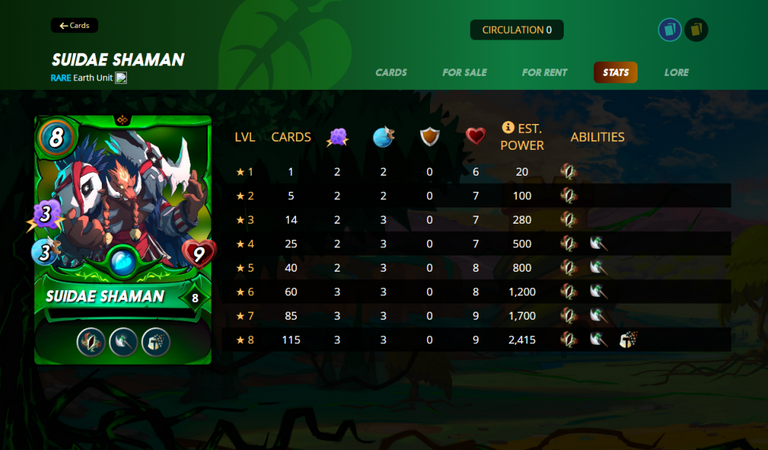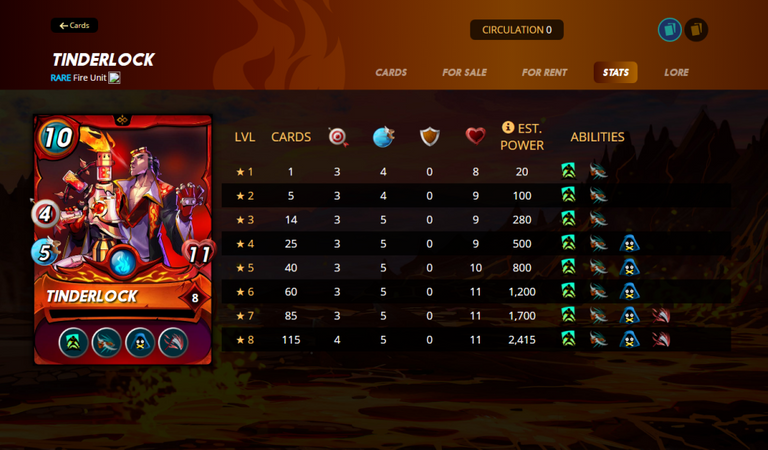 ---
---
〽️UPDATE & A BRIEF LOOK AT THE CURRENT TOKEN MARKET : 15TH -SEPTEMBER- 2022 6:00PM〽️

↕️BTC this past week been on a downtrend with all the financial-world threats and all [Wen Pump?], up and down it goes and currently sitting at $19,890. Hive as always follows BTC downtrend and currently trading at 0.541$. HBD pegged and holding at $9.995. Fingers crossed to better days🤞

Splintershards (SPS) newlt introduced use-cases has directly impacted it's price over the past few weeks. Although it got the pump, but SPS is currently traded 0.10293910 0.00160625 and although seen a decrease of -0.03%. Good news is that the price has boosted really good now and with every win, we earn Splintershards (SPS). It will do you well to power up/stake it because in no time from now, we will need to staked SPS to earn reward chest.

Whereas the main in-game token DEC, will no longer be earned but bought off the market. It's use case remains to buy chaos packs and rent cards. Currently trading at 0.001198 0.00128441 , it went down during the past week, and now at a -1.64% price decrease in the last 24hrs.


Let's see what this new week brings us. 🍀MAY THE ODDS FOREVER BE IN OUR FAVOUR✊.
Disclaimer alert: I am not a Crypto or Splinterlands expert. This is Just me ranting, being real about my stuff. But well, we keep grinding, hopefully it'll pay🤞.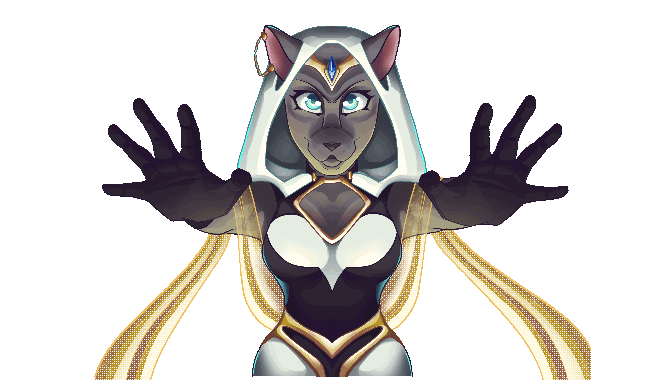 😆Alrighty, that will be all about my social media challenge for this week. I hope you enjoyed the tale, battle and rants. If you've used THE LIFE SPLINTERS before, then please I welcome your opinion and recommendations on whether In your own opinion if they're worth collecting and having on deck. If you have not, I put forward to you a challenge⚔️
If you want to take part in this Splinterlands' challenge, simply visit 👉Splinterlands Social Media Challenge! to read up more.
👇OTHER TALES YOU MAY WANT TO VISIT👇
👉 ⚔️TALE OF THE BARONESS : EPISODE 1⚔️
👉 ⚔️TALE OF THE BARONESS : EPISODE 2⚔️
👉 ⚔️TALE OF THE BARONESS : EPISODE 3⚔️
👉 ⚔️TALE OF THE BARONESS : EPISODE 4⚔️
👉 ⚔️TALE OF THE BARONESS : FINAL EPISODE⚔️
👉 🔥FAST LIKE A YODIN, FURIOUS LIKE A ZAKU🔥
👉 ⚔️ALASTAIR'S STRANGE ENCOUNTER⚔️
👉 ⚡️A MEETING WITH THE GREAT ALRIC⚡️
Worthy Notes:
✅ELSIE AND LIFE SPLINTER MONSTERS COVERS EDITED BY ME IN PHOTOSHOP PS5 WITH ALL IMAGES FROM WWW.SPLINTERLANDS.COM , SPLINTERLANDS MAPS , Image soft cloud , Image representation of the baroness in tale , Image Blue cloud sky , Image representation of Elsie in tale
✅My gratitude to THE PIMP HOUSE for the guild support.
✅Click to Join the Hive Gaming Community to have fun and discuss with other Hive gamers.
✅Click to join Hive's House of Help community THE TERMINAL

✅Splinterlands text dividers freely provided by @freeztag.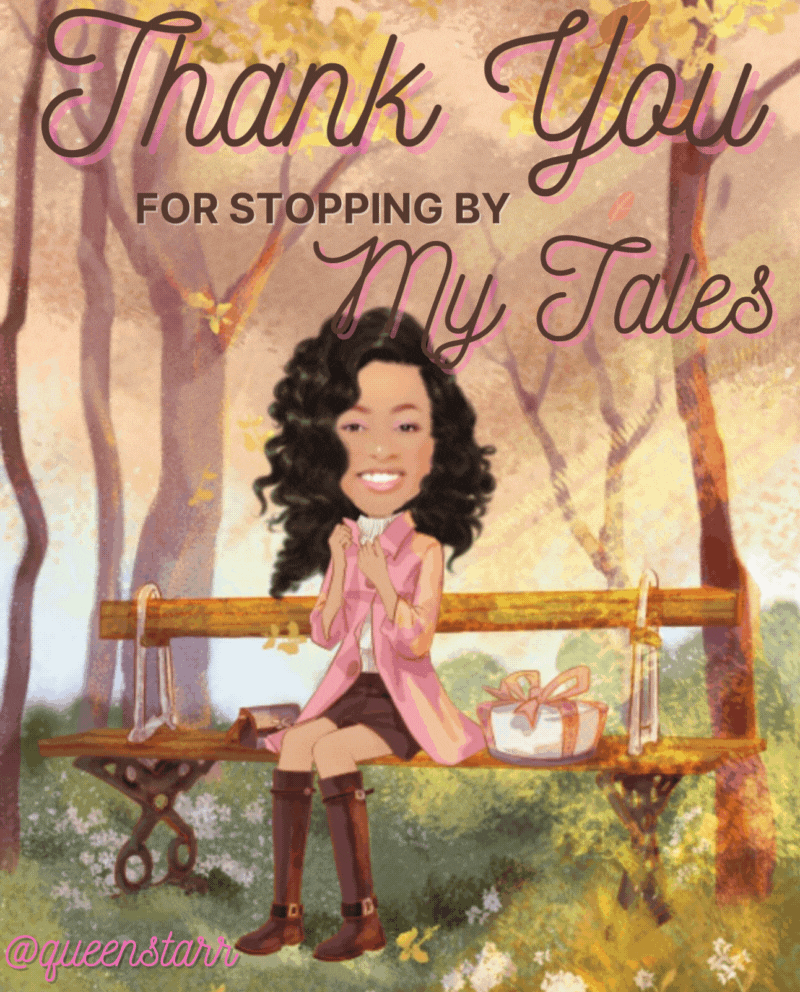 😊Until next Splinterlands Social Media Challenge, Hive, Vibe & Be Lucky🍀
All content is mine unless otherwise Noted
queenstarr ©2022
---
---