Final Phases of SPS
Now the SPS Airdrop was introduced literally exactly a year ago. I recall that when it was first introduced, I was still at the Bronze league with minimal Power and doing my best whatsoever to figure out the game. One year in, things I would say are slightly better. I am in the Silver league now. I used to be drawing less than 1 SPS per day and I do whatever I could to camp by the desktop and claim and stake every 5 min, hoping the high APR will make a difference. It did, but not to a crazy extend.
Fast forward almost a year down, we are ending the SPS airdrop soon. It seems pretty surreal don't you think? I realised, I have been diligently staying with Splinterlands, not missing out a single day of it.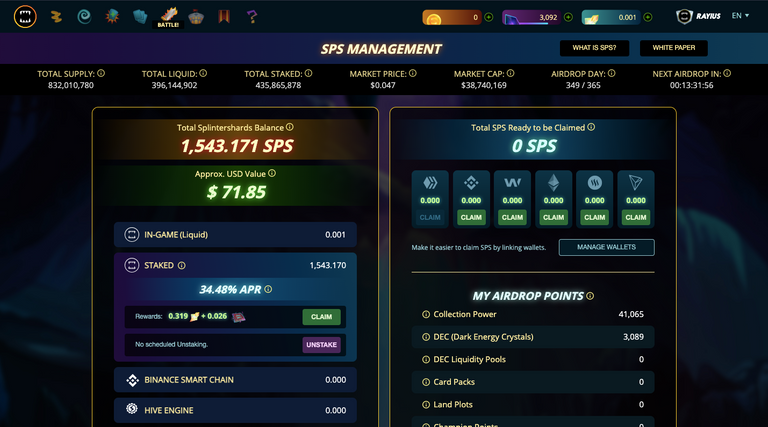 This is the current snapshot that I have. As we speak, I have 1543.171 SPS staked, and with a cash value of $71.85. Noticeably, this is day 349/365, meaning another 15 days to go, exactly half a month left. Pretty weird to no longer waking up at 12.30am to claim it.
SPS Prices
And here are some economics to this! With the dwindling of the SPS, I initially would have regarded this as a more coveted asset and, I was wrong!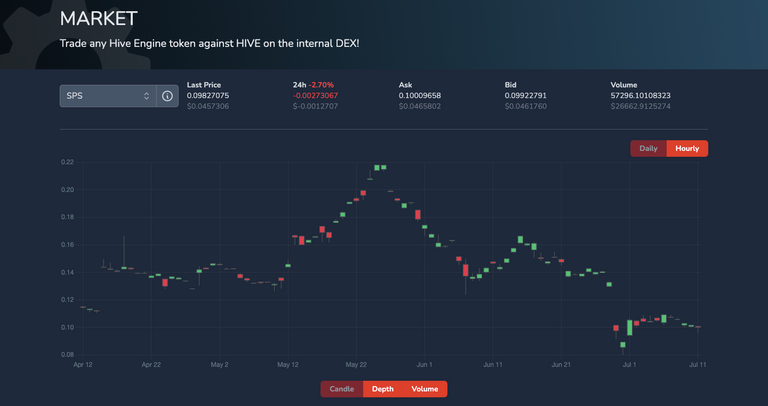 Surprisingly, the prices are going down? Which doesn't really make much sense to me. Can anyone explain to me why? I was along the line of if this particular "commodity" stopped production, wouldn't whatever that it has right now be super rare and prices will spike instead? @splinterlands and @steemmonsters, any idea why? Slightly counterintuitive to the idea of economics that I have!
Vouchers Prices
Now even more interesting are price of Vouchers.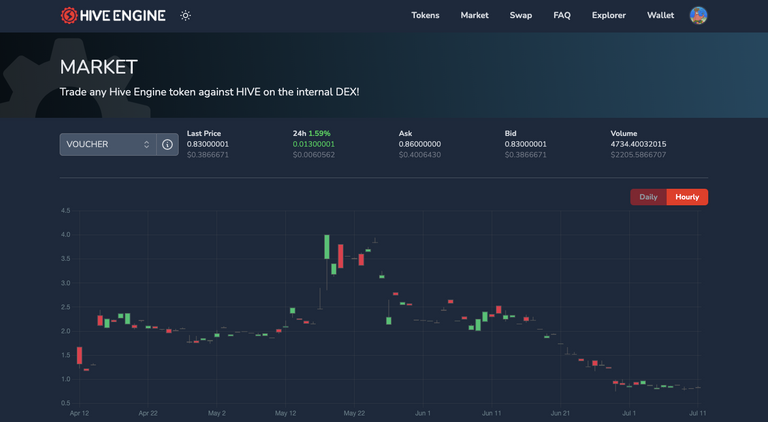 A similar downward trend is observed. Why I say it is more peculiar? Because from a recent @splinterlands post, there are mentions of other ways to gain SPS even through avenues not from the Airdrop. There is a likelihood of incorporating it as rewards for our Rank Battles. More can be read here
https://peakd.com/splinterlands/@splinterlands/ranked-rewards-updates-follow-up
But as for vouchers, no! So why on earth are the prices dipping? I guess I might have been a really horrible Economics student, doubting my abilities right now...
Nevertheless, what I intend to do is to hold them. Though SPS token do not have much utility right now, but I am confident of this game and I believe there will definitely be a future usage of SPS.
@Splinterlands is such a fantastic and awesome game and once you join then you experience the real gaming fun. Join it through my affiliate link, I am sharing it below-
https://splinterlands.com?ref=rayius
Thank you so much
(Photos and gif I used in this post are taken from splinterlands.com for this post purpose only)
---
---