Tournament Review - Chaos Clash With Bulldog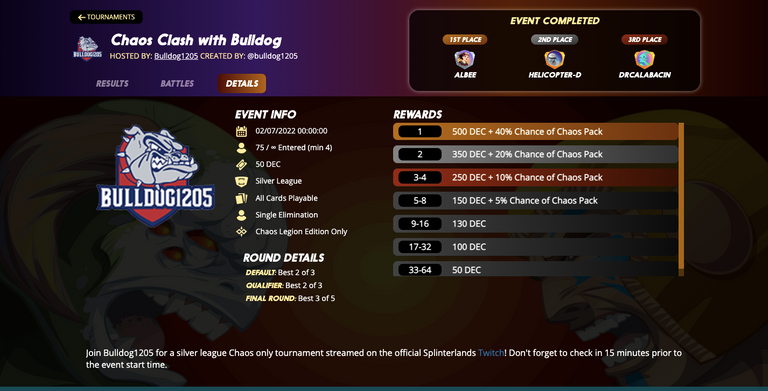 Ok, so this is the first post that I am publishing when it comes to tournament. Initially, I was absolutely apprehensive when entering tournaments as I do not even fulfil the eligibility criteria in terms of power. I mean now I still do, but I must say I can join more tournament now.
Then, I had this concern. As the cost of entry is relatively high coupled with the fact that I am not confident with my win rates, I decided to shy away from tournaments once again.
But recently, for some reasons I decided to try my luck with tournaments and I must say I am doing fine, not awesome but fine.
I chanced upon this tournament by @bulldog1205 , and I immediately signed up. If you still do not know, this lad was awesome and do have a pretty awesome twitch channel! He also gave me a card and I would forever remember that goodwill from him. As such, first tournament dedication goes to him! Haha.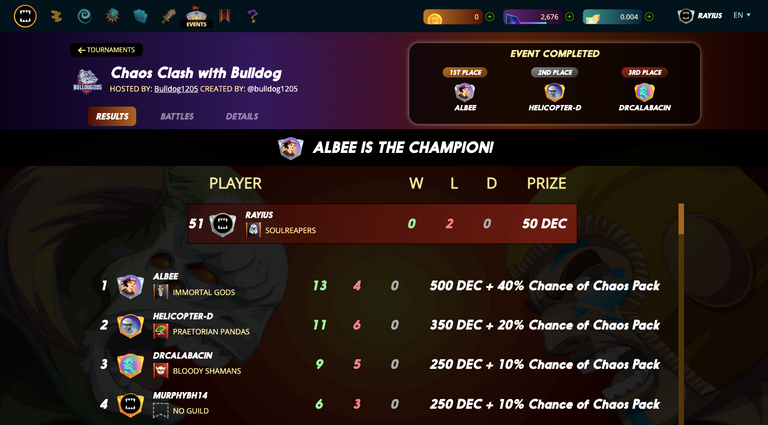 Tournament Event: Chaos Clash With Bulldog
Entry Fee: 50 DEC
Best Prize: 500 DEC + 40% Chance of Chaos Pack
Positon: 51/55
Prize Won: 50 DEC
Now remember I said earlier that I am doing fine, not awesome but just fine? So I paid 50 DEC to enter this, and I wont back 50 DEC. In this case, I broke even!
But yea, special shoutout to @bulldog1205 for this amazing tournament! Keeping a lookout for more awesome contents from him!
@splinterlands is such a fantastic and awesome game and once you join then you experience the real gaming fun. Join it through my affiliate link, I am sharing it below-
https://splinterlands.com?ref=rayius
Thank you so much
(Photos and gif I used in this post are taken from splinterlands.com for this post purpose only)
---
---