Share Your Battle - Cripple Is More Powerful Than You Think!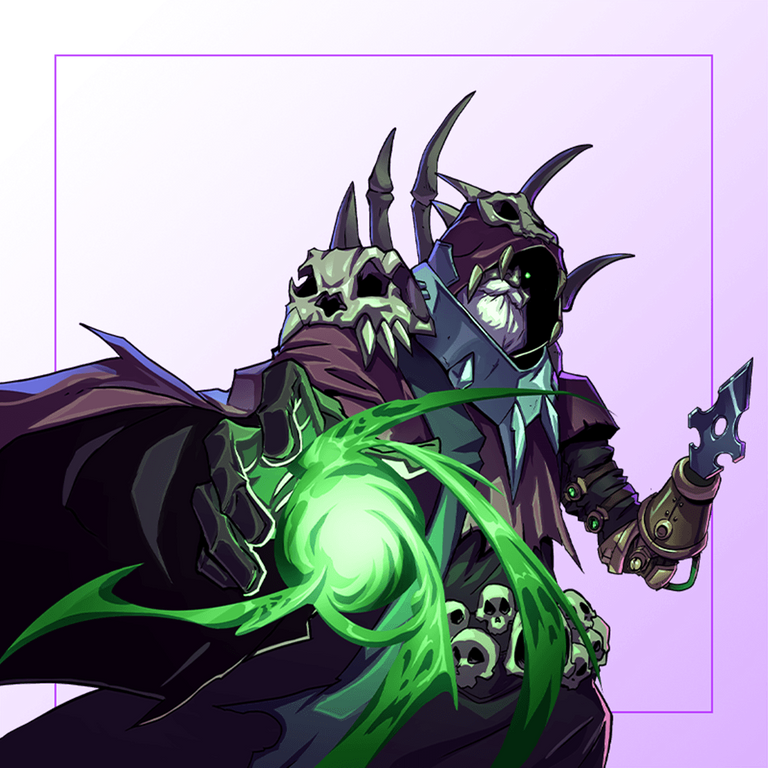 The theme for the current "Share Your Battle" challenge is Regal Peryton! I don't usually play Earth lineups often so I thought of sharing an underrated card, which is none other than a summoner from the Riftwatchers series - Dallan.
It's a Death Summoner with Cripple ability. For those who are not familiar, Cripple reduces the max HP of the card by 1 with every hit.
The most common benefit that people think is it prevents healers from healing the card but there's actually more! Read on to find out!
But before, as usual, here's the lore for Dallan for your reading interest:
Dallan Moonfall was fifty years old when a tornado almost killed him. The first thing he remembered was lying on a padded cot in a small room with stone walls. A peculiar monk sat in a chair at his bedside. Pain dragged him back into unconsciousness.
When he came around again, the pale light of a moon glowed through the room's only window. His left arm itched painfully, but when he scratched it, he felt not flesh but metal. He threw back the covers. His arm was gone. In its place, a limb of steel and cogs was attached to his shoulder.
He promptly passed out again.
As Dallan slowly recovered and his health returned, he learned that the tempest that had nearly taken his life had torn his arm from his body and left him bleeding and broken in a field. He remembered being tossed about like a rag doll. He remembered a broken headstone whirling within the tornado before slamming into his head. Before that, his memory was gone. He didn't know who he was or where he came from. The only thing he remembered was the name engraved on the headstone: Morena Calarook.
He learned that the Divinity of Oblivion—an unorthodox order shunned by most Veorgaron's—had saved his life and nursed him back to health. They gave him the name Dallan Moonfall to replace the one he had forgotten. They taught him how to use magic to harness the life force that clings to corpses after death. Dallan had a natural affinity for their magic. He wondered about his past—if there was something there that explained his gifts.
His power soon surpassed all others in the Divinity. He manipulated their magic in ways they had never dreamed. Over the years, there was one thing that continued to plague him. A vision that never faded. A name on a headstone.
Morena Calarook.
---
Battle Type & Team Lineup


| Position | Card | Notes |
| --- | --- | --- |
| Summoner | Dallan | I have been trying out the Riftwatchers cards to learn the skills and I thought of trying Dallan for this battle. |
| 1 | Night Ghoul | Night Ghoul fits the Reverse Speed battle perfectly because it has a speed of 1 and having a Taunt ability is awesome! |
| 2 | Magi of Chaos | Most Death cards have very low HP and so Magi of Chaos fits well for a secondary tank, considering my tank already took up a chunk of the mana quota. |
| 3 | Life Sapper | Life Sapper fares better especially when Night Ghoul as the Taunt ability protects it and enables it to leech more HP by the time it is hunted. |
| 4 | Dhampir Stalker | A guaranteed 3 damage strike is very crucial and with Cripple, it can deal more damage if lucky! |
| 5 | Scavo Hireling | At this point, I am running out of mana and Scavo Hireling is hired to make Night Ghoul last longer. |
| 6 | Weirding Warrior | Left with my last 2 mana and Weirding Warrior obviously slots in nicely to complete the lineup. |
---
Pre Battle: Facing with a Water lineup is never easy, but Water is mostly at a disadvantage during Reverse Speed battles as most Water cards have higher than average speed. Let's see how Dallan leads his team!

Round 1: So let me run through what happened! Night Ghoul and Dhampir Stalker both hit at the armor of the opposing Diemonshark but because of Cripple, Diemonshark's max HP fell by 2. This essentially meant Night Ghoul dealt 4 armor + 1 additional HP damage, and Dhampir Stalker dealt 3 armor + 1 additional HP damage. Together with 3 other cards that hit the opposing Diemonshark, its max HP of 7 was reduced to 2 so the opposing Merdaali Guardian couldn't heal more than that.

Round 2: Night Ghoul did another 4+1 damage and Dhampir Stalker finished off Diemonshark easily. This time, Weirding Warrior hit at the armor of the opposing Flying Squid and again because of Cripple, Flying Squad's max HP fell by 1 as well. Night Ghoul continued to stand firm, which was what you would expect from a 11 mana. Hehe!

Round 3: Night Ghoul still stood firm, with the help of Scavo Hireling's Repair. The extra Cripple damage continued and the opposing Merdaali Guardian couldn't really heal at all.

Round 4: They just couldn't break down my tank and the other 5 cards remained protected. With 5 Cripple hits every round, it accelerated the damage output and my opponent's cards just fell one by one despite having Repair and Tank Heal.

Round 5: Landslide victory!

If you are interested to watch the battle, you can find it here.
---
Post Battle
Did my strategy work? I came into this tournament battle, planning to experiment with Dallan and I think it worked perfectly with Night Ghoul in this Reverse Speed battle. The Cripple worked well in this battle and it was a comfortable win.
Do I like Dallan? Yes! I would say it's a must-have Summoner in every player's deck. While it's not a all round powerful summoner, it's a situational card and works perfectly in certain types of battle. In battles where there is a lot of armor (e.g. facing Diemonshark), Cripple damages the HP with every hit as well. If I could use a comparison, it reminds me of Brighton Bloom, i.e. not a powerful card for most battles but it's definitely the top summoner for Earthquake battles.
Final thoughts? Final tip! Do you know Cripple also works when your cards don't do any damage, e.g. due to Void? This means if Life Sapper sends 0 damage against Unicorn Mustang, Unicorn Mustang's max HP still decreases by 1 due to Cripple and Life Sapper still gains 1 HP from Life Leech. :P
---
So that's all I have! What are your takeaways from this battle? Feel free to comment below, as I am always keen to learn and improve!
As always, thanks for reading and have a pleasant day ahead!
---
If you are interested to sign up to play Splinterlands, my referral link is here.
---
---