Share Your Battle - Is Aves Sturgis Legendary Enough?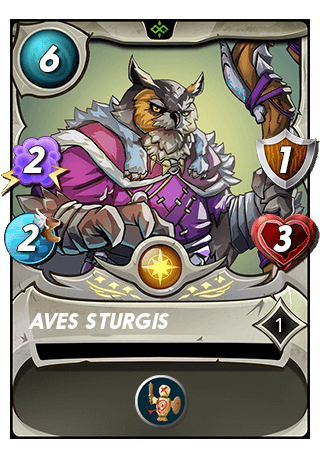 The theme for the current "Share Your Battle" challenge is Dragons so I thought I would share something similar to that - but with an interesting twist - because the only Dragon card is the summoner!
The card that I wanted to share is Aves Sturgis! Aves Strurgis is an interesting card because it comes with this new and unique ability called Weapons Training.
Looking at the stats, on first glance, this card is actually quite squishy for a 6 mana Legendary card. With only 3 HP, its survivability is put to a test especially when you have stuff like Opportunity, Sneak and Scattershot flying out the field during battles. However, the Weapons Training ability on a Magic card is a valuable because unlike Melee or Ranged cards, Magic damage can be dealt on any position and this means there is a lot of flexibility into placing this card.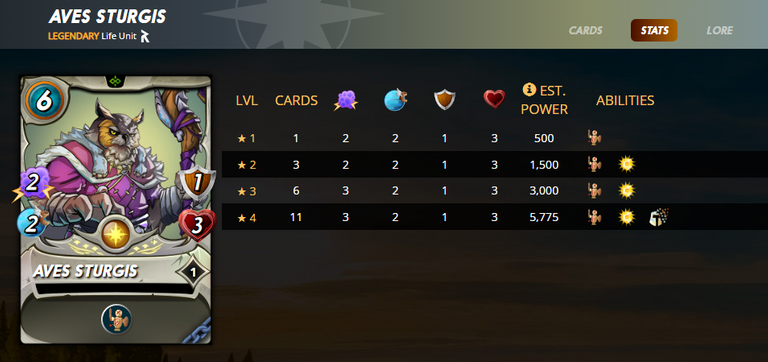 As usual, here's the lore for Aves Sturgis for your reading interest:
Aves Sturgis is the high mystic of the Long Wing, a parliament of horned owlkin that reside in Freywood in the Land of Prosperity's Grand Praetorian Plain. He is the seventy-ninth generational shaman and derives his shamanic powers from his ancestors, his extensive training and education, dreamwalking, and the wisdom and omens of nature itself. On occasion and during ceremonies, he wears the teeth of the great lichen beast, Vutagar, that he pulled from the creature's maw in his younger years as part of his journey to awakening. Now, eighty years on, Aves still visits Vutagar in the forest, where they commune with nature's spirits together.
Even though much of his life has been spent in or near the forests and in communion with Chuthar, God of Nature and the Fey, Aves has remained primarily focused on Khymia, Goddess of Life and the Upper Planes. He believes that the nature-based path of revelation cannot be walked without the guidance of Khymia.
As leader of the Long Wing, Aves is highly respected by both the owlkin and their allies for his service as an advisor, healer, and diviner. The runes affixed to his belt were gifted by other leaders he has helped over his lifetime. Not only are they symbols of respect and appreciation, but each tells the story of Aves's journey to enlightenment through his good deeds to others.
---
Battle Type & Team Lineup


| Position | Card/Level | Mana |
| --- | --- | --- |
| Summoner | Delwyn Dragonscale | 4 |
Looking at the ruleset, it's either strong Melee cards that can withstand Thorns or it would have to be a Magic lineup. I decided to go with a Magic lineup and enlisted the help of Delwyn Dragonscale. Between Earth and Life cards, I decided to go with Life and try Aves Sturgis out.
| Position | Card/Level | Mana |
| --- | --- | --- |
| 1 | Imperial Knight | 7 |
Imperial Knight is exceptionally strong because it has Void Armor so he is chosen ahead of all the other Life tanks that I have.
| Position | Card/Level | Mana |
| --- | --- | --- |
| 2 | Djinn Renova | 7 |
Djinn Renova is always a strong card in any Life lineup because of her Strengthen ability. In a full deck of 6 cards, that's a huge boost to the survivability of the whole team. Definitely a must have in any Life Magic lineups.
| Position | Card/Level | Mana |
| --- | --- | --- |
| 3 | Pelacor Conjurer | 2 |
Pelacor Conjurer is a very strong low mana card and it's not surprising why it is the most expensive Common card in the last series of Reward cards. Flying and a high mana makes it hard to be hit, but this time, he will be involved in Weapons Training and this makes him even more powerful!
| Position | Card/Level | Mana |
| --- | --- | --- |
| 4 | Aves Strugis | 6 |
The star card of the team! This is a new Legendary card from the Soulbound Reward cards and its Magic damage will not only be boosted by the summoner, but also benefit both adjacent cards! Let's hope he survives long enough though - a card with 3 HP is always in danger.
| Position | Card/Level | Mana |
| --- | --- | --- |
| 5 | Creeping Ooze | 1 |
Creeping Ooze is the other adjacent card that will benefit from Weapons Training. Am not left with much mana so this will do!
| Position | Card/Level | Mana |
| --- | --- | --- |
| 6 | Time Meddler | 8 |
Completing this Life Magic lineup will be Time Meddler. Time Meddler is a very strong card and will be even more deadly with the summoner boost.
---
Pre Battle: I was actually looking out for opposing cards with Void and thankfully there was only one. Wasn't too sure how the Weapons Training will work out but let's see how it goes!

Pre Battle (after all the effects): So after the effects are applied, it's amazing to see that now Aves Sturgis has 3 Magic damage and both its adjacent cards have 2 Magic damage!!! Isn't it amazing that these 1 and 2 mana cards have 2 Magic damage? Hahaha.

Round 1: After 1 round, it was very clear that my damage output was far more superior than my opponent. I was raining in 2-3 Magic damage per card while the opposing team have cards that are only dealing 1 or 2 damage. In just one round, their Legendary tank was gone but my Common tank held on strongly.

Round 2: Creeping Ooze and Pelacor Conjurer had no mercy in their relentless Magic attacks and even the opposing Void Dragon couldn't withstand at all. All my 6 cards remained standing and the opponent was down to 3 cards.

Round 3: It's a swift victory after 3 rounds for a 36 mana battle fight! The most impressive thing is that all my 6 cards remained standing at the end as well!

If you are interested to watch the battle, you can find it here.
---
Post Battle
Did my strategy work? Definitely, I took my chances and went with a Magic lineup while my opponent chose a more varied strategy, having more armor to absorb Thorns. In the end, the Magic damage played out very well and the Weapons Training was executed perfectly this time (it's not always like that hehe).
Do I like Aves Sturgis? Actually I am rather mixed about it. If I were to judge by this battle, then it's a YES. But in some battle, things are not so smooth sailing. An Opportunity or Scattershot attack can easily take this card out and this whole Weapons Training boost will go down together with it. Fortunately, there's always Taunt cards and the reliable Djinn Renova to pair with for better survivability.
Final thoughts? Since this is a Soulbound Reward card, I can't say anything about buying/renting it to try. It all depends on the luck within the reward chests, but the consolation is, actually you are not really missing out much without this card. The other Legendary Soulbound Reward cards seem to be better in my view.
---
So that's all I have! What are your takeaways from this battle? Feel free to comment below, as I am always keen to learn and improve!
As always, thanks for reading and have a pleasant day ahead!
---
If you are interested to sign up to play Splinterlands, my referral link is here.
---
---