Re-Post: Stake Your SPT/BATTLE/PAL & Earn SBI Shares Part 3!
---
Disclaimer
This is a repost from yesterday. For some reason the tags/tribes were not working correctly and the contest didn't reach all of its intended audience. If you entered yesterdays Stake Your SPT/BATTLE/PAL & Earn SBI Shares Part 3! you already have entries to win an SBI share and can earn more entries via this reposted topic.
---
Are You Earning Tribe Tokens ?
If not you should be .... simply use any Tribe tags (Ex. BATTLE / SPT / PALNET / Neoxian / Steemace/ WEEDCASH) to start earning one or all of them today.
That's right I said earn all of them ..... it can be done if you use all the correct tags when posting content but you also need to make sure that the content you are posting is relevant to the tags you are using. Each of the previously mentioned new crypto tokens also have their own STEEM interface in which you can create and curate content on.
Battle: https://battlegames.io
PAL: https://palnet.io
SPT: https://splintertalk.io
Steemace: https://www.steemace.io
Neoxian: https://www.neoxian.city
WEED: https://www.weedcash.network
Its likely you have already started earning on one or more of the amazing sites above. Either by using one of the previously mentioned tags or by posting directly from each specific site. If you are like the hundreds of other Steemians already earning these tokens then this giveaway is for you. If you are not earning these tokens yet .... Then what are you waiting for ... start creating/curating on the aforementioned sites to get started.
---
Advertisement
Ask A Stupid Question / Get A Dumb Answer Game
---
3 FREE SBI SHARES
After post payout I will be giving away 3 SBI shares. One share each to three random posters that post a screen shot showing they powered up some of these new tokens. You may be wondering what is an SBI share. SBI is short for @steembasicincome. This is an initiative that started months back that allows us to get guaranteed daily upvotes on our content.
To enter the program one only needs to send 1 STEEM to @steembasicincome. The great thing about this program is it allows you to give a free share to someone for each share that you buy. This means that not only do you get an SBI share when purchasing one but you get to give one away to someone else as well.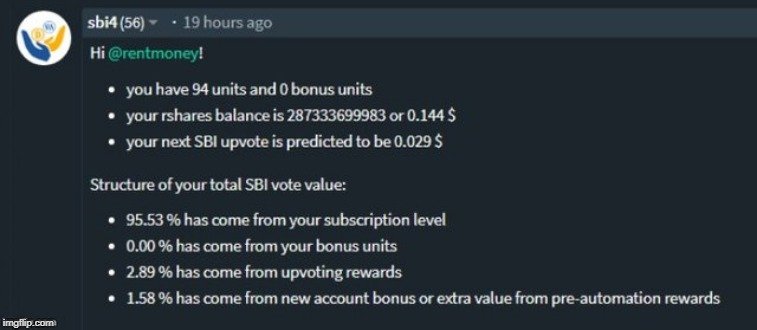 ---
---