Gradually Selling my DEC to fund my Chaos Packs...
I've accumulated a fair amount of DEC over the last few months, it was getting on for 2M at one point and, pooled with Hive/ SPS and BUSD, that's been a nice little earner on the SPS front.
However, I've also been selling it off gradually over the last week to fund my CHAOS pack purchases in January (I'm probably going to buy some XCHAOS too).
Everyone who plays Splinterlands would have noticed the declining price of ALL ASSETS, and so last week was probably the best time to sell!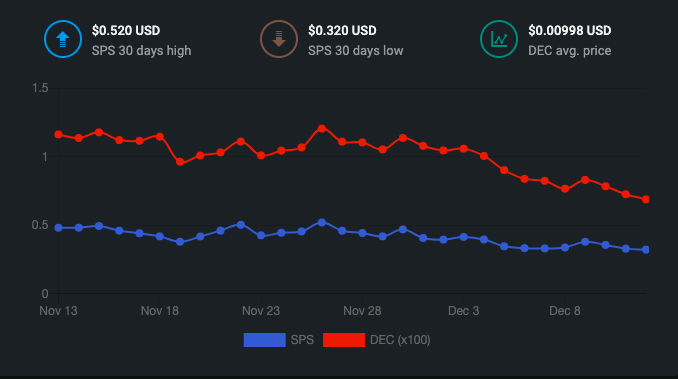 However it's a tough one with DEC given then excellent returns on SPS, however, this can be misleading - with the DEC price declining quicker than the SPS price 120% looks much better than it is!
I mean, if you're earning 0.3% a day (ish) in a drop but the price declines 1% in a day (NOT unheard of!) you would have been better off selling yesterday and buying back today, right!?!?
And this is precisely why I have been selling into stables for the last week, not much, only around 50K DEC a day (all my SPS) - to pull some out early ready for CHAOS.
I mean if the DEC price bottoms out, I can always just buy back for a few days and repool, can't I!
I figure loosing out some SPS returns for a month isn't too much of a loss for stability of having the funds in place for the CHAOS purchase.
I'm not mass selling DEC either because I know that the print rate is now declining with the declining price and it still offers a very good return on a game that is still growing, so there's no intention on my part to sell off everything, but certainly taking something out now, and having sold a fair chunk while it was up at above $.10 was a good move.
But as always, maybe I should have been bolder!?
But hey, I'm still doing OK out of Splinterlands!
Posted Using LeoFinance Beta
---
---