Manual curation versus a @monster-curator delegation for my SPT?
I've been stacking SPT for a while now, I quite like it over on Splintertalk.io - I think the blog format works really well for a subject as specific as Splinterlands.
And of course SPT qualifies for the SPS airdrop! I'm almost at a million, almost.
I usually drop by the platform once a day to do a trawl through and drop a few upvotes on posts with my alt account @revise.spt - I quite enjoy it - it's become part of my daily routine, and from a Finance perspective I do a pretty good job of maxing out my curation returns, I'm good with keeping that VP bar around 85%!
With an active stake of 270K SPT I was recently yielding around 400 SPT a day, which is an APR of around 50% - NICE!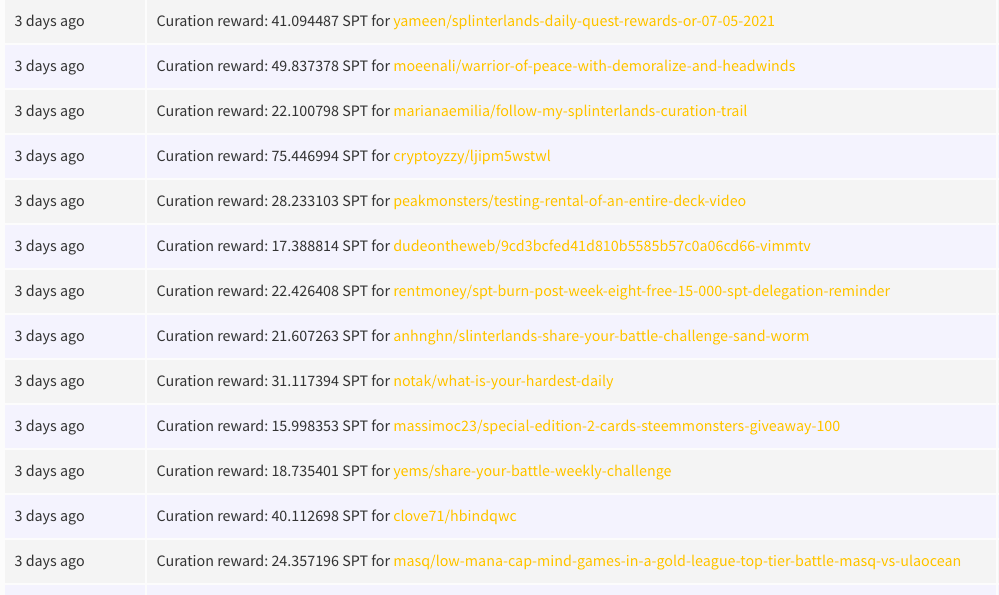 However I am also aware that delegating to @monster-curator is an option with a decent return too, so I tried out a little delegation of the same amount to see what the returns are like there, possibly slightly better:


(My active stake is low as I've been unstaking my entire STAKE from my alt and sending it back to my main account (where I play Splinterlands) so as to qualify for the SPS airdrop and left some liquid so as to have the same stake on @revise.spt and delegated to @monster-curator, and I've only got a couple of days' data as I've since jiggled everything again!)
I LIKE being in control of my stake!
I know that @monster-curator only votes the very best content, but I personally quite like being in control of my own stake - and there's ALWAYS enough stuff on SPT to vote on - with a constant feed of legitimate contest posts - to maintain the curation income.
It's work but in the loosest sense of the word!
Oh and I get to DV the occasional tag abuser too this way, which is something I miss from my Steem Flag Rewards days, oh they were fun!
HOWEVER, it's nice to have @monster-curator around if I ever actually end up getting back to my life offline and don't have the time to curate on multiple front-ends!
Having said that....
I don't have sufficient data to show me the relative returns, and once my stake has settled back down and I'll then delegate a proportion to the curator account and then work out my relative returns manually curating.
IF it turns out I can earn > 25% more with a delegation, I'll go with that.
What can I say, I'm cheap!
Posted Using [LeoFinance Beta](https://leofinance.io/@revise.leo/manual-curation-versus-a-monster-curator-delegation-for-my-spt
---
---