Top three Splinterlands cards I'm buying Now (or at least early next season again).....
I do like to go card shopping every now and then, I just can't help myself some days, but I do try restrain myself to only picking up relative bargains.
And for me ATM that means gold reward cards, and buying just after the EOS when they tend to be cheapest because there are more people selling them!
I like some of the new rare gold and EPIC reward cards esepcially as they give me the most collection power per DEC for a REASONABLE price per card, and this is what I want ATM as I'm thinking about land staking potential, which i think is going to be based on Collection Power.....
I.E. your chances of minting something nice from a plot will be a function of how many CP you have staked to that plot, at least partially, so the more CP you can cram into one plot of land the better.
And for me this means maxed gold cards.
Obviously maxed gold legendary BETAS would be best, but I simply don't have the budget to spend $1000s on one card, I'm aiming to have more plots (I have a tract) populated by mainly rare and epic maxed gold cards, and a few regular cards too.
So for my budget and the number of plots I'm hoping to manage, maxed rare cards are about right for me.
I try to buy not the cheapest, but cards which are also playable, and hence rentable too, and for me this means two cards mainly.....
Three cards I think are both playable and relatively cheap (if you rank by BCX/ dollar are......
Naga Assassin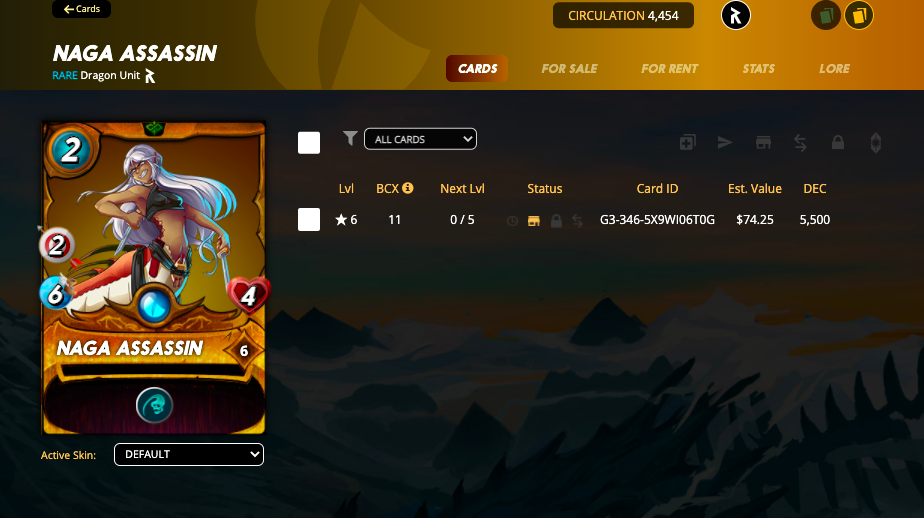 As you can see I've already levelled this up to 6, where it gets useful. One more L6 and I've got a maxi in waiting!
Venari SeedSmith
Next on my list is to get this up to L6, I've got a few....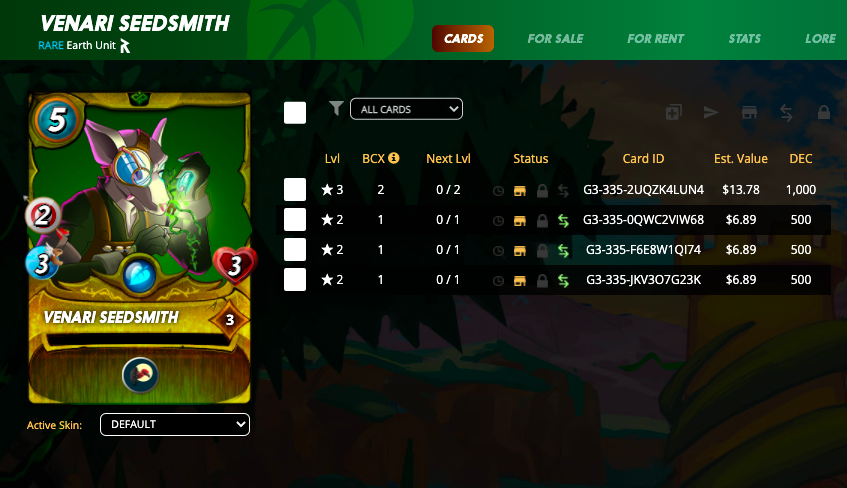 Uraeus
I don't actually own any of these yet, but I will certainly be accumulating these alongside the above two....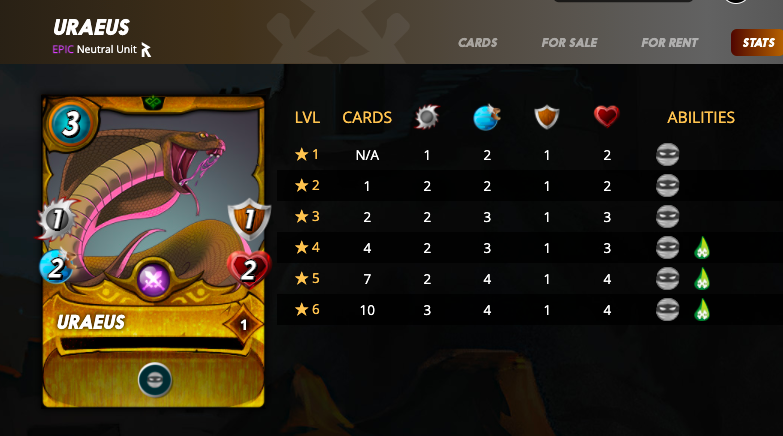 I tend to buy in 'threes'
What I mean by this is that I tend to have three cards I'm aiming to level up ASAP - but I buy whichever seems to be like most of a bargain at the time.
It's a compromise between getting them cheap and getting them active asap!
Once I've got the above three maxed out I'll move onto my next three, and that could well include trying to max out a Gold Harklaw, possibly, we will see how it goes!
Posted Using LeoFinance Beta
---
---