Splinterlands Challenge of the Week - Always Play the Rule Set!
This week's Splinterlands Challenge of the Week was to showcase Efreet Elder from the Fire Splinter, my duff Splinter, which I never play, so I've used this week's challenge as a free license to showcase any battle, highlighting the desirability of playing the ruleset, rather than ignoring it like my opponent does in this battle.
NB - it is against the fire splinter, so that's something, and against a superior opponent in terms of number of maxed cards they played, but they ignored the rulesets, and lost!
The Rule Set and Line Up
18 MANA
SLOW
HEAVY HITTERS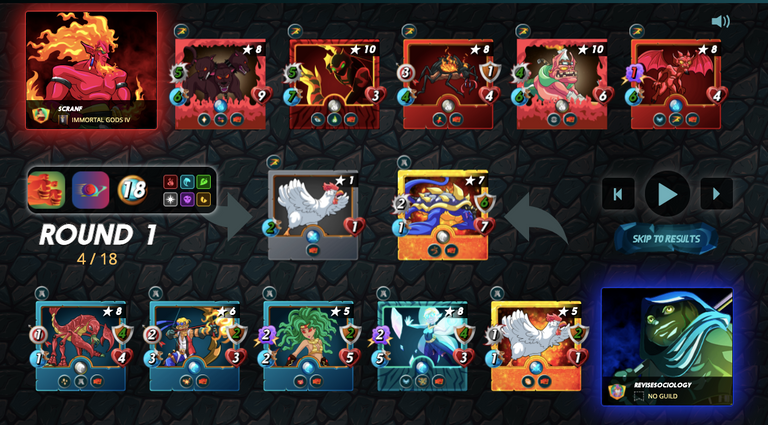 Summoner - Bortus
Spineback Turtle - nice low mana slow tank
The Chicken - blast fodder (sorry chicken!)
Ice Pixie - a useful two mana damage card
The Medusa - Stun!
Pirate Archer - nice low mana heavy damage.
The Crustacean, great for the slow ruleset!
Did my strategy work?
Beautifully, to see it in action click here!
Round 1 - Carnage! I take out his chicken, the Medusa STUNS the Cerberus, I take out Cerberus, the Kobold MISSES the Crustacean.
Round 2 - I take out his Serpentine Spy, and first ranged monster, the Kobold MISSES the Turtle, but gets taken down by the dual magic attacks anyway!
Round 3 - it's all over, just one magic monster left!
Lesson - ALWAYS play the ruleset!
My opponent had a decent selection of cards in their own right, LOTS of damage, but....
If you can't hit with fast cards on slow, that damage doesn't count.
Because I played one STUN monster, my damage increased significantly! As well as have having all my other other inverse speed advantages and more buffs!
In short, always play the ruleset!
If you don't yet play Splinterlands, why not give it a go?
Anyone using my referral link will receive a free rare card!
---
---