Splinterlands Challenge of the Week: Tenyii Striker

This week's Splinterlands Challenge of the Week was to showcase the Tenyii Striker from the Fire Splinter..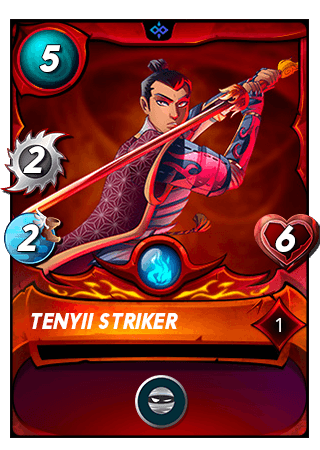 This is IMO an ESSENTIAL card to have in yer Fire Splinter line up - with decent damage and health for the mana even at L1 and the ever useful sneak ability!
The battle below features a Level 1 Tenyii Striker playing a major role in a decent Victory!
The Rule Set and Line Up
Mana cap - 24
Standard Rules apply (Bronze League!)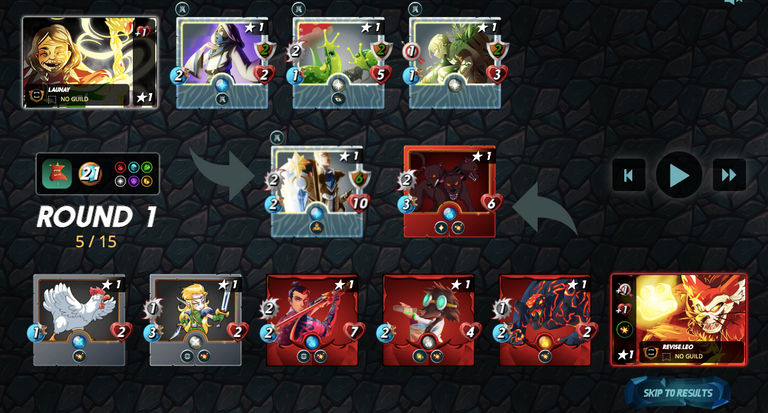 Summoner - Yodin - sneak and blast!
Cerberus - a decent tank with mid mana
Scorch Fiend - I needed my 0s
Scavo Chemist - honestly just because I needed a relatively low mana card!
Tenyii Striker - sneak 1
Elven Cut Throat - sneak 2
Chicken - sneak soak!
Did my strategy work?
Beautifully, to see it in action click here!
Round 1 - I lose my Scorch Fiend to opportunity but that's OK
Round 2 - I blast my opponent's TruthSpeaker into oblivion but lose my tank, damn, a miss would have been nice given the speed difference!
Round 3 - no losses, thanks to a miss on my Chemist. About right!
Round 4 - I take out my opponent's slugs thanks again to blast but lose my Chemist, Tenyii now takes up the tank role.
Round 5 - I take out the ShieldBearer and it's all over once my opponent's only remaining ranged attack gets taken out.
How important was The Tenyii Striker?
CRUCIAL - he was the main damage dealer on my opponent's taunter - without his two damage there's no way I would have won!
Moreover he ended up in Tank position after 4 rounds with still decent health, meaning he could have survived another round or two or more by that point.
But I also have to give credit to Yodin, without the extra blast damage this may have been a different outcome!
Final Thoughts: Sand Worm - worth buying?
Absolutely...
Sneak is a crucial strategy to have and the Striker is one of the best at it, and if you level him up his damage ramps up rapidly...
And if you play up at the higher leagues he's devastating at MAX level - with 5 damage for 5 mana and gains two more abilities...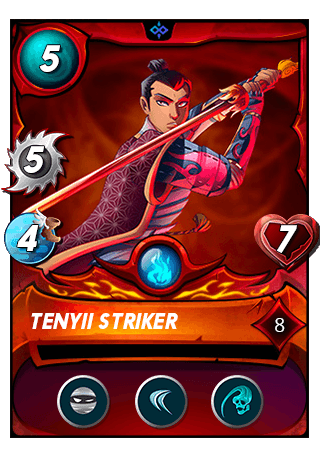 ALTHOUGH they are kind of contradictory - dodge and backfire - OR maybe that's good - as your opponent is sort of damned if he does hit you even though he probably wont!
And his speed is a little on the low side for my liking, but this is still a must have IMO
If you don't yet play Splinterlands, why not give it a go?
Anyone using my referral link will receive a free rare card!
---
---