[Esp/Eng] battle of the week with Gargoya scrapper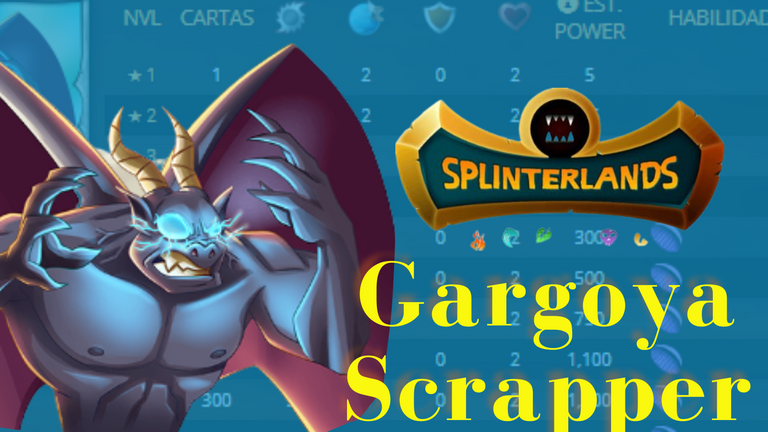 Imagen diseñada en canva con elementos de juego de #Splinterands
---
Hoy doy inicio a mi semana con uno de mis juegos favoritos dentro de la red de #hive y es #splinterlands.
Iniciamos con una gran batalla de la mano del protagonista de la semana y es Gargoya Scrapper quien tiene un coste de mana muy bajo y que llevandola a nivel 3 comienza a tener la habilidad de vacio que reduce el daño de magia. Posee 2 de vida, 1 de ataque cuerpo a cuerpo, y 2 de velocidad.
Today I start my week with one of my favorite games in the #hive network and it is #splinterlands.
We start with a great battle of the hand of the protagonist of the week and is Gargoya Scrapper who has a very low mana cost and that taking it to level 3 begins to have the ability of vacio that reduces the damage of magic. She has 2 health, 1 melee attack, and 2 speed.

Imagen capturadas desde mi perfil de juego de splinterlands
Mi equipo de batalla lo conforma de la siguiente manera
Invocador: Mother Khala quien suma +1 de vida a todos los monstruos aleados.
Primera posición: Gargoya Scrapper con un daño de 1 cuerpo a cuerpo, 2 de velocidad y 2 de vida.
Segunda Posición: Luminous Eagle con a habilidad de atacar desde segunda posición y también con la habilidad de esquivar ataques. Tiene 2 de ataque cuerpo a cuerpo, 3 de velocidad y 5 de vida.
Tercera posición: Celestial Harpy quien tiene 1 de ataque cuerpo a cuerpo, 2 de volocidad y 2 de vida, tambien posee dos habilidades que la hacen ser útil y una es la de esquivar ataques y la otra la de oportunista que le permite atacar desde cualquier posición.
Cuarta Posición: Venari Crystalsmith quien tiene la habilidad de curar a los tanques y hacer daño desde lejos.
Quinta Posición: Herbalist quien tiene 1 de ataque lejano, 1 de velocidad y 2 de vida.
Sexta Posición: Lone Boatman quien tiene 2 de ataque lejano, 2 de velocidad, 1 de escudo y 3 de vida.
My battle team is made up as follows
Summoner: Mother Khala who adds +1 life to all monsters.
First Position: Gargoya Scrapper with a damage of 1 melee, 2 speed and 2 life.
Second Position: Luminous Eagle with the ability to attack from second position and also with the ability to dodge attacks. It has 2 melee attack, 3 speed and 5 health.
Third Position: Celestial Harpy who has 1 melee attack, 2 speed and 2 health, also has two skills that make it useful and one is to dodge attacks and the other is the opportunistic that allows you to attack from any position.
Fourth Position: Venari Crystalsmith who has the ability to heal tanks and do damage from afar.
Fifth Position: Herbalist who has 1 of far attack, 1 of speed and 2 of life.
Sixth Position: Lone Boatman, who has 2 far attack, 2 speed, 1 shield and 3 health.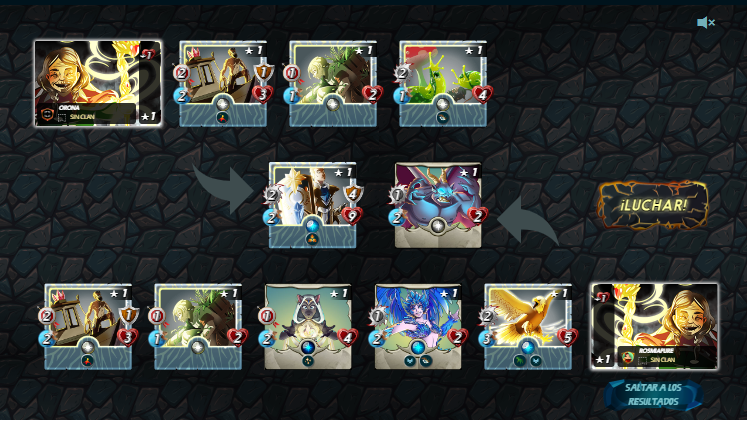 Imagen capturada de mi perfil de juego de splinterlands
Mi oponente escoge el mismo invocador y adicional en primera posición coloca a Shieldbearer un tanque muy poderoso con buena vida, escudo, velocidad y ataque, adicional tiene la habilidad de que todos los ataques sean dirigidos a el.
Debo decir que la linea del contrincante causo algo de pánico en mi y hasta algo de duda, pero los invito a ver como se desenvuelve la batalla.
My opponent chooses the same summoner and additionally in first position places Shieldbearer a very powerful tank with good life, shield, speed and attack, additionally he has the ability that all attacks are directed to him.
I must say that the opponent's line caused some panic in me and even some doubt, but I invite you to see how the battle unfolds.

click here to watch the battle
Debo decir que nuestro monstruo estrella se porto muy bien a pesar de ser eliminado en la ronda número 1, pero resistió y logro restar 1 vida al contrincante lo cual fue de ventaja para todo el equipo y ya a la ronda 2 logramos derribar el primer monstruo y la batalla duro hasta la ronda número 5 donde por fin obtuvimos la victoria,
I must say that our star monster behaved very well despite being eliminated in round number 1, but he resisted and managed to subtract 1 life from the opponent which was an advantage for the whole team and in round 2 we managed to take down the first monster and the battle lasted until round number 5 where we finally got the victory,

Para una batalla de poco mana Gargoya Scrapper es bueno ya que su costo es de 1 mana así te da opción a escoger otro que pueda atacar a distancia mientras el hace de tanque, aunque probablemente tendrá un mejor uso desde otra posición el cual no he probado aun pero no creo ya que no posee habilidad que lo permita. Sin embargo con el invocador que le suma 1 de vida y algún monstruo aleado que le proporcione escudo podría aguantar y lograr hacer mucho daño y más si se adquiere en sus niveles más alto.
Mi estrategia no funciono a pesar de obtener la victoria ya que cuando selecciono a Venari Crystalsmith la idea era que le proporcionara algo de vida dando chance a resistir un poco más, pero si ven la batalla podrán observar que así no sucedió.
Creo que colocare en prueba el análisis que doy y compartiré nuevamente una próxima batalla con el monstruo estrella.
For a low mana battle Gargoya Scrapper is good because its cost is 1 mana so it gives you the option to choose another that can attack from a distance while he plays the tank, although it will probably have a better use from another position which I haven't tested yet but I don't think so since it doesn't have the ability to do so. However, with the summoner that adds 1 health and some alloy monster that provides shield, it could hold and do a lot of damage and more if it is acquired at its highest levels.
My strategy didn't work even though I got the victory because when I selected Venari Crystalsmith the idea was to give him some life giving him a chance to resist a little more, but if you watch the battle you will see that it didn't happen.
I think I will test the analysis I give and I will share again a next battle with the star monster.

---
---