SHARE YOUR BATTLE Weekly Challenge! Tanks and Attackers in Low Mana battles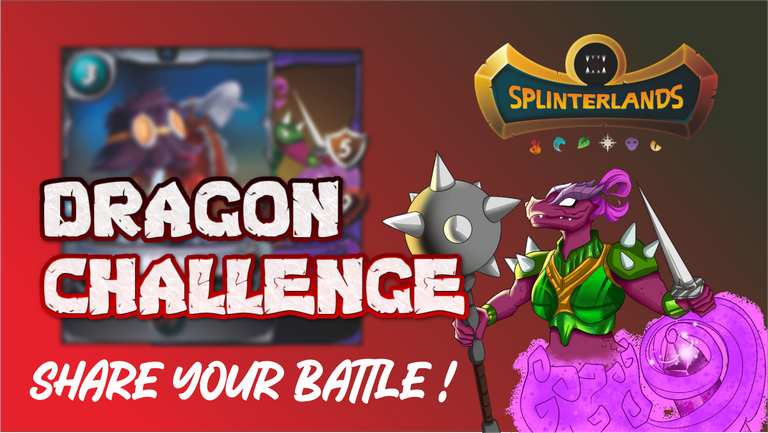 Hello everyone, in this article I'm heading back to the challenge hosted by @splinterlands. Specifically, Share Your Battle Weekly Challenge. This week's theme is Dragons.


Only 15 points of mana are used in this battle. This made me consider fielding a monster capable of both defending and attacking at the same time. I'm optimistic about the summoner dragon's abilities. Melee Mayhem and Stampede are two additional rules. (Melee Mayhem: Mele attack monsters can attack from any position. Stampede: The trample ability can trigger multiple times per attack if the trampled monster is killed.)
So, what is the appropriate monster? I went with one of the dragon cards. Djinn Chwala is the name of the card. The card I found after completing the daily missions from the chest rewards.
| | |
| --- | --- |
| | In my lineup, I used Djinn Chwala because he has a lot of health points and a bonus shield. I put Djinn Chwala in the front row as tank and attacker, with 1 more shield point from the summoner. |
| | As a backup, I chose Scavo Hireling, who is capable of repairing. This is the same ability as the Armorsmith in the life squad. However, because I have no armorsmith, I employ Scavo Hireling. |

THE BATTLE BEGINS


👉 LINK BATTLE 👈
I had no idea the enemy would use Thaddius Brood. The enemy managed to reduce one health point in my deck line with that summoner. Because I don't use magic, the summoner's magic attack reduction effect does not affect me.
The enemy also employs a monster with the thorn ability, cursed windeku. This monster, like Djinn Chwala, has large health and attack points. It's just that cursed windeku lacks a shield bonus. Death elemental and undead badger are the other enemy decks.
After applying all summoner bonuses, the battle conditions look like this.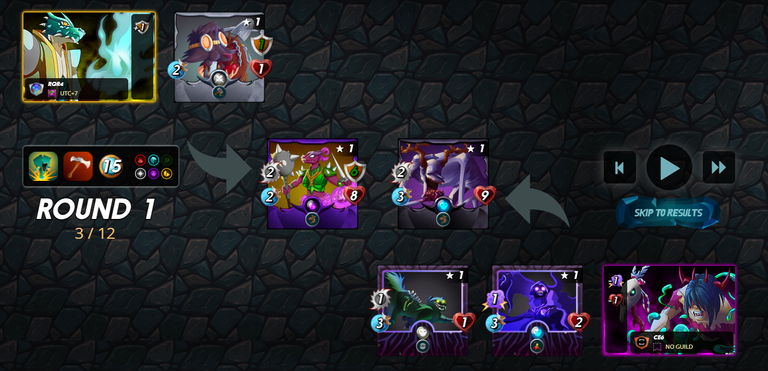 The first round has begun.
If Djinn Chwala's shield is reduced, I hope Scavo Hireling can assist him. However, it turns out that the enemy has a death elemental with sniping abilities. As a result, Scavo hireling was immediately eliminated in the first attack. The undead badger attacked Djinn Chwala next. Then, The undead badger was defeated by the thorn effect's melee attack. Cursed Windeku and Djinn Chwala have a fight in which they assault one other and give each other the Thorn effect. Gives the final result that Djinn Chwala is still alive at the end of round 1 with one shield point remaining.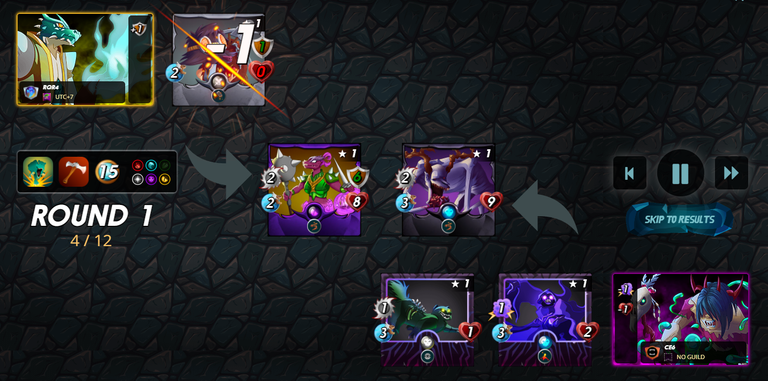 The second round has started.
Djinn Chwala's health continues to be depleted by Dead Elemental strikes. The cursed windeku attack broke through Djinn Chwala's shield, reducing his health by two points. Djinn Chwala strives to make it through the following round with only four health points.
3rd round
Because the cursed windeku's speed is 3 points, he attacks Djinn Chwala at the start of the round. Cursed Windeku is badly injured by Thor's ability after fighting Djinn Chwala, and dead elementals rush to the front. Djinn Chwala was able to survive with the remaining one health point because the Dead Elemental attack only had 1 point. Djinn Chwala then uses a 2-point melee attack on the Dead Elemental.
👉 LINK BATTLE 👈

DID MY STRATEGY WORK?
Yes, my strategy was successful. In this battle, I selected the appropriate card. In terms of ability, the cards used by the enemy are nearly identical (cursed windeku). However, the card I chose won due to the shield bonus. If Scavo Hireling can continue to assist Djinn Chwala, their cooperation will be invaluable. However, it appears that magic attacks can penetrate Scavo Hireling's shield.
DO YOU LIKE USING DJINN CHWALA'S?
This type of dragon card is one that I frequently use. And always accompanies my deck if a battle against a melee team requires tanks. Although his ability is still at level 1, it is very useful and can balance enemies with high-level melee abilities.

LETS TALK ABOUT DRAGONS

Djinn Chawla is the most powerful dragon card I have. Then there are Dragon spirits. I don't have a large dragon card collection. 😌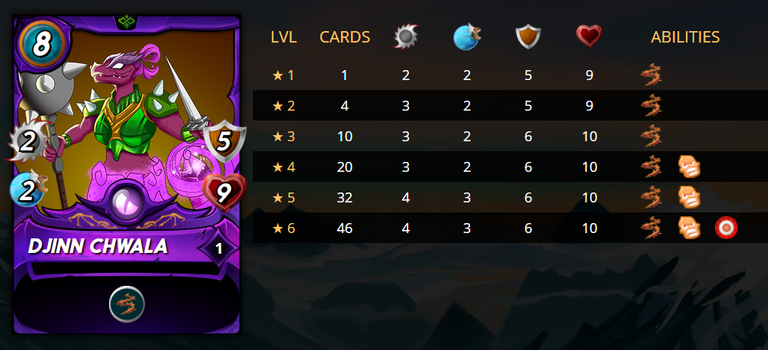 This card is a type of epic rarity card for Djinn Chwala. Level 6 is the highest level, which is obtained by combining 46 cards. At level 4, Djinn Chwala gains new abilities, namely, enrage. When it reaches level 6, this card will gain true strike ability.
This card comes with a shield bonus at level 1. It can overwhelm the enemy for the first two rounds with a shield bonus of 5 points and the ability of thorns. So, if you add up the health and shield points, this card is equivalent to having 14 health points. And can act as both a tank & an attacker.That is why you should have this card in your collection.
So, how do you feel about this card in the battle I described? Please leave your thoughts. Thanks for reading and hope you enjoyed my battle!
🍃 Much appreciated. Terima kasih banyak. Muchas gracias. 🍃
---
All of the Screenshoot and some text about Splinterlands in this post come from Splinterlands.com.

Talk about Splinterlands,
If you haven't tried out this fantastic game called Splinterlands yet, I invite you to Join.
It's free, but you'll need to invest in a beginning deck or buy gaming cards to gain real assets like cards and tokens.
---
🙏 I invite everyone to join Splinterlands. 🙏
If you use my referral link, feel free to let me know.
And I will delegate you a card so you can play in bronze league II.
---
---