One day as a shark - Sunday Funday - IAAC DAY 36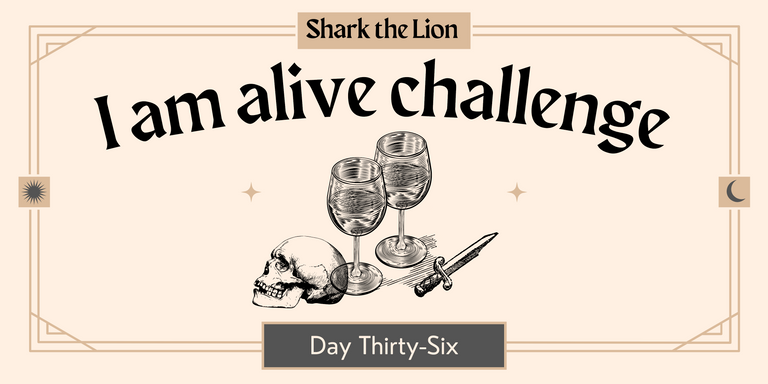 So, yeah, surprise surprise... I went on a dog walk today. I suppose if you don't want to read about shit like that you could, I don't know, keep scrolling next time 🤣
Stella and I went after I had a cup of coffee or two. She woke me up at around 6:15 am, which is the same time she's come into my bedroom for the last three mornings. She must just be on a schedule or something!
We took a longer and different path today. Instead of walking just around our neighborhood, we walked over to a nearby trail next to a river near our house. It's part of a long trail that goes all over the state called the Oak Leaf Trail. It's wooded and pretty pleasant. You'll have to watch out for people riding by on bikes and whatnot, but that's not a big deal.
The trail is nice because it's shaded most of the way and you can walk for a long time without crossing streets or dealing with traffic or anything like that. Stella seems like like walking around the neighborhood better, though. Maybe the smells on the trail just aren't as interesting to her.
We ran into some people who appeared to have camped along the trail, in a clearing behind a church parking lot. It seemed like an odd place to camp, considering you're not supposed to camp there. I don't care where people camp or have a problem with it. One tent is fine. Two tents and you've got hippies.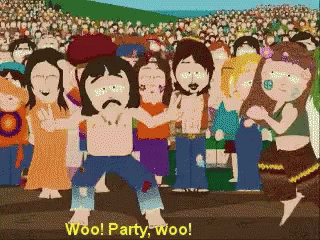 Here's Stella posing in the sunlight
She's not really posing. She's more like "HUMAN, why aren't we walking?" She's one to talk! We stop any time she finds some scent interesting (or we walk past a pole or a tree), but photos just take too long. I'm kidding, of course. She doesn't think that way because dogs are better than humans. She just lives in the moment and has a kickass time. She definitely doesn't let assholes affect her day.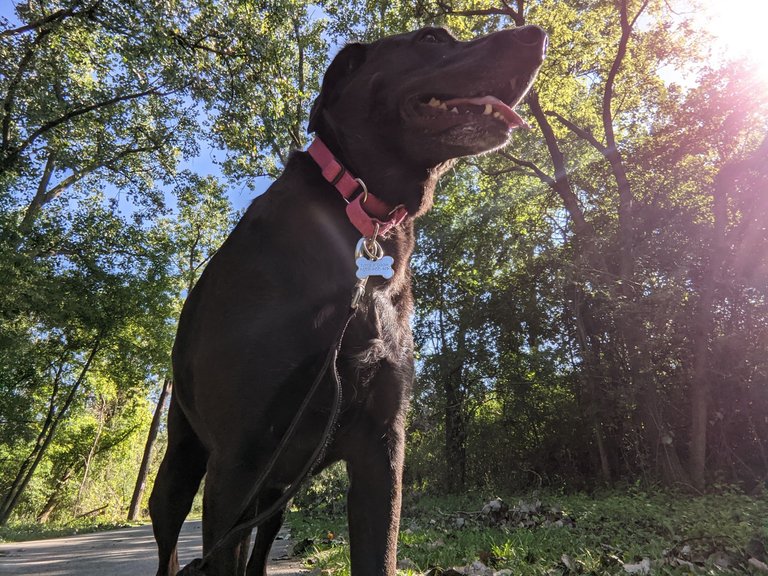 Some recent storms were bad. Here are a bunch of branches in the river.
I think that's a whole tree and some extra branches. It's hard to tell. I mentioned yesterday that we had a bunch of twigs and branches in our yard, but it was nothing like this.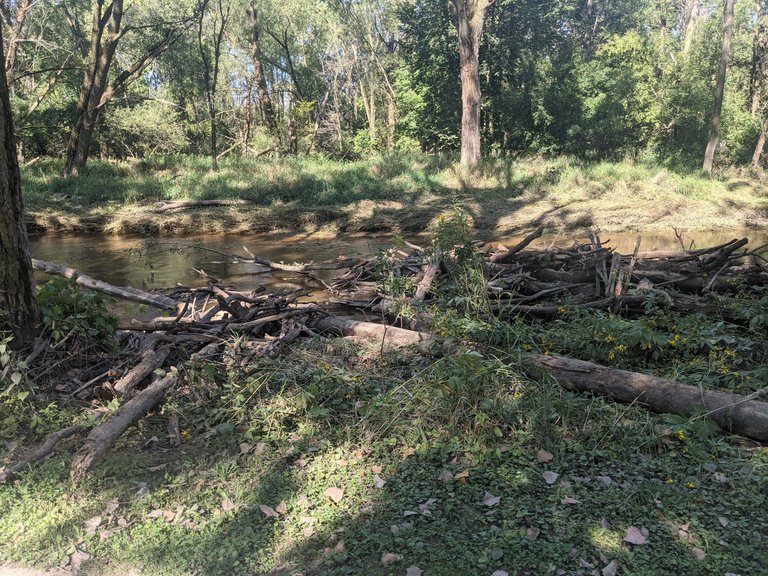 ---
Splinterlands update: there is no update really
At least so far. The site has been down for most of the day because they're having server issues again. It's the last day of the season and this couldn't really have come at a worse time, but it is what it is. The Splinterlands team has announced that they will be extending the season by 24 hours to make up for this.
Many people are understandably concerned about this because they'd rented cards for just long enough to take them through the end of the season, which was supposed to be today. Now, the site is down and they can't even try to extend the rentals for a day if they want to. The rentals are not cheap, so I'm not surprised some people are wondering if they'll be compensated in any way.
Today, I didn't even really play that much. I had a bit of a weird day and wanted to stay away from the computer for a while during a few points. I got worked up about some silly stuff. The site did go back up after a few hours.
Soundtrack to writing this post
This is what I was listening to while I finished up this post. Not while I started it. Because I write these all day, when I think of things.
It's instrumental post-metal. There are only three people in the band, but they make it sound like at least four or five. A lot of loops and whatnot. Atmospheric, heavy, driving. It's got it all.
Random Thought: Maybe my plan to only make one post a day is a flawed one
Looking at my feed, it IS all the same shit, I guess. But who looks at my feed? People usually see your most recent post or one of the most recent ones and that's it. People aren't checking every day all the time. I don't even really worry about it. I guess I should try to break some of the content up. Hey, then I'd get more rewards, too. I make different graphics every day, anyway. Some people literally use the same picture in every single one of their posts. Looking at their feeds is no better. It's much worse, actually.
Maybe I'll just stop posting these to my blog and they'll only be in the communities.
I decided to free up all of my Hive Power except what I'm delegating to @canna-curate
That way I'll have more upvoting power! Oh, and more downvoting power too. 😎 It was nice getting 10 Leo a day from that delegation, and I was getting some pizza and Ecency points. I think it'll be better just to have the Hive Power, though. My curation rewards will certainly increase.
Selfie on the trail
Same shit every day? That's the point. You're suppose to post a selfie or a video every day as part of the I am Alive Challenge. Do you think I like taking photos of my stupid face? I promise you I do not! 🤣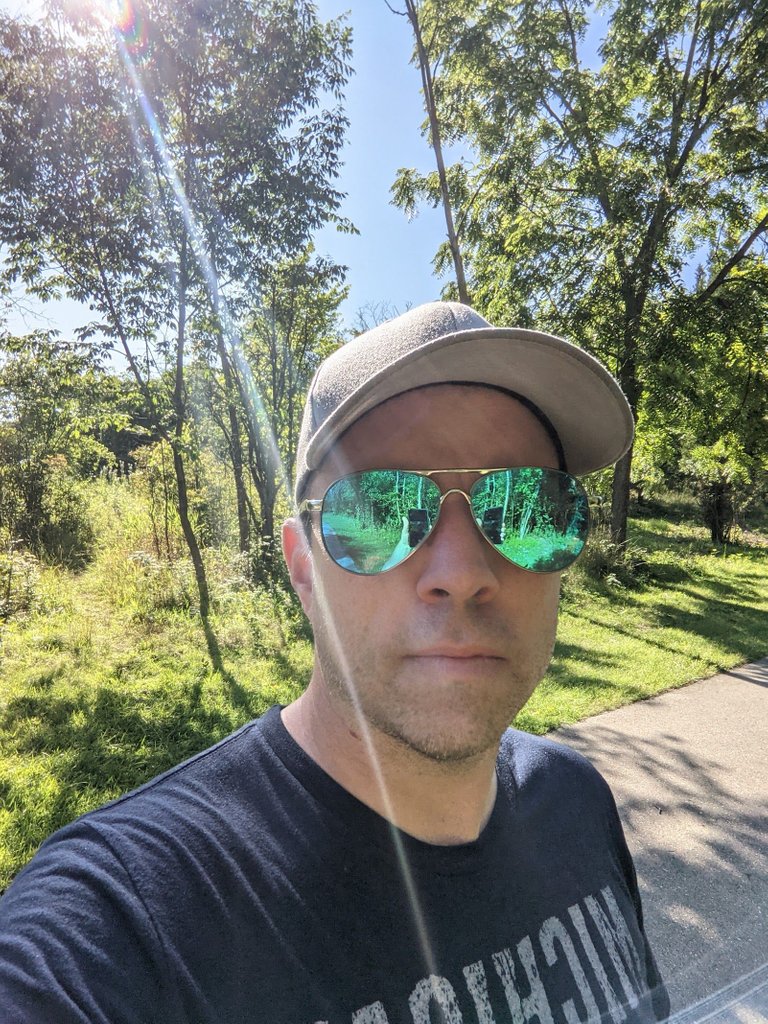 ---
---