SHARE YOUR BATTLE Weekly Challenge! NERISSA TRIDAWN
This post is an entry to the SHARE YOUR BATTLE Weekly Challenge! NERISSA TRIDAWN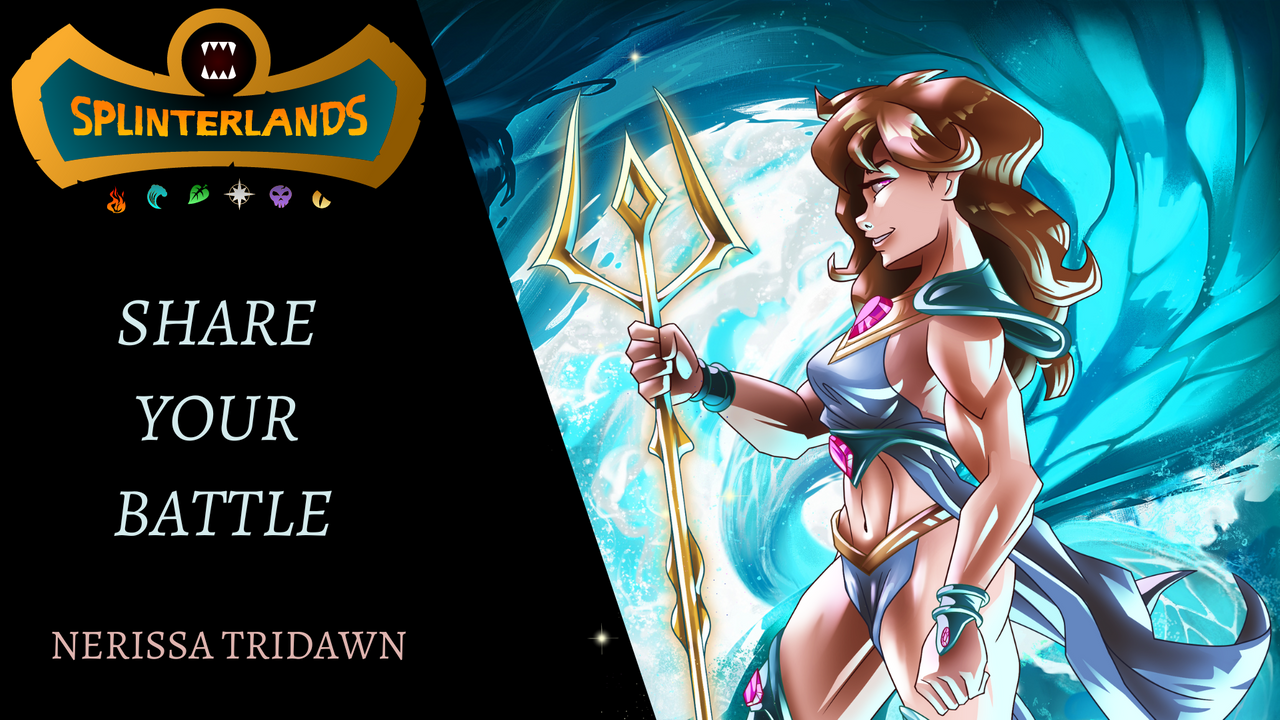 Nerissa is a proud warrior of the water. Armed with her enchanted trident, she defends the seas, the rivers, and the lakes. She is well known across coastal villages, and they often call on her for help. She has slain great sea beasts that would otherwise kill everyone in their path. She has rescued sailors from hurricanes, and even warned villages of incoming tsunamis to save lives. Her bravery and brilliance in battle have led to her being called Nerissa the Hurricane.
Nerissa was born and raised by the ocean, and could swim before she could walk. She always felt the sea called to her. And within her it stirred a deep magic. An ancient mana of tides and waves. Nerissa answered the call, and travels between the continents of the Splinterlands.
When settlers and explorers made their way to Praetoria, Nerissa was there to help with every step of the journey. But the blight that gripped the land worried her deeply. Its corruption spread into the waters that she loved so dearly. She often caught herself crossing paths with Igor the Finback and his tribe of Trench Dwellers. Each time she had to pull back or risk all of them attacking her at once.
When Nerissa learned of the deeper plot of the Chaos Legion, she vowed to defend Praetoria and its inhabitants with her life.

Overview
Nerissa Tridawn is a high mana (9) strong magic monster without abilities, but with good base stats. She is the queen of the Back to the Basic games.
Stats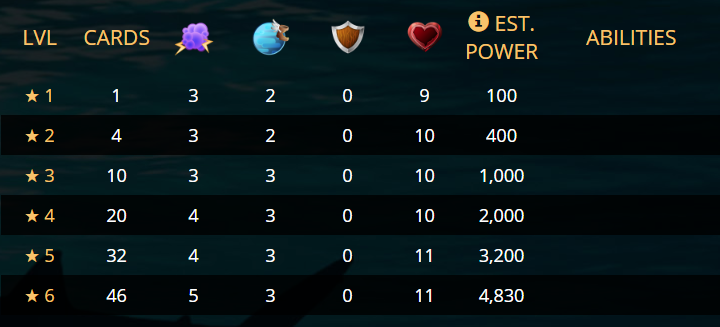 Market prices
This card has a stable price of around 1,6$. I think it is a good price for her.

The first level card has not a bad ROI for renting (around 25%)

The Battle

| Battle Rulesets | Description | Info |
| --- | --- | --- |
| Ferocity | All monsters have the Fury ability. | - |
Lineup
It was a high-mana Fury game. I didn't use taunt monster this time so it was basically a Standard game. I have not a lot of high-level fire and life cards, so the water was a solid pick.
| Card | Strategy |
| --- | --- |
| | Lux Vega - One of my max-level summoners, this time she was a better choice than Kelya. +1 mana but it gives +1 Health too. |
| | Djinn Oshannus - My favorite reward card of the current run. I often use it as a tank cause he is very quick and has good abilities again magic and high damage too. Also good magic damage with high health. |
| | Baakjira - Very good support monster, huge health with heal and slow, and strengthen. It can survive a lot of damage until the rest of my team do damage. |
| | Nerissa Tridawn - Monster of the week. She is a good big DPS monster in this game. She did a lot of damage. |
| | River Nymph - She was a bad choice, I should pick a higher mana monster instead of her. Quickness is a good skill but there were many better monsters to fit in my team. |
| | Phantom of the Abyss - My one of the favorite backline monster. With dodge and high speed can miss a lot. I should rent a higher level from this card and it become an even better choice. |
| | Doctor Blight - One of the best camu monster for the last position. He can grab a lot of health until appearing in the front. Poison is an extra top of this. |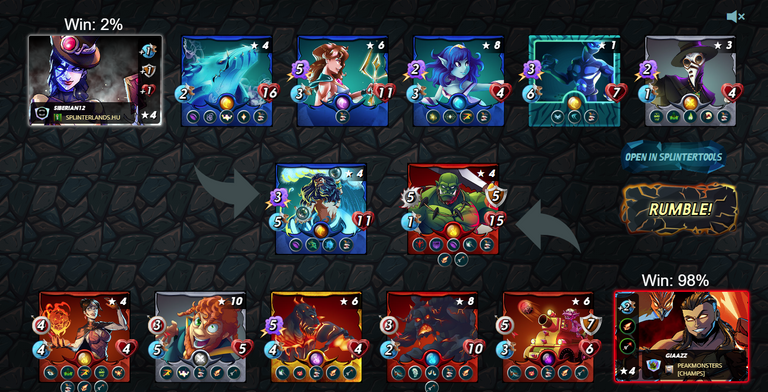 Did your strategy work? What will you try differently next time?
No, it was a not good strategy. The enemy tank was a perfect choice against my magic team, that was the main reason of my loss. The other reason was that I only use 46 mana instead of 56.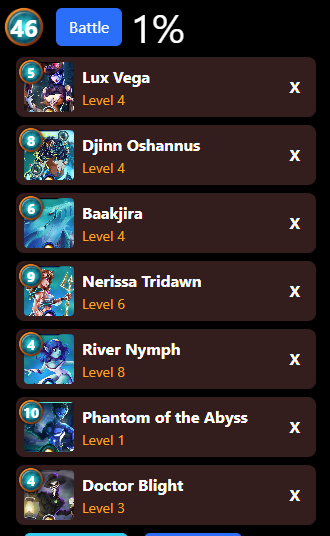 I should select the bear to protect my team, let see the chances: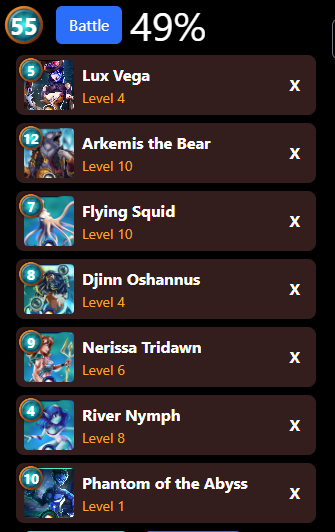 Battle Results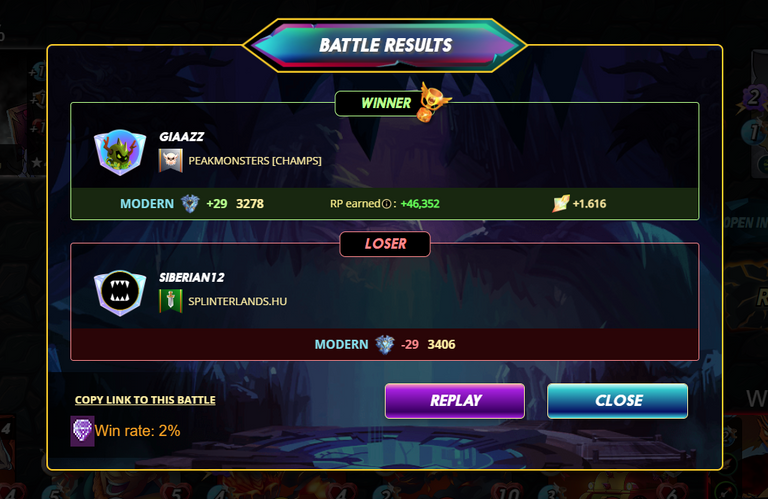 Do you like regular foil NERISSA TRIDAWN? Why or why not?
Yes, I like it. However, she has no abilities but has very good stats and high magic damage. Can fit a lot of games. A level 1 is also not a bad choice for renting out, so basically it is part of the better cards in my opinion.

Check my active giveaways here!
---
---