Sharing a Battle Using the Peaceful Giant
https://peakd.com/splinterlands/@splinterlands/share-your-battle-weekly-challenge-peaceful-giant
Hello Hivers and Splinterlands gamers!
I bring you another battle! Thank you to the organizers of this fun challenge: @splinterlands and @carrieallen, and those who have been helping in the curation of articles!
The Featured Monster
This guy can sit up front and take blows whiles your backline basically hides behind him and mutilates your opponent. Or...at least that'd be the goal. Do you use this Peaceful beast? Where do you use him in certain rulesets? Does he ever find his way into the middle of your lineup? Why? Do you feel bad that he just sits there smiling while being beat up? Cause I do. 😂 😘@carrieallen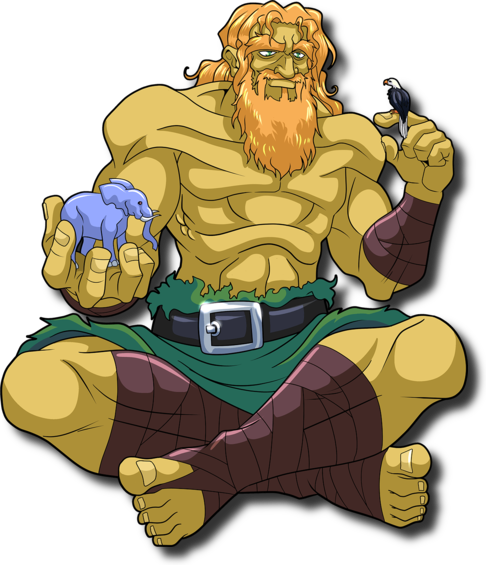 THEME: PEACEFUL GIANT
Edition: BETA
Rarity: COMMON
Element: NEUTRAL
ATTACK: NONE
ABILITIES: NONE
---
The Ruleset
Standard- No modification to the standard gameplay rule and mechanics.
Strategy
Use a non-attack monster as tank and field all monsters with the ability to attack from behind.
The Lineup
Click the link to watch the battle.
https://splinterlands.com?p=battle&id=b232f7db2ce231664eb13826ba8eb6844c26513a&ref=silversaver888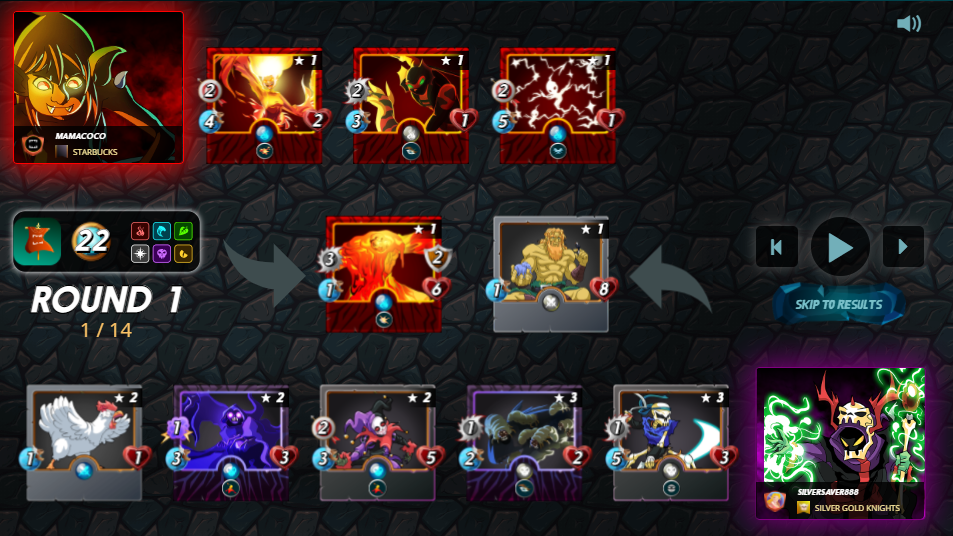 Summoner: Zintar Mortaus- All enemy Melee Attack Monster have -1 Melee Attack.
1. Theme Monster Peaceful Giant: No Attack, Speend of 1, Health of 8.
2. Skeleton Assassin: Sneak- Speed of 5, Melee attack of 1, Health of 3. Targets the last Monster in the enemy instead of the first.
3. Maggots: Opportunty- Speed of 2, Melee attack of 1, Health of 2. May attack enemy from any position and will target enemy Monster with the least Health.
4. Twisted Jester: Snipe- Cpeen of 3, Rnaged attack of 2, Health of 5. Target enemy Ranged and Magic attack monsters that is not in the first position.
5. Death Elemental: Snipe- Speen of 3, Magic attack of 1, Health of 3. Target enemy Ranged and Magic attack monsters that is not in the first position.
Furious Chicken- Speed of 1, Health of 1.
---
The Battle
1. Skeleton Assassin eliminate enemy Spark Pixies.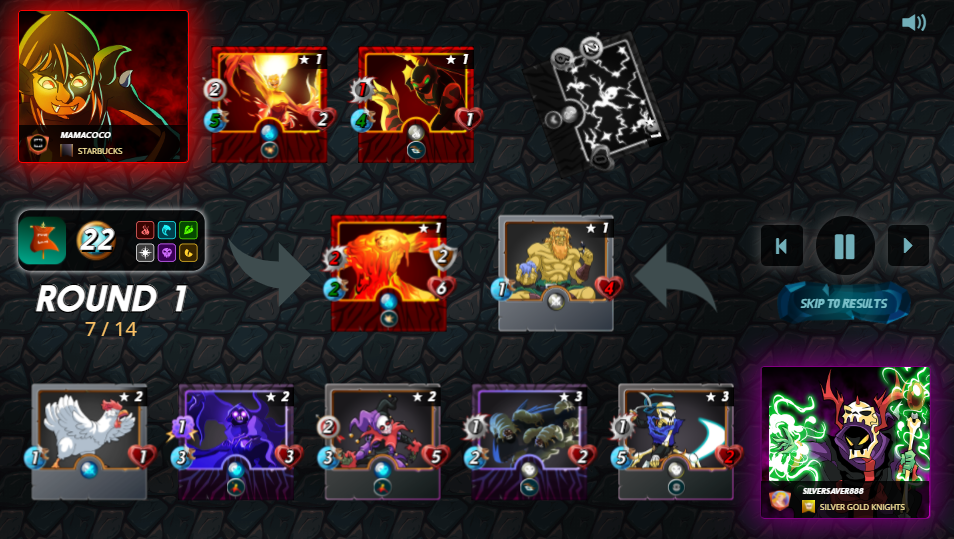 2. Maggots take down enemy Fire Elemental.
3. Skeleton Assassin conquered enemy Serpentine Spy.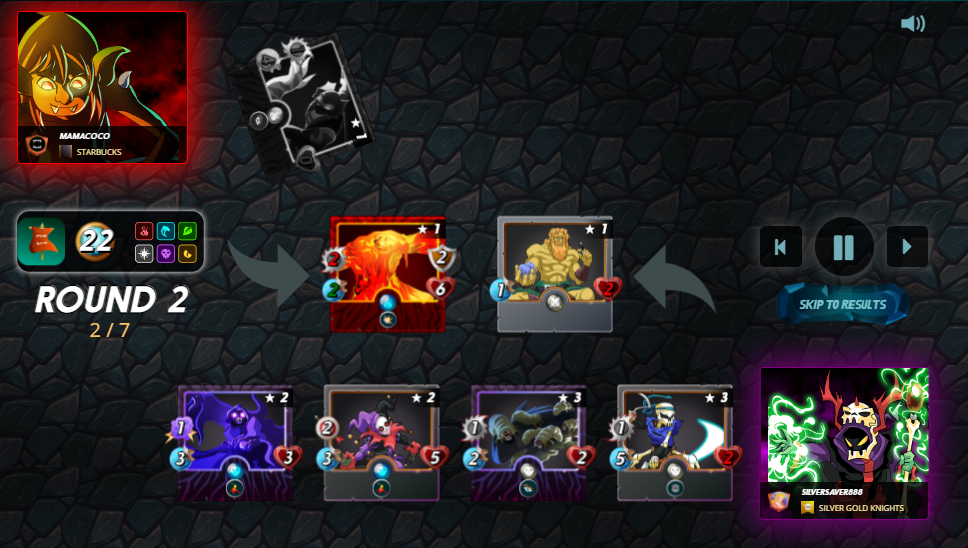 4. Death Elemental delivers a fatal blow to enemy Living Lava, for the WIN!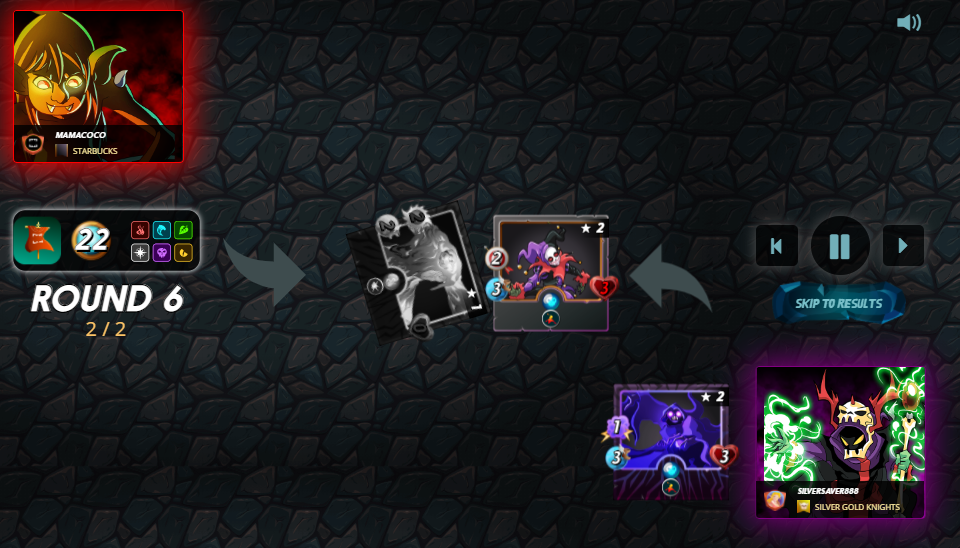 ---
The Battle Result
Peaceful Giant was a very effective tank in this battle. True to what
@carrieallen
said, the Monster sits upfront and takes blows while my backline tool down every enemy monster. I won this battle with two of my Monsters remaining.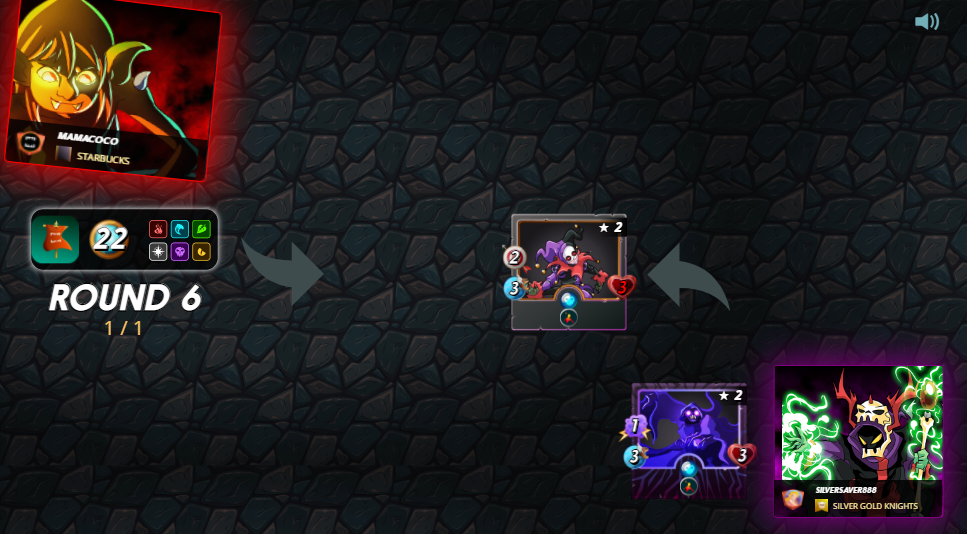 ---
There you have it! I hope you enjoyed this battle. I'll see you in the next battle!
---
😍#ilikeitalot!😍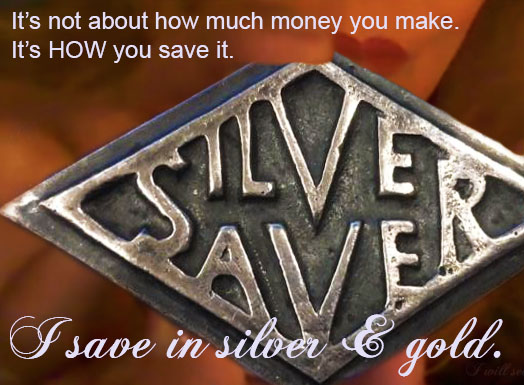 Best Regards,
---
All photos, gif, and video were taken by me with my iPhone6.
Thank you for stopping by to view this article.
I post an article daily, and I hope to see you again soon!
Hugs and Kisses 🥰🌺🤙!!!!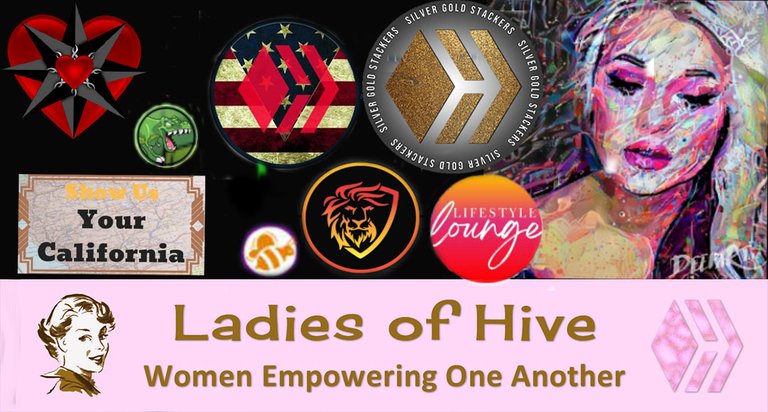 Would you like to support The Ladies of Hive Community?
Consider giving a delegation!
25 HP - 50 HP - 100 HP - 150 HP - 200 HP - 500 HP - 1000 HP - 5000 HP
---

---
---