Herons-Unlimited: Delegating Steemmonsters Decks For Profits + Giving Small Players A Shot
Investing in Steemmonsters beta booster packs and delegating decks through @herons-unlimited was definitely a profitable idea. And we're only just getting started...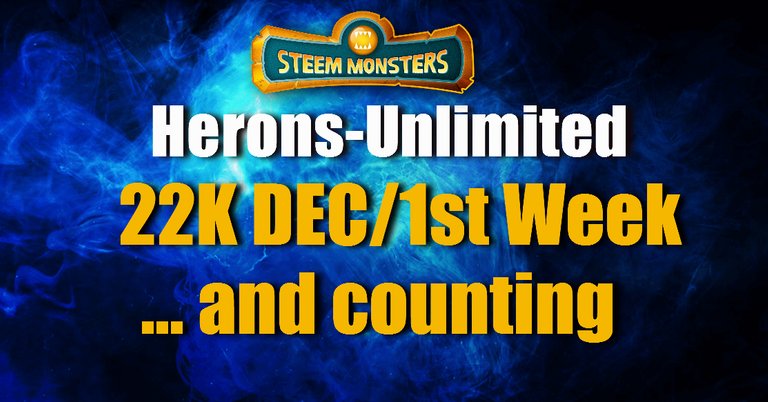 Bg image source
Crazy
I haven't always been easy on @aggroed and @yabapmatt since they launched Steemmonsters. I published more than a couple posts and comments to criticize the pay-to-play system they set up for the game. I never thought the game would survive it's first year, considering the small players base and the cost. However, after the developments I've seen these last couple of weeks, and some of the things that happened, I've come to the conclusion these guys might just be able to pull it off.
I became a believer... lol.
So I decided to use some of my Bitcoin profits to invest a little extra in the game. Well... 'a little' is maybe a bit too careful. With more than 80% of the beta booster packs being sold, FOMO kicked in, and to be honest, I went a little crazy.

Herons-Unlimited
I still haven't changed my point of view about the pay-to-play system: $10 for a starter deck is still a lot more than many people can afford - definitely because a starter deck won't bring you far in the game. But thanks to @herons-unlimited and their delegation system, smaller users also get a chance to play and earn without a big investment, while giving investors a chance on earning ROI.
If you have at least a level 3 deck, with 4 or more splinters in it, you can make it available through @tcpolymath's @herons-unlimited system. (Read the Terms and Conditions here. See some example decks here.)
Players don't need to pay to play one of the delegated decks. Instead, the rewards are split between the delegator and the player. Earned reward cards are automatically converted to DEC through the Ottermaker bot, and all the DEC is split according to the % the delegator sets. (This includes tournament winnings.)
As an investor, it's a hands-free solution to earn DEC. As a player, it is a chance to play and earn DEC without investing a truckload of money.

Win-Win
During the last week, I've set up 4 @herons-unlimited accounts: 2 regular level 4 accounts, and 2 gold foil level 3 accounts. I've set up a 50/50 rewards split for all accounts.
In this week, I earned 22K DEC, without lifting a finger, while giving 4 people a chance to play a deck without spending money. For me, it's a win-win.
Taking into consideration that the accounts are brand new and start in novice league, that's a pretty good result. In the next couple of weeks, the amount of earned DEC will go up as the accounts climb up in the leagues.
I'll keep you up-to-date on the progress.

Delegate Or Play
If you have a deck that is gathering dust, you might just as well make it available and earn some passive income, giving smaller players a chance to earn something extra too.
You can do so by joining the @herons-unlimited program.
Click the image below to join the Discord channel:

Source

Steemmonsters Tips & Info
[VIDEO] Steemmonsters 101
- A Steemmonsters introduction video with links to the best beginners' tutorials.
Steemmonsters - Sneak & Snipe 101
- A post that explains how the Sneak and Snipe-abilities work.


SteemMonsters Tip: Leveling Up With Cards In Cooldown
- A tutorial that shows you how to use the serial numbers of the Steemmonsters cards to make cards that are in cooldown playable again.
Don't have a Steemmonsters account yet?
Create one by clicking the banner below:
Source

DISCLAIMER: This post contains affiliate links

Graphic created with The Logo Creator Software
Subscribe To RSS Feed | Subscribe To Newsletter


---
---