Lore Trivia Giveaway
The 7PM EST Sunday Splinterlands lore Trivia Giveaway is almost here!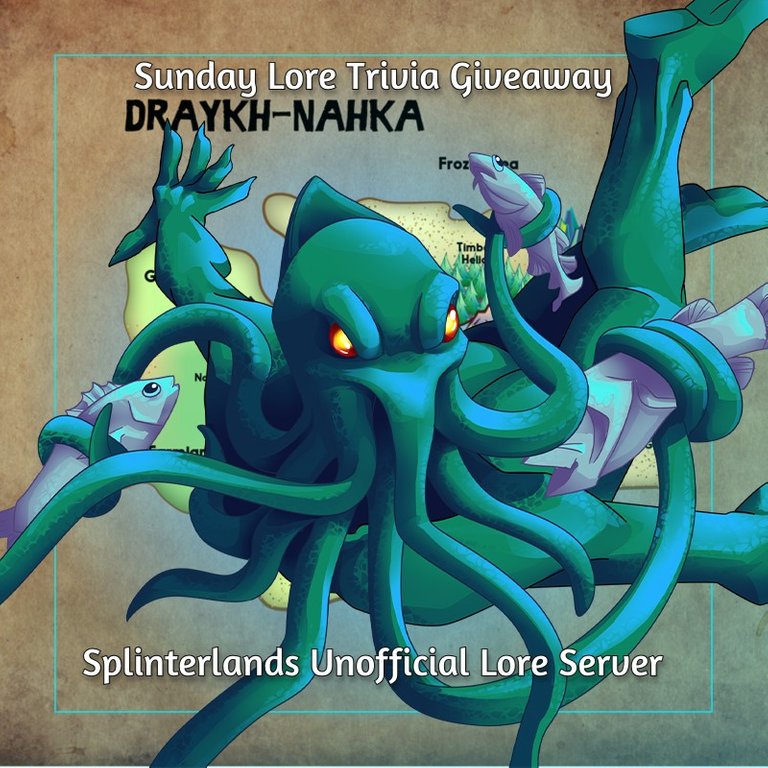 Images Courtesy of Splinterlands.io, splinterlore.com, and HUGOBOSS1019
When and Where
The 7PM EST Sunday Splinterlands lore Trivia Giveaway is almost here!
Every Sunday at 7PM EST we ask lore questions and the first correct answer will recieve a prize of DEC, SPS, or a Card. We host it on the Splinterlands Lore Discord Server linked below!!! The lore server also acts as a repository of all the amazing lore sources the Devs have given us over the years. The lore is so good, and encouraging players to read it is why @Drabs587 and I started it! We've been so proud of how far everyone has come, and how well many of these players know the lore now! It's quite impressive. I'm going to miss Drabs doing this with me, but I'm also thrilled about the next chapter in the Splinterlands Lore Trivia. I hope to have an exciting announcement ahead!
Last Week Recap
All information about lore here taken from the sources listed at the bottom.
Last week we talked about the Ruthless Tribe of Nomads, the Sunkai, who brutally and without mercy harvest souls. They believe themselves to be blessed by the suns of the universe to reap the souls of all living life, and they put that edict into effect with brutal efficiency. They often builds walls of warriors, and lash out with scythes taking advantage of their additional reach.
We also discussed the Carrion Shade which often perches itself outside someones window, which many believe, signifies a loved one will die that very night. If you ever see a swarm of them, the loved one who is dying that night will be you. The carrion shade is a scavenger who feeds on the body of the dead, and they can often be seen swarming battlefields.
Then we talked about the Kulu Swimhunter who hunts for sport driven by reckless hate. They will use tools to knockout and stun their prey before dragging them to the depths of the ocean. They especially hate and hunt the fisherman who invade their territory. They are very aggressive and hunt in packs often traversing oceans, lakes, and vast distances leaving a trail of destruction in their wake.
Special Thank You
Thank you to Nate Aguilla, Carrie Allen, Chris Roberts, and the many others who contributed to the amazing lore we can can now discuss and celebrate!!! Also special thanks to @carrieallen for providing a PDF copy of the Splinterlands Encylopedia, of which about 100 physical copies exist that were created during the Untamed Kickstarter event. I've added the PDF to the Unofficial Lore Discord Server linked below.
Thank you as always to @drabs587 for having a great time hosting with me every week! It's been a crazy couple months we've been doing this!!! I couldn't have asked for a better partner in crime in this, and I'm going to miss doing this with you each week. I still hope you pop by as often as you are able!
I want to give special thanks to @kramlyn12 and @hyde-20 for being moderators in the lore server and for helping hand out the giveaways from time to time. These two have been such a great help on the lore server, Chanse's server, and in the community as a whole. Their availability and willingness to help out has really been appreciated. Without you all, I really couldn't do this. It's a team effort!
Hints
I will be spreading questions over more splinters instead of focusing one or two at a time. This will make it a little more difficult for those coming here for hints, and I do apologize for that. Trying to be more fair and less predictable!
There will be at least one Geography Question, so please review the beautiful maps created by the brilliant HUGOBOSS1019. As always. Wink Wink Nudge Nudge.
I'm a huge fan of Dragons, so you can expect a minimum of one Dragon question every week. As literally always. Roar.
I'm feeling like a few extra Chaos Legion Card questions this week, as we celebrate the new set.
Discord Servers and Resources for Lore Information:
The Official Developer Splinterlands Server:
https://discord.gg/g4b8rNKHxc
Unofficial Splinterlands Lore Server:
https://discord.gg/d4R8h45RYN
Splinterlore Website:
https://www.splinterlore.com/
Developer's Lore Blog
https://www.publish0x.com/splinterlore
If you are interested in playing splinterlands, please feel free to check out their site at https://splinterlands.io
It's such a great game with amazing lore, and I really think it's a game you won't want to miss!
---
---