The ZenSports Kickoff Cup - Live After DYGYCON!

ZenSports, the sports betting app and esports tournament hosting platform, has taken a special interest in Splinterlands, and like us, they see major potential in this game as a spectator sport. The fast-paced gameplay and immense skill required by Champion level Splinterlands players is exhilarating to watch, and newer players can learn a lot from watching the old timers battle it out at the highest Leagues.
At this Saturday's DYGYCON 4, ZenSports will be joining us for the first time as booth holders. Then just after the event (at 5:30pm EST), their highly anticipated Splinterlands Kickoff Cup live Champion tournament will begin!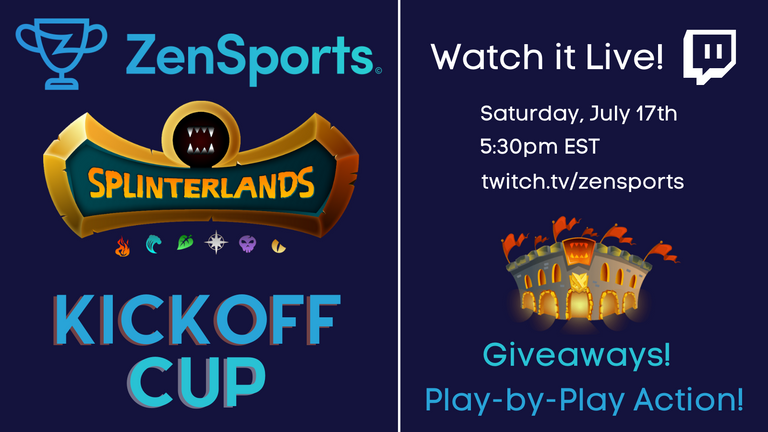 Up to $2500 in Prizes
For each new follower to the official ZenSports Twitch Channel from now until the end of the live event, $2 will be added to the tournament prize pool, with up to $1000 being added.
The tournament will be managed through the ZenSports app, as will tournament prizes following the event.
Player entry to the ZenSports Kickoff Cup has officially closed.
---
Join the ZenSports Community!
The ZenSports team has been incredibly generous with giveaways and sponsored tournament action over the last couple weeks leading up to Saturday's tournament. All week, they're giving away 5 Untamed Booster Packs each day to lucky members of the ZenSports Discord communinty.
Watch the Tournament Live on Twitch!
For spectators of the live event on the Saturday ZenSports Twitch stream, there will be tons of Booster Pack giveaways (courtesy of ZenSports) and chances to win some awesome Legendary Summoners just for watching. Live play-by-play will be presented by Chris Roberts, Splinterlands Content Director and possibly some other members of the Splinterlands community. Don't miss it.
---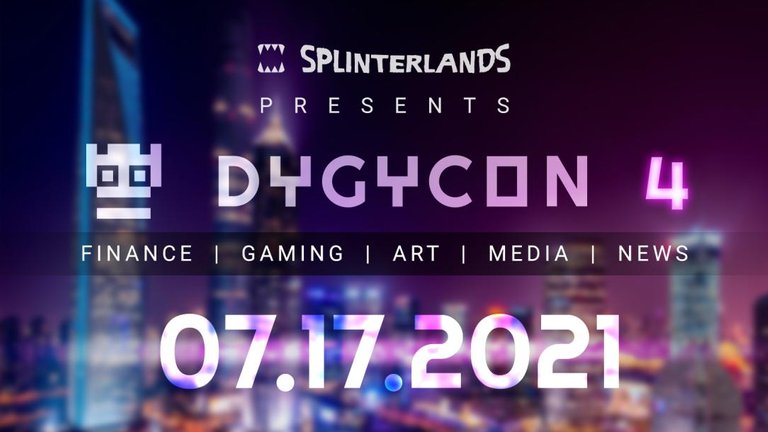 Once the DYGYCON event ends, we'll be kicking out the DYGYCON guests and doing an instant makeover of the DYGYCON space. The convention center will then become the ZenSports Kickoff Cup tournament VIP Lounge/Tournament Watch Party! The ability to communicate with voices will be removed, but text chat and live stream will remain.
---
Only the Beginning
This is only the beginning of a long-term arrangement with ZenSports (hence the name Kickoff Cup). They plan to host monthly tournaments of some of the greatest in the game through the ZenSports esports tournament platform.
As these events grow and the ZenSports platform continues to expand, there is potential for all kinds of exciting features, such as Zensports' integration of Splinterlands API, additional tournaments, even future potential for side betting on Splinterlands events through a fully licensed betting app! For now, why not come out for ZenSports Kickoff Cup on Saturday to have some fun with us, win some prizes and maybe learn a little something from the Splinterlands Champions!

| SPLINTERLANDS.COM | SPLINTERSHARDS (SPS) | BLOG | DISCORD | TELEGRAM |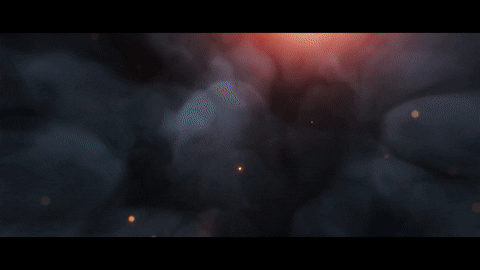 Rewards for this post are burned.🔥
---
---