Hey YOU!!! Yes you. Do you like shiny things? And STEEM! Well, get yourself some physical STEEM memorabilia before it's gone (which is 4 days from now)

I don't really know what to say about this because it seems to me I see posts about this all the time. But I guess there are people here on steem that have not heard of the pure silver STEEM coin being minted by longtime Steemian @raybrockman.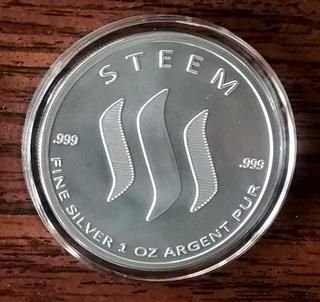 This is one ounce of 99.9% pure silver with the STEEM blockchain logo stamped into it. If you love (or even like) #STEEM, #Steemit, #Steampeak, #Steemmonsters, #Steem-Leo, #eSteem, #steem-engine, #tribes, #whales, #orcas, #minnows, #tuna-melt-on-rye, #plankton, #teamaustrailia, #teamwales, #teamcanada, #teamusa, #witnesses, or anything else, then you will love this silver coin.
It costs about $20 usd and can be paid for with crypto INCLUDING STEEM!!!
EDIT: resteem this post and win a free STEEM round. See the details HERE
I will draw a winner on 10/15, 4pm PST
---
---