Came Back!
Earlier I was defeated all the way back down to novice! However with dedication and effort I made my way back to bronze league. Not only bronze league however bronze league 2! So I am finally back to earning DEC this season.

It was not at no cost though. My DEC capture rate has suffered like never before. Working back up to bronze 2 league, I found myself checking my capture rate to see only 34.19% left! I knew it was time to call it a day then I never like to see it go below 75% but with the new change of rules Splinterlands has implemented this season it called for drastic measures.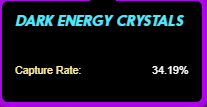 Anyhow I am so happy to be earning DEC again for my battles and look forward to continuing the grind! My luck is back!
---
---