Daily Quest Reward 11/29/2021
Hello everyone! It's been a while but I'm back to share another reward from the grind! Today's daily quest reward was a card and I'm sure everyone out there in Bronze league can share my excitement!
I was lucky enough to land a GARGOYA LION card which is solid enough in my opinion. Not a card I use much but I already have a level 2 GARGOYA LION so I just combined it with the rest. I do enjoy this card in battles that have the earthquake stipulation for it's flying ability and also I find this card useful in reverse speed battles, especially considering it's a neutral card and can be used with any splinter.
Anyhow I look forward to sharing this season's rewards with you all tomorrow, until then grind on!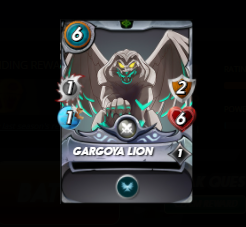 ---
---