Opening 5 Splinterlands Packs - Keeping Some For Long Term Hold - Skunked On Opening

---
What's happening out there in the Splinterlands? Well tonight I am chilling and was chatting with ole @nulledgh0st about some Cosmos validator action and then we started chatting about Splinterlands and buying up some card packs before they sell out on the general sale...
Well I went head and bought up a bunch of credits using some stacked DEC and bought 25 packs.
I decided to open 5 packs and hold 20 for long term holdings. Not only will I earn SPS on the airdrop, but after the general sale is over, they will only be available on secondary markets so I will see about flipping some card packs!
Anyway, I pretty much got skunked on these 5 packs. Didn't get much. The last pack ended up being okay with a couple of rares and a gold foil Life Sapper. I used potions on all cards and still only came out with the one gold foil. It is what it is at this point. Beyond this, I am sticking to my previous strategy of purchasing individual gold foils and renting them on the market and playing with the general stack that I have until I need more powerful cards.
Well that's it for tonight. I am going to play some battles tomorrow at some point but have allot to do work wise. I may end up mixing it up and putting my Splinterlands and other gaming action to the end of the night as a fun way to wind down for the evening... We'll see, I haven't been great about sticking to my schedules so far, lol. Makes it all seem like work when I do that, lol. As long as I keep showing up and doing what I am doing, I can only hope everything will grow!
Until tomorrow...
Be Cool, Be Real, and always Abide!
Get started playing Splinterlands today!
https://splinterlands.com?ref=thelogicaldude
Join Hive by going to:
https://signup.hive.io/
Want to shop using crypto, or even start your own online store? Check out the Hivelist Store
If you like what I am doing, please consider voting for my Hive Engine witness with your staked WORKERBEE!
https://he-voter.vercel.app/thelogicaldude
Or at
https://tribaldex.com/witnesses
https://thelogicaldude.com - The Dude's main site
https://hivelist.io - Classifieds, NFTs, DEFI Pool, Online Retail
https://HiveHustlers.com - Community for Entrepreneurs and All Around Hustlers
https://coin-logic.com - Live crypto market data, news, and research
https://blocktunes.net - Music NFTs, DAO, Downloads, and more
https://groovelogic.audio - DJ/Producer/Sound Engineer music and services
https://weedcash.org - The Highest Form of Social Media
View my channel on 3speak.tv! Video platfrom for a free speech society!
https://3speak.tv/user/thelogicaldude
But if you must... here is the YouTube channel link:
https://www.youtube.com/channel/UCtGApfTp4ZzLHksDdImJ9JA
Pure Logic Podcast can be found on 3speak.tv and YouTube as well as the following podcasting platforms:
Apple Podcasts
Spotify
Anchor.fm
RadioPublic
Breaker
Google Podcasts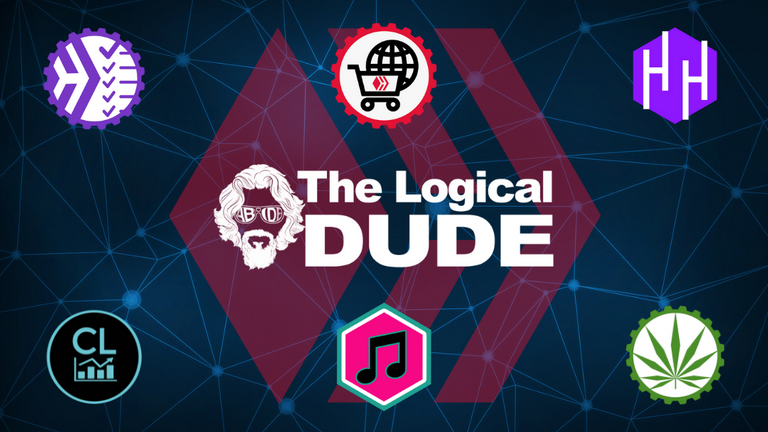 ---
▶️ 3Speak
---
---