Is this the tournaround for Splinterlands? / Ist das die Trendwende für Splinterlands?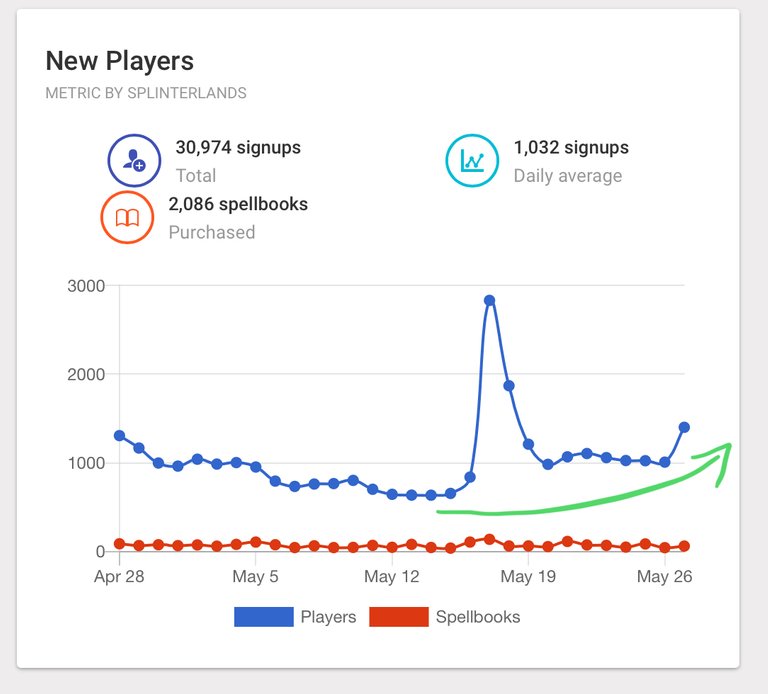 Rising registration numbers
Since a few weeks the number of new registrations for Splinterlands is increasing. In the meantime we were at "only" 500 registrations per day. A week ago there suddenly was a peak of almost 3000 registrations in one day. No idea why, maybe there was an article somewhere that hit. Anyway, since then we've been stable in the triple digits again. Guys, this looks good, right? Is this the turnaround?
New players wanted
The fact is we need new players, a new wave of euphoria, because booster pack sales are pretty much at a standstill and card prices are still in the basement. This is good for stocking up, but for the values to rise, there needs to be more demand.
Let's keep our fingers crossed that we just pull in the low and things start to pick up again. 🤞🏻
PS: The sale of the first tranche of node licenses was also encouraging, they were all gone within 11 minutes!
————
Steigende Anmeldezahlen
Seit ein paar Wochen steigen die Neuanmeldungen für Splinterlands. Wir waren zwischenzeitlich bei "nur" 500 Anmeldungen pro Tag. Vor einer Woche gab es auf einmal einen Peak auf fast 3000 Anmeldungen an einem Tag. Keine Ahnung warum, vielleicht gab es irgendwo einen Artikel der eingeschlagen hat. Seitdem sind wir jedenfalls wieder stabil im dreistelligen Bereich. Leute, das sieht gut aus, oder? Ist das die Trendwende?
Neue Spieler gesucht
Fakt ist wir brauchen neue Spieler, einen neue Euphorie-Welle, denn die Verkäufe der Booster Packs treten ziemlich auf der Stelle und die Kartenpreise sind noch immer im Keller. Das ist gut um aufzustocken aber damit die Werte steigen braucht es entsprechend wieder mehr Nachfrage.
Drücken wir die Daumen, dass wir das Tief gerade einziehen und es so langsam wieder aufwärts geht. 🤞🏻
PS: Der Verkauf der ersten Tranche Node Lizenzen macht zusätzlich Mut, die waren innerhalb von 11 Minuten alle weg!
---
---