SHARE MY BATTLE/ Why I Use DRAGON SUMMONER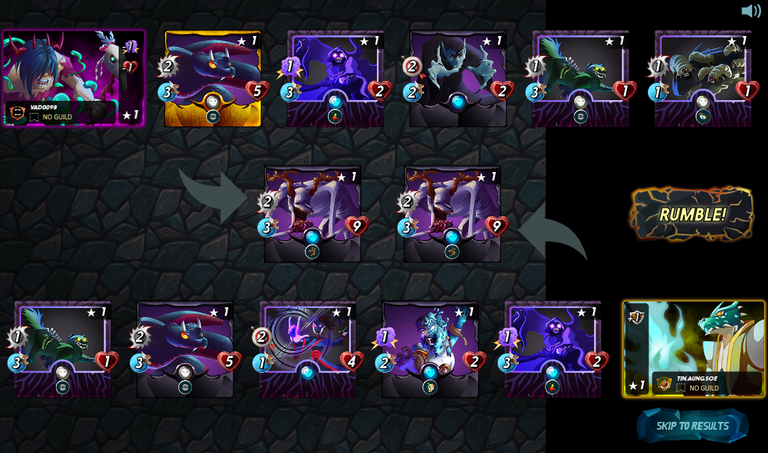 ---
Hello friends.
The most used Summoner in Splinterlands Game for me is DRAKE OF ARNAK.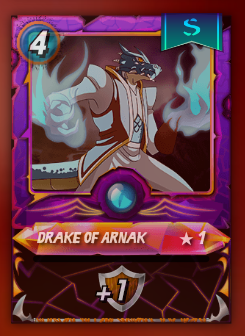 DRAKE OF ARNAK Summoner is a Rare DRAGON Summoner that can add 1 Armor to his Team.
Monsters with Armor 1 gain one more resistance to being attacked by Malee and Ranged Attack Monsters from the Enemy Team.
The ability to resist once is a great advantage to win in the end of the battle.
That's why I like DRAKE OF ARNAK Summoner.
Watch the Battle Video below led by the DRAKE OF ARNAK Summoner.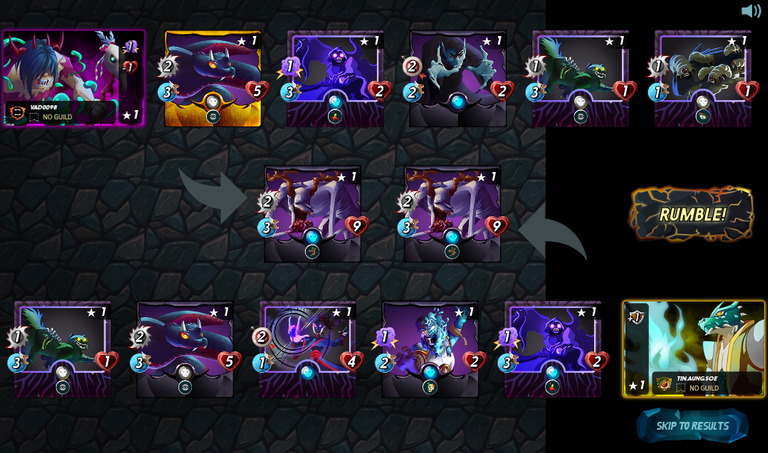 https://splinterlands.com?p=battle&id=sl_84b404b30c856fd8217df139e781239c&ref=tin.aung.soe
In the above battle, the way the two teams choose and place monsters is not very different.
However, since the 6 Monsters contain most of the Monsters that attack with Malee and Ranged Attacks, the Team that has added Armor 1 wins.
This is the advantage of DRAGON Summoner DRAKE OF ARNAK.
If you are just starting to play Splinterlands Game, you can use my Referral Link.
Tin Aung Soe
https://images.ecency.com/p/x7L2VSNEiyAB5Ux7nxKmLo6yLyEJT6Jt5yhNCUpGMoX5FAMcmJ2jsF2733EQkNrLU55gQnh7d2YMySm.webp?format=webp&mode=fit
[Burmese]
မင်္ဂလာပါ မိတ်ဆွေတို့ရေ။
ဒီနေ့ Splinterlands Game မှာ ကျွန်တော် အသုံးပြုမှု အများဆုံး Summoner ကတော့ DRAKE OF ARNAK ဖြစ်ပါသည်။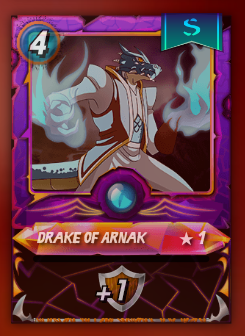 DRAKE OF ARNAK Summoner သည် သူ၏ Team ကို Armor 1 ပေါင်းထည့်ပေးနိုင်သော Rare DRAGON Summoner ဖြစ်ပါသည်။
Armor 1 ရရှိထားသော Monsters သည် Enemy Team မှ Malee and Ranged Attack Monsters ၏ တိုက်ခိုက်ခံရခြင်း၌ တစ်ကြိမ်မျှ ပိုမို ခုခံနိုင်စွမ်း ရရှိစေပါသည်။
တစ်ကြိမ်မျှ ခုခံနိုင်စွမ်းသည် Battle ၏ အဆုံးအဖြတ်၌ အောင်ပွဲရဖို့ အားသာချက်ကောင်းတစ်ခု ဖြစ်သည်။
ထို့ကြောင့် ကျွန်တော်က DRAKE OF ARNAK Summoner ကို ကြိုက်နှစ်သက်ရခြင်း ဖြစ်သည်။
DRAKE OF ARNAK Summoner ဦးဆောင်ထားသော အောက်ပါ Battle Video ကို ကြည့်ပါ။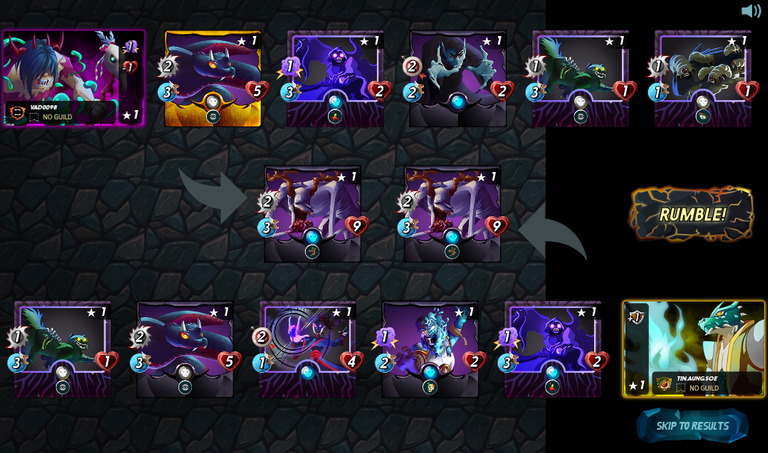 https://splinterlands.com?p=battle&id=sl_84b404b30c856fd8217df139e781239c&ref=tin.aung.soe
အထက်ပါ Battle ၌ Team နှစ်ခုသည် Monsters ရွေးချယ်ပြီး နေရာချထားပုံမှာ သိပ်မကွာခြားလှပါ။
သို့သော် Monsters 6 ခု၌ Malee and Ranged Attacks ဖြင့် တိုက်ခိုက်သော Monsters အများစု ပါဝင်ကြသောကြောင့် Armor 1 ထပ်ဖြည့်ရရှိထားသော Team က အနိုင်ရရှိသွားခြင်း ဖြစ်သည်။
ဤသည်မှာ DRAGON Summoner DRAKE OF ARNAK ၏ အားသာချက်ပင် ဖြစ်ပေတော့သည်။
အကယ်၍ သင်သည် Splinterlands Game ကို ယခုမှ စတင်ကစားမည် ဆိုပါလျှင် ကျွန်တော်၏ Referral Link ကို အသုံးပြုနိုင်ပါသည်။
တင်အောင်စိုး
---
▶️ 3Speak
---
---