Opening CHAOS LEGION PACK by HIVE
Hello friends.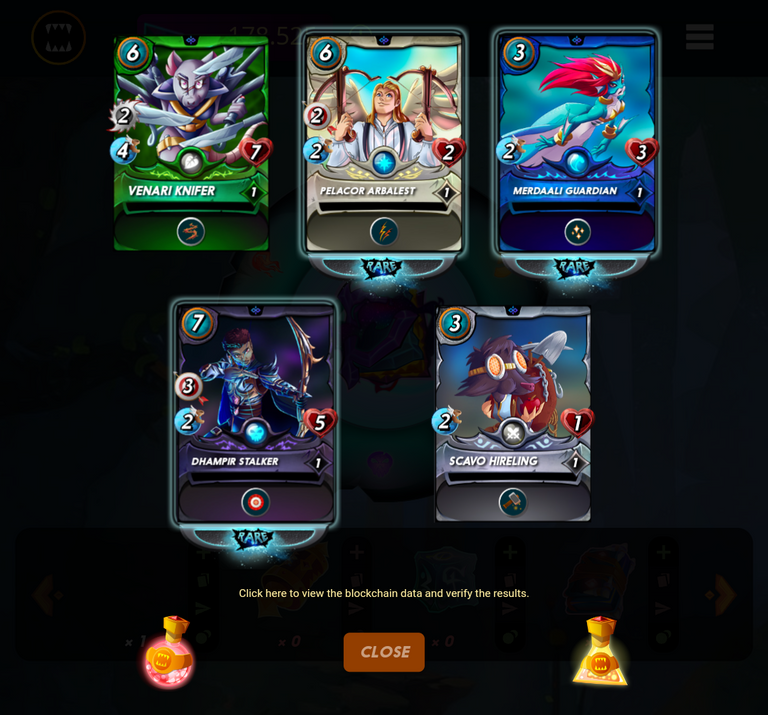 Today, I went to Card Inventory while playing Splinterlands game.
I found VOUCHER 1.155 in INVENTORY.
VOUCHER is Airdrop obtained by SPS Staking.
The VOUCHER price on the LeoDex Market is $ 2.1.
This is because VOUCHER prices have dropped significantly.
So, I decided to buy a CHAOS LEGION PACK instead of selling VOUCHER.
When looking to buy a CHAOS LEGION PACK, I know that I have to buy 1 CHAOS LEGION PACK for 4000 Credits.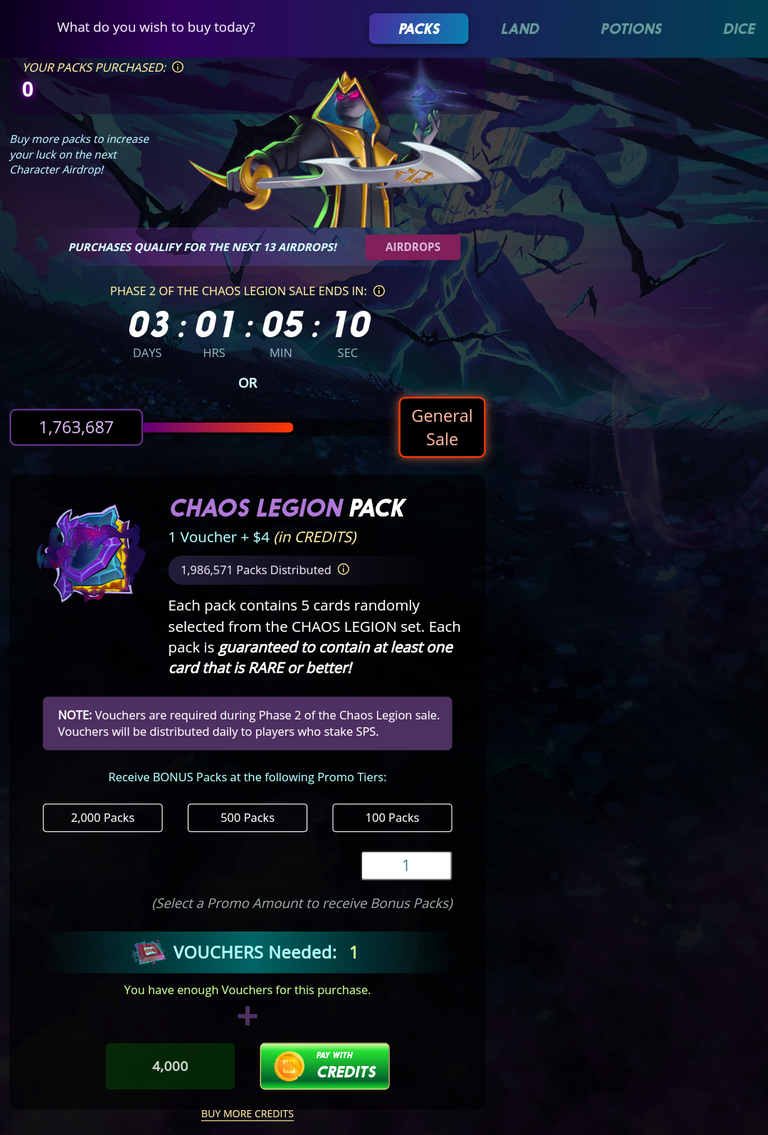 So, I bought 3776 Credits with HIVE to get 4000 Credits because I have Credits 233 in my game.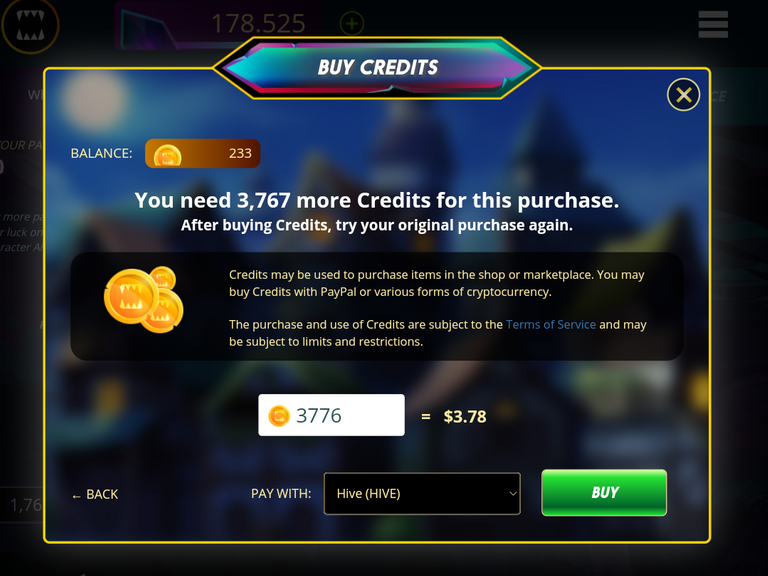 So it costs about $ 6 to buy a CHAOS LEGION PACK.
Then, I opened the CHAOS LEGION PACK I bought.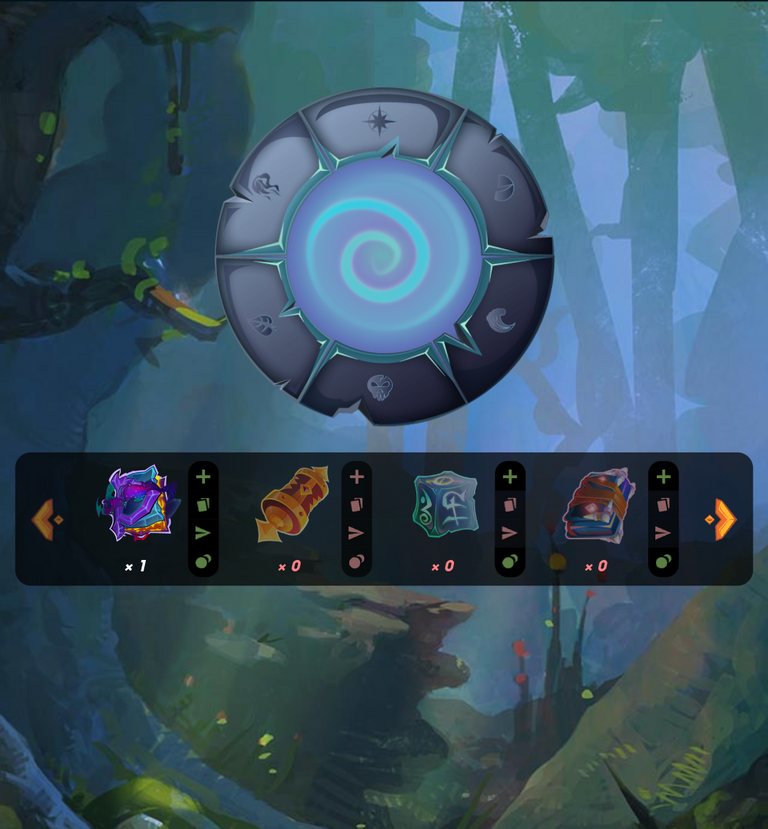 I received 3 RARE Cards and 2 Common Cards.
These include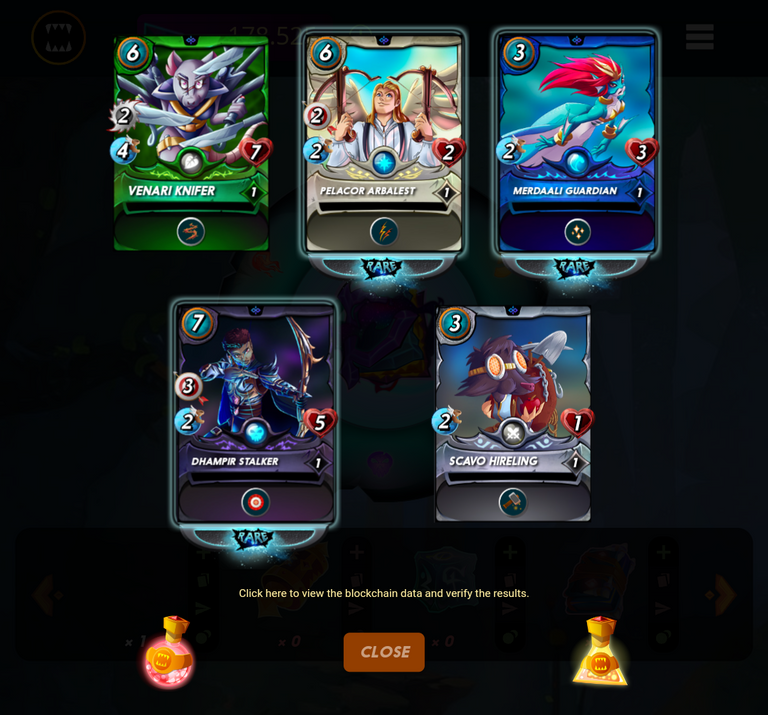 The Common Earth Monster VENARI KNIFER with Malee Attack 2, Speed 4, Health 7 and Ability Thorns,

The Rare Life Monster PELACOR ARBALEST with Range Attack 2, Speed 2, Health 2 and Ability Double Strike,

The Rare Water Monster MERDAALI GUARDIIAN with Speed 2, Health 3 and Ability Tank Heal,

The Rare Death Monster DHAMPIR STALKER with Range Attack 3, Speed 2, Health 5 and Ability True Strike and

The Common Neutral Monster SCAVO HIRELING with Speed 2, Health 1 and Ability Repair.
Collection Power from Splinter 5 cards of CHAOS LEGION PACK above is 70 and Est.value $ 1.6.
Therefore, I would like to conclude that my CHAOS LEGION PACK purchase was a loss.
What do you think?
Tin Aung Soe
[Burmese]
မင်္ဂလာပါ မိတ်ဆွေတို့ရေ။
ဒီနေ့ Splinterlands Game ကစားနေရင်း Card Inventory သို့ သွားကြည့်ခဲ့ပါတယ်။
Inventory မှာ VOUCHER 1.155 ရရှိနေတာကို တွေ့မြင်ခဲ့ရပါတယ်။
VOUCHER ကို SPS Staking လုပ်ထားရာမှ Airdrop ရရှိခြင်း ဖြစ်ပါတယ်။
VOUCHER ဈေးနှုန်းကို LeoDex Market မှာ ကြည့်ရှုသောအခါ $2.1 တန်ဖိုးရှိကြောင်း တွေ့မြင်ရပါတယ်။
ဤသည်မှာ VOUCHER ဈေးနှုန်း များစွာ ကျဆင်းခဲ့ခြင်း ဖြစ်ပါသည်။
သို့ဖြစ်၍ ကျွန်တော်လည်း VOUCHER ကို ရောင်းချခြင်း မပြုဘဲ CHAOS LEGION PACK ဝယ်ယူရန် ဆုံးဖြတ်ခဲ့ပါတယ်။
CHAOS LEGION PACK ဝယ်ရန် ကြည့်ရှုသောအခါ 1 CHAOS LEGION PACK ကို Credits 4000 ဖြင့် ဝယ်ယူရမည်ဟု သိရှိရပါတယ်။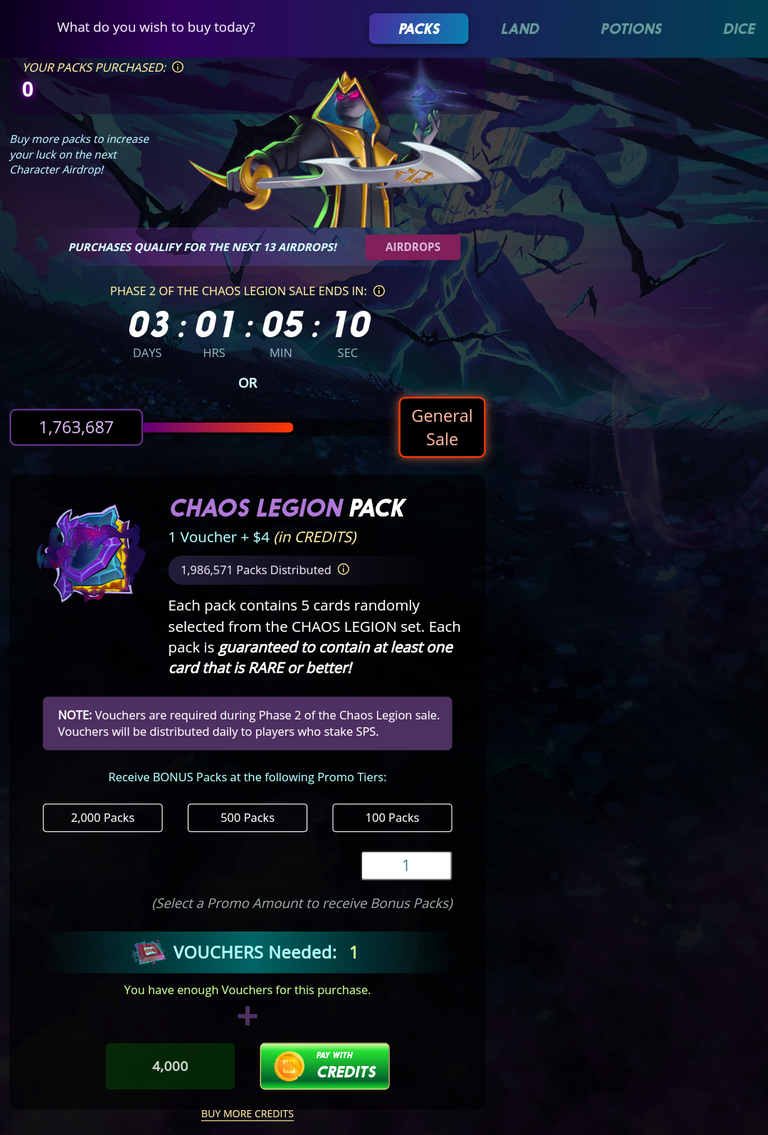 သို့ဖြစ်၍ ကျွန်တော်လည်း Credits 4000 ရရှိရန် 3776 Credits ကို HIVE ဖြင့် ဝယ်ယူခဲ့ပါတယ်။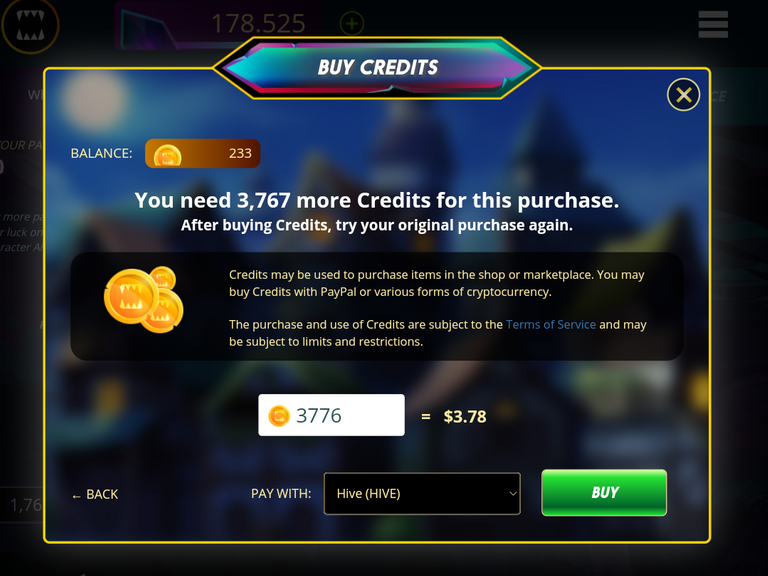 ထို့ကြောင့် CHAOS LEGION PACK တစ်ခု ဝယ်ယူရန် $6 မျှ ကုန်ကျပါမည်။
ထိုနောက်တော့ ဝယ်ယူလိုက်သည် CHAOS LEGION PACK ကို ဖွင့်ကြည့်လိုက်ပါသည်။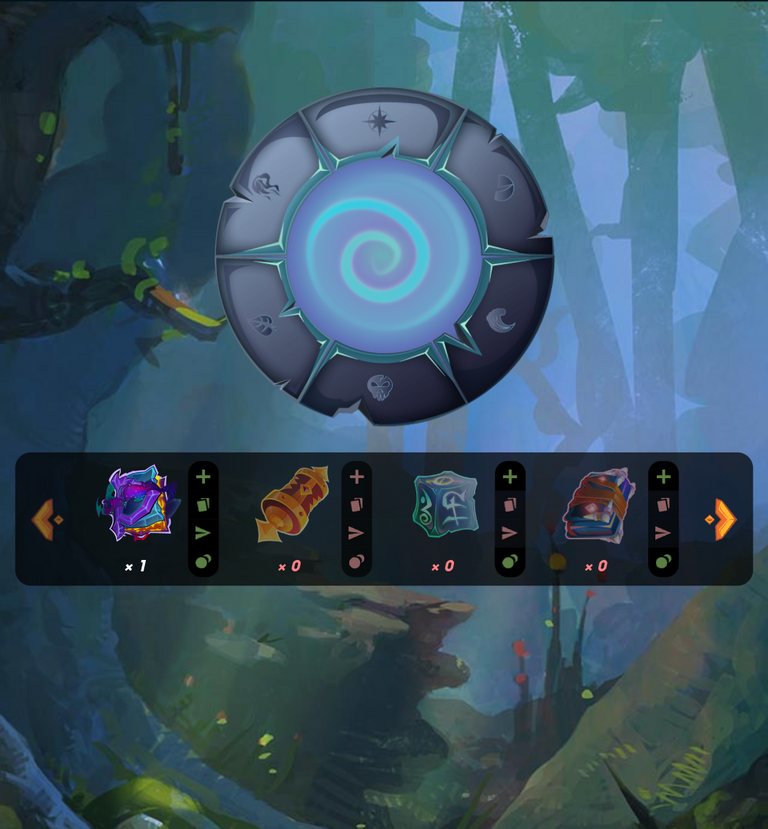 ၎င်းမှ 3 RARE Cards and 2 Common Cards ရရှိခဲ့ပါသည်။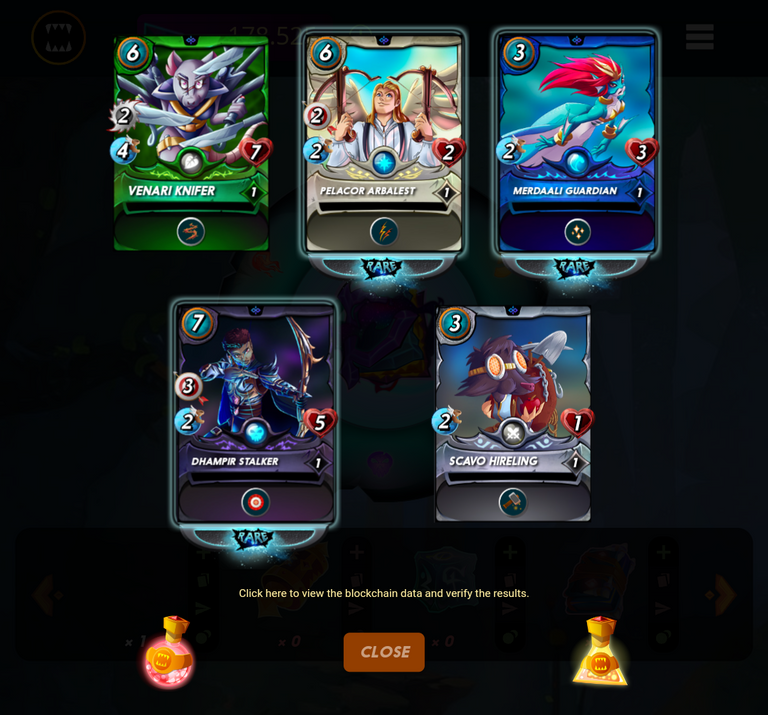 ၎င်းတို့မှာ
Common Earth Monster VENARI KNIFER with Malee Attack 2, Speed 4, Health 7 and Ability Thorns
Rare Life Monster PELACOR ARBALEST with Range Attack 2, Speed 2, Health 2 and Ability Double Strike
Rare Water Monster MERDAALI GUARDIIAN with Speed 2 , Health 3 and Ability Tank Heal
Rare Death Monster DHAMPIR STALKER with Range Attack 3, Speed 2, Health 5 and Ability True Strike
Common Neutral Monster SCAVO HIRELING with Speed 2, Health 1 and Ability Repair
အထက်ပါ CHAOS LEGION PACK ၏ Splinter 5 cards မှ Collection Power မှာ 70 နှင့် Est.value $1.6 ဖြစ်ပါသည်။
သို့ဖြစ်၍ ကျွန်တော်၏ CHAOS LEGION PACK ဝယ်ယူခြင်းသည် ရှုံးသည်ဟု ကောက်ချက်ချချင်ပါတော့သည်။
မိတ်ဆွေတို့ရော အဘယ်သို့ ယူဆကြပါသလဲ။
တင်အောင်စိုး
---
---