SHARE YOUR BATTLE Weekly Challenge/ Two Battles of DRAGONS
Hello friends.
https://images.ecency.com/p/3RTd4iuWD6NUeJEn5AVrJUoyatFqBqfcCJi1N7UixR4g2KPKN7w8NpZL7qrJ4ETeGdj5C8fSCmkKo5et65uoFdcatfj9oE5UsHkNUREeKKdnLpKEAirJbMBU71BPt636ZERfpxzaUZdsCE3nRirjtD6kdZVKGpFqpvQUc653XSUAhC.webp?format=webp&mode=fit
The most common SUMMONER I use to play Splinterlands games is DRAGON SUMMONER DRAKE OF ARNAK.
This is because DRAKE OF ARNAK DRAGON SUMMONER can be played with any element.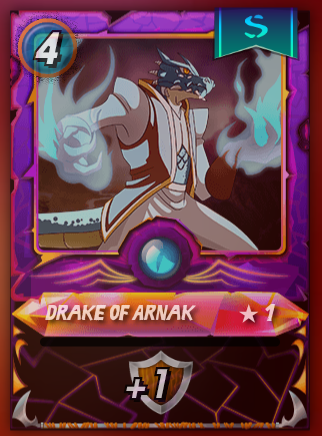 DRAKE OF ARNAK DRAGON SUMMONER is often used, especially in battles with few Mana Caps.
This is because the addition of Armor 1 of DRAKE OF ARNAK to Monster Team adds one more resistance.
The DRAGON Element Monsters in my Splinterlands Playable Cards are DJINN CHWALA, TWILIGHT BASILISK and NAGA ASSASSIN.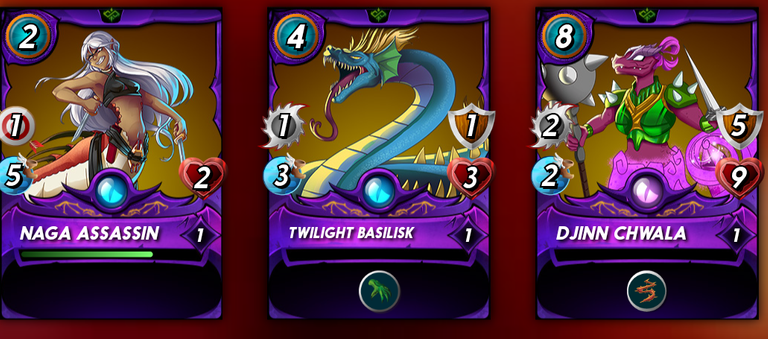 Of the three monsters, the monsters I use the most are DJINN CHWALA and NAGA ASSASSIN.
Because I like Thorns Ability of DJINN CHWALA and Speed of NAGA ASSASSIN.
Below you can see two battles played with DRAGON Elements in my Splinterlands Playable Cards below.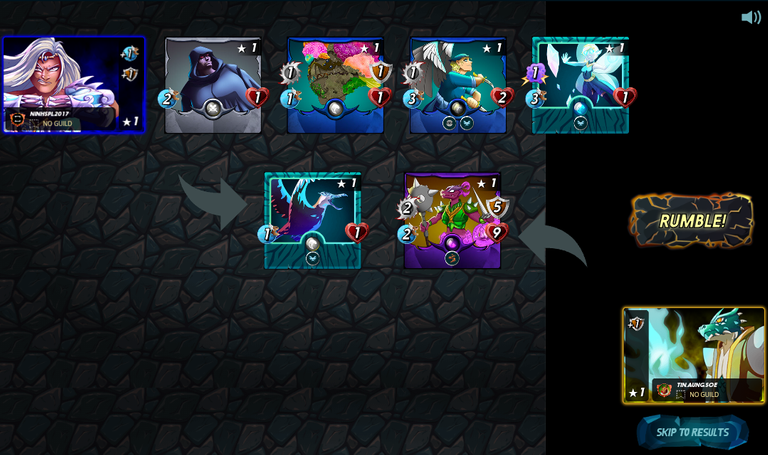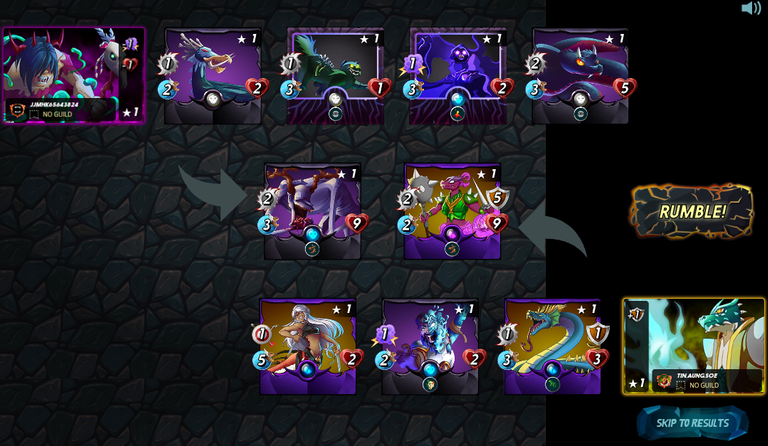 If you want to play Splinterlands game from now on, you can use my Referral Link.
There will be victory if there is a battle, isn't it?
Thank you for everything.
Tin Aung Soe
https://images.ecency.com/p/x7L2VSNEiyAB5Ux7nxKmLo6yLyEJT6Jt5yhNCUpGMoX5FAMcmJ2jsF2733EQkNrLU55gQnh7d2YMySm.webp?format=webp&mode=fit
မင်္ဂလာပါ မိတ်ဆွေတို့ရေ။
Splinterlands Game ကစားရာမှာ ကျွန်တော် အသုံးပြုမှု အများဆုံးသော SUMMONER ကတော့ DRAGON SUMMONER DRAKE OF ARNAK ပါ။
အဘယ်ကြောင့်ဆိုသော် DRAKE OF ARNAK DRAGON SUMMONER က မည်သည့် Element နှင့်မဆို တွဲဖက်၍ ကစားနိုင်သောကြောင့် ဖြစ်ပါတယ်။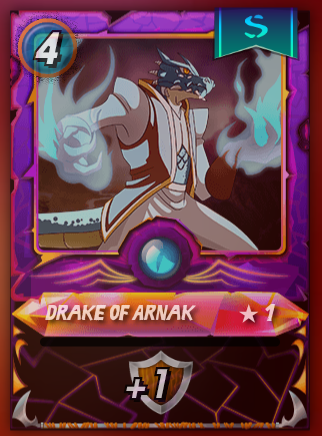 အထူးသဖြင့် Mana Cap အနည်းငယ်သာ ရရှိသော Battle များ၌ DRAKE OF ARNAK DRAGON SUMMONER ကို အသုံးပြုလေ့ရှိပါသည်။
အဘယ်ကြောင့်ဆိုသော် DRAKE OF ARNAK ၏ Monster Team ကို Armor 1 ပေါင်းထည့်ပေးခြင်းသည် ခုခံနိုင်မှု တစ်ကြိမ် ပိုမိုရှိလာသောကြောင့် ဖြစ်ပါသည်။
ကျွန်တော်၏ Splinterlands Playable Cards ထဲမှာရှိသော DRAGON Element Monsters မှာ DJINN CHWALA , TWILIGHT BASILISK and NAGA ASSASSIN တို့ ဖြစ်ပါသည်။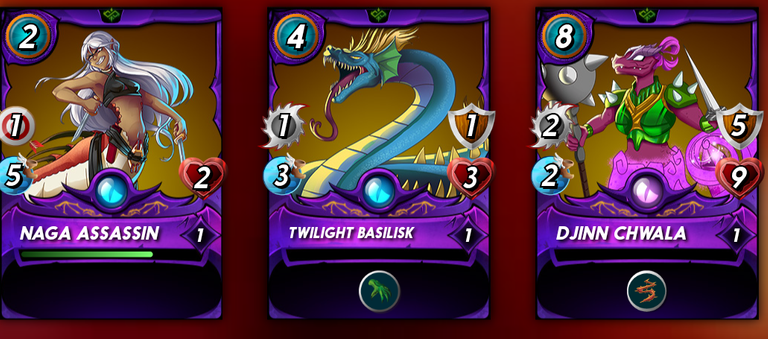 ထို Monster သုံးကောင်ထဲမှ ကျွန်တော် အသုံးပြုမှုအများဆုံးမှာ DJINN CHWALA and NAGA ASSASSIN တို့ ဖြစ်ပါသည်။
အဘယ်ကြောင့်ဆိုသော် ကျွန်တော်သည် DJINN CHWALA ၏ Thorns Ability နှင့် NAGA ASSASSIN ၏ Speed ကို ကြိုက်နှစ်သက်သောကြောင့် ဖြစ်ပါသည်။
ကျွန်တော်၏ Splinterlands Playable Cards ထဲမှာရှိသော DRAGON Elements ဖြင့် ကစားထားသော Battle နှစ်ပွဲကို အောက်မှာ ကြည့်ရှုလေ့လာနိုင်ပါသည်။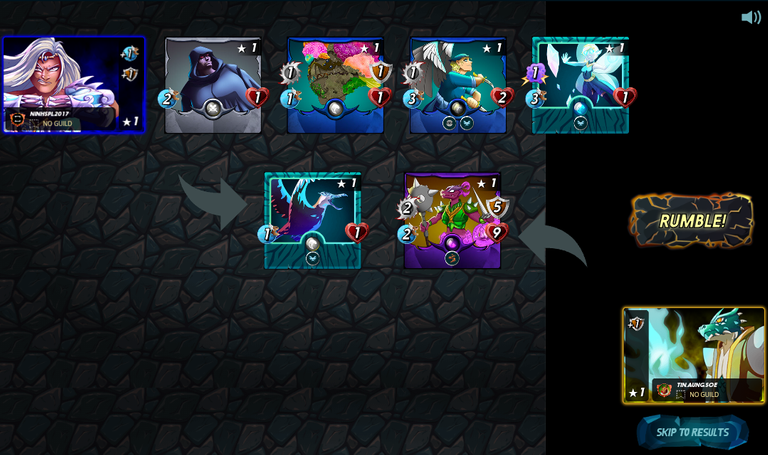 https://splinterlands.com?p=battle&id=sl_9da66d879365105633f92f2570c78571&ref=tin.aung.soe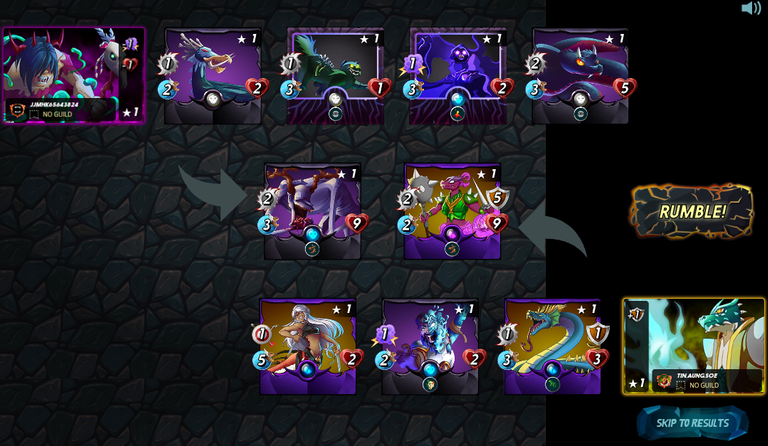 https://splinterlands.com?p=battle&id=sl_d0fc8d4130e0216f8520ffb543471464&ref=tin.aung.soe
အကယ်၍ သင်သည် ယခုမှစတင်၍ Splinterlands Game ကစားမည်ဆိုပါလျှင် ကျွန်တော်၏ Referral Link ကို အသုံးပြုနိုင်ပါသည်။
တိုက်ပွဲရှိမှ အောင်ပွဲရှိမည် မဟုတ်လား။
အရာအားလုံး အတွက် ကျေးဇူးတင်ပါသည်။
တင်အောင်စိုး
---
---