Crypto Analysis | SPS Airdrop Ends - Breakout In Progress!
Good day Hiveians!
Join me in analyzing the crypto markets!
The whole of last year was an awkward phase for the SPS token as it was the first token to have received a 1 year long airdrop. This was the first in crypto with most airdrops only being a one time event or at most lasting a month or two. We now know that airdrops are a bad time for value accumulation. Sure, it didn't help that we have been in a bear market for almost a year as well, but even in a different macro market phase, I doubt that SPS would have truly skyrocketed. Rather, it seems clear that all tokens receiving an airdrop lose "value" for that time. Of course this is only value in terms of what the market forces decide - the true value (fundamentals, team, community) might be completely different.
With the airdrop ending, we can now look at SPS as a "normal" token/coin from a TA standpoint. The long descending converging channel in which SPS has been moving is coming to an end - and seems to already have ended.
To remind you, this is the dreaded channel which SPS could not get out of: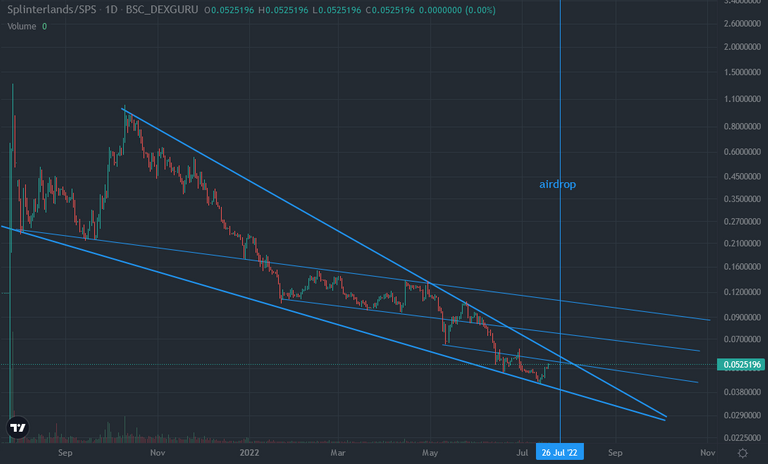 But with the airdrop ending on July 26th, things have begun to change. I anticipated a change in price some weeks ago which is shown here: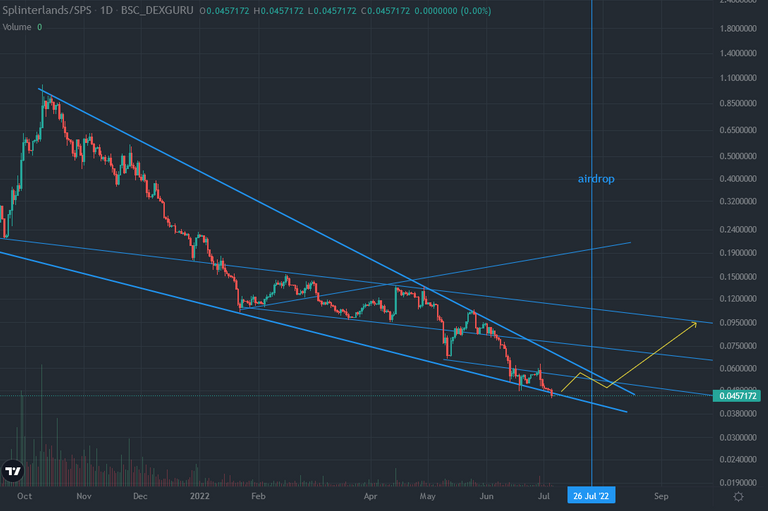 So, did we get a breakout?
Yes! But it's still a bit shaky...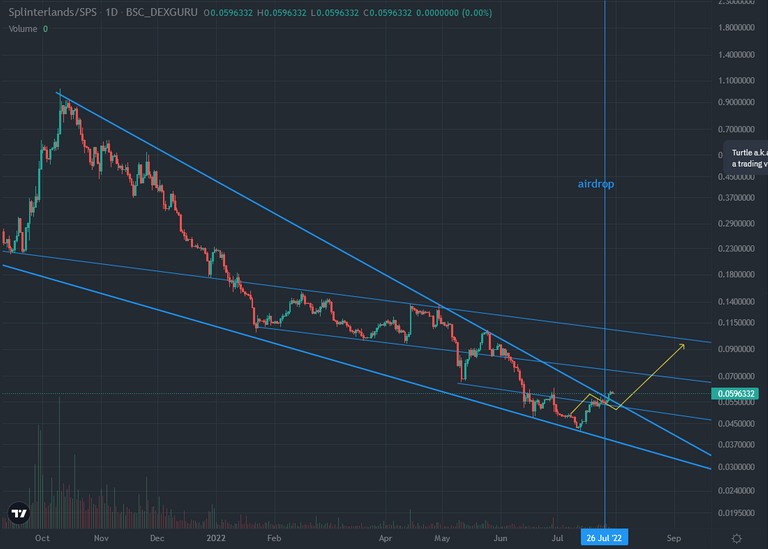 To be clear, this definitely is a breakout as it is ongoing for more than a day and is clearly above the resistance trend line. But the "shakiness" comes from the fact that SPS didn't quite sustain a breakout momentum in the past. For example, we once broke out of this channel in April: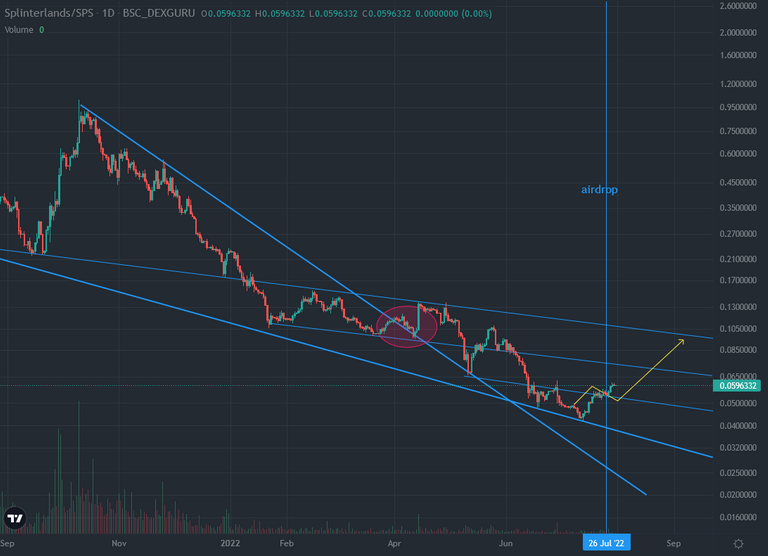 Price then first headed back to even lower levels (although still above the resistance) before finally having a more decisive break out marked by a strong upwards push. Price then even retested this break out in May. But we stayed above this trend line making this a true break out - but the caveat was that we just established a new channel (see first charts) in which price continued to move.
The point is that the current break out does not necessarily entail a complete price reversal. We could again cling to this resistance trend line for quite some time.
However, we are now in a new phase for the token. The airdrop ended, and with this we can expect a new change in "behavior" (literally the market participants).
Outlook
I see the beginning of this breakout very positive for SPS. For the next month I think it is very likely for SPS to go near or reach 10 cents again. Along the way there are some resistances as you can see here, however: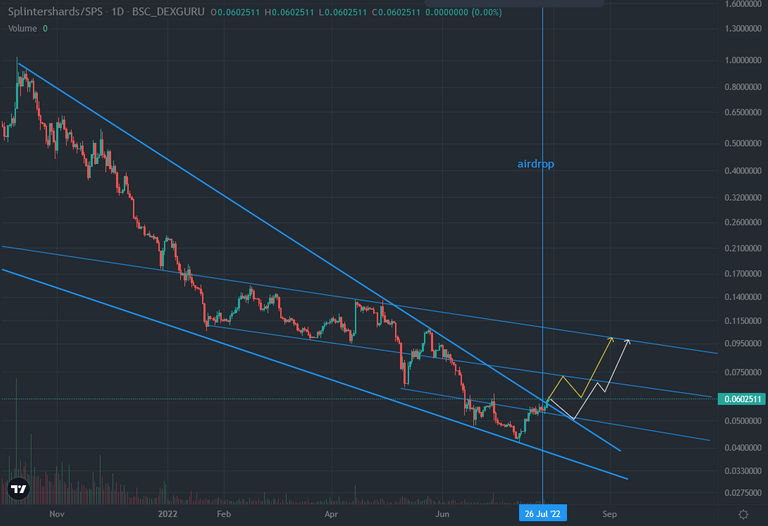 There might be two main ways for price to develop. One is for SPS to move straight to about 7 cents where it will encounter the first resistance. It could then head to about 10 cents where there could be a longer/larger correction. The other possibility could be for SPS to longer "hug" the former resistance and eventually breakout to about 7 cents and then move up similarly to 10 cents. Both are therefore very bullish!
---
As a general reminder: Please keep in mind that none of this is official investment advice! Crypto trading entails a great deal of risk; never spend money that you can't afford to lose!

⛅🌦🌧🌦🌧🌨☁🌩🌦⛅🌧☁🌤🌥🌪🌧🌨🌩⛅🌦☁🌤🌥🌤⛅🌤⛅🌦⛅

⛅🌦🌧🌦🌧🌨☁🌩🌦⛅🌧☁🌤🌥🌪🌧🌨🌩⛅🌦☁🌤🌥🌤⛅🌤⛅🌦⛅

---
---