Crypto Analysis | Trend Reversal for SPS!
Good day Hiveians!
Join me in analyzing the crypto markets!
One could argue that SPS has been in a downward trend since its ATH
In fact, once it hit just over $1 we saw a very volatile first few months, but the direction for SPS has always been downward (although it once almost recovered its former high). This gave me an insight for SPS's fractal. It's actually very obvious, but often only so in hindsight.
The following chart looks complex, but there is a simple message: Until the end of March 2022 SPS's fractal was in the downward (red) phase having a peak at 1 and a lower second peak at 2. This is evident in all levels (I haven't marked all of them).
Starting thereafter we see a trend/fractal change. We see a higher second peak, or in other words 2 is higher than 1.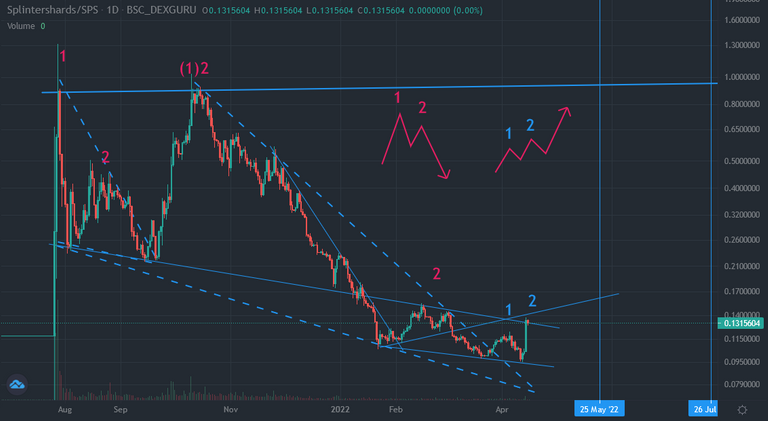 Last time I shared this outlook which was less bullish than my previous ones as I had considered the high inflation for SPS (more than 1 million /day!). However, the inflation will get reduced with the end of the private sale as well as the end of the airdrop (see chart).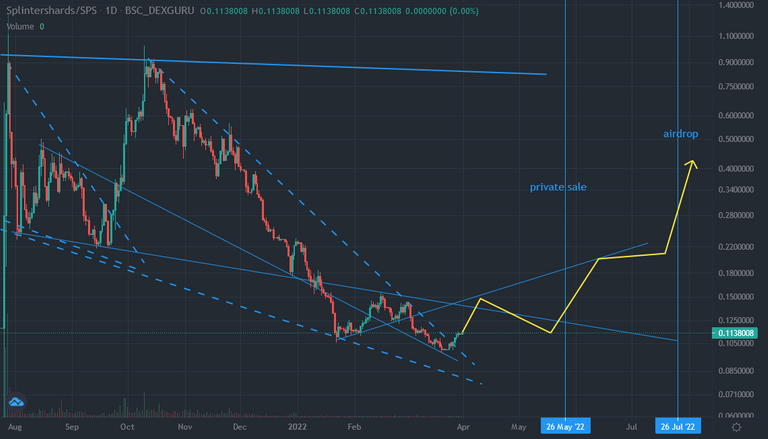 Yesterday's annoucement of SPS validator nodes sent the price skyrocketing. We are now exactly at target level. But as you can see I am expecting some resistance and there could be a correction taking us back to ~11-12 cents.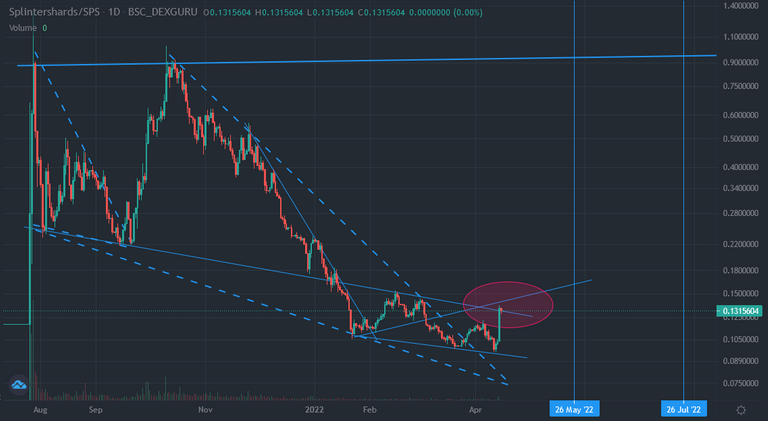 However price will move: it seems clear now that there is finally a trend change for SPS. The bottom seems to be in at ~9 cents and with the reduction of inflation as well as the onset of the Riftwatchers expansion and the sale of the SPS validator licenses next month we should see SPS continue to go up. I still think that it will be rather a steady increase rather than a huge impulse wave as there is nevertheless still a lot of inflation. I definitely see 40-50 cents in the coming months with a possibility of reaching $1 in the foreseeable future (but this will probably require more releases from the team, which btw rocks ;))
---
As a general reminder: Please keep in mind that none of this is official investment advice! Crypto trading entails a great deal of risk; never spend money that you can't afford to lose!

⛅🌦🌧🌦🌧🌨☁🌩🌦⛅🌧☁🌤🌥🌪🌧🌨🌩⛅🌦☁🌤🌥🌤⛅🌤⛅🌦⛅

⛅🌦🌧🌦🌧🌨☁🌩🌦⛅🌧☁🌤🌥🌪🌧🌨🌩⛅🌦☁🌤🌥🌤⛅🌤⛅🌦⛅

---
---