Splinterlands: My first battles with the new ranked rewards!
Good day Hiveians!
Join me in analyzing the crypto markets!
There are a lot of changes coming to Splinterlands with the latest one being the change in ranked rewards. Fortunately the roll out of this change seems to have gone very smoothly from what I experienced. Just 15 minites after the season's end I could play with the changes in place. We now have a new ranked battle overview.
The main difference is that we now have "SP" and FP" which are Season Points and Focus Points. As you can see my first battle went well and I took my first win!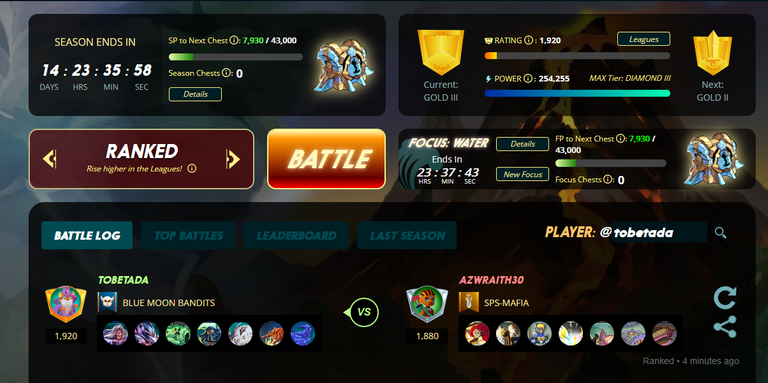 Here is the result. I like that we can now see explanation for the "Reward Points". All in all I got 7,930 RPs for being in Gold III which counted both towards my Season as well as to my Focus Points.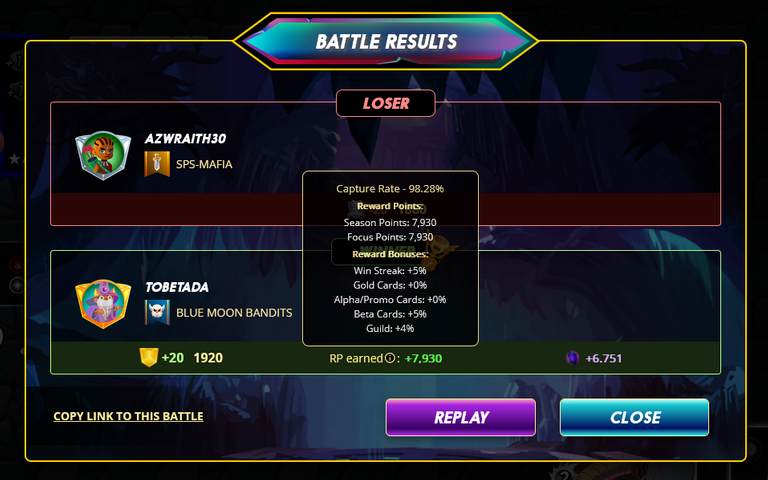 Doing some math means that I have to win about 5.4 battles in order to get my next chest for the SP and FP goals. However, the points are dependent on the factors explained above, i.e. the "reward points". In other words, if I continually play ranked battles my ECR will drop and therefore my RPs... But they can be increased again by waiting or by using reward bonuses! In fact, utilizing reward bonuses makes a great deal of difference.
Having a different setup for my second battle gave me a bonus of 24% instead of the 14% I got in my first battle. With the ECR being almost the same this translates to 9,162 RPs. So quite a bit more. Doing the math it is actually more than 10%... so I am not sure why it increased to over 9k points.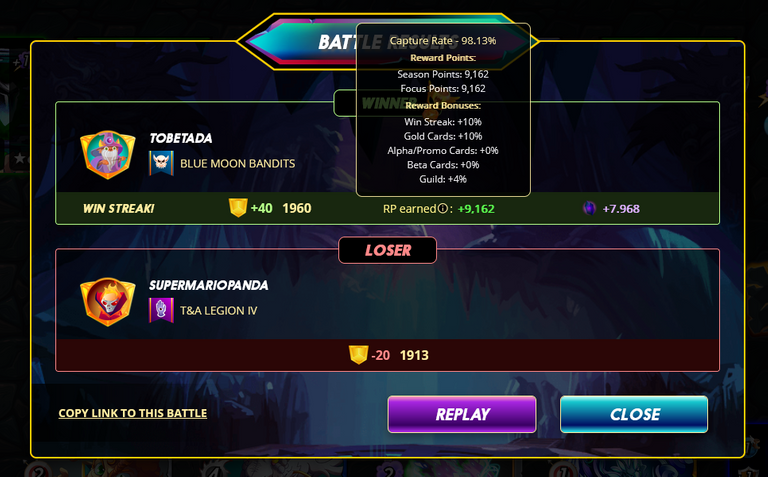 I have one final question: is it possible to earn season reward chests in a lower league and then for the final day in the season rent cards to get into a higher league and then be rewarded with all of the chests? Something tells me that the team already thought of this exploit, anybody know?
---
As a general reminder: Please keep in mind that none of this is official investment advice! Crypto trading entails a great deal of risk; never spend money that you can't afford to lose!

⛅🌦🌧🌦🌧🌨☁🌩🌦⛅🌧☁🌤🌥🌪🌧🌨🌩⛅🌦☁🌤🌥🌤⛅🌤⛅🌦⛅

⛅🌦🌧🌦🌧🌨☁🌩🌦⛅🌧☁🌤🌥🌪🌧🌨🌩⛅🌦☁🌤🌥🌤⛅🌤⛅🌦⛅

---
---