Chaos Legion Set & Sale Info is HERE!!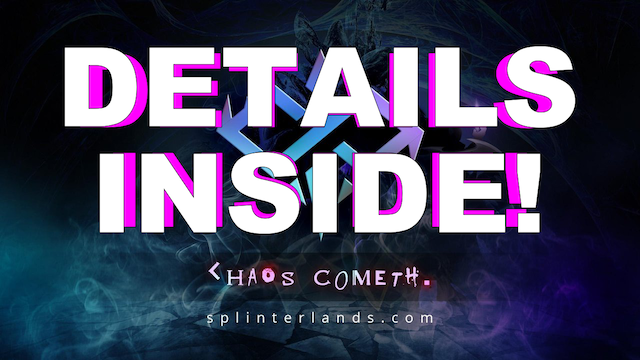 SUPPLY & COSTS
Total number of packs: 15M packs
Total number of presale: 1M packs
Packs will cost: $4
Fewer packs due to higher pricing
Packs contain: 5 cards from CL, 1 being rare or better
collection power is the same as the new reward cards
combine rates will be the same as Untamed
PRESALE
presale is expected to last 30 days
packs can be purchased using credits, DEC, or SPS
10% discount for purchasing packs with SPS directly
presale packs will NOT be able to opened until the set is released
presale packs can still be bought and sold before the release
VOUCHERS
33333.333 vouchers will be created daily
vouchers will be received daily
vouchers can be bought or sold
vouchers are based on your percentage of the amount of SPS staked
vouchers will be used for other things in the future
BONUSES
Bonus packs for large purchases

100-499: 10% additional pack bonus

500-1999: 15% additional pack bonus

200+: 20% additional pack bonus
AIRDROPS
14 airdrops total
1 promo card airdropped last
REWARDS
promo card is only availble buy purchasing packs from presale
50 or more packs guarantees one promo card per 50 packs
1000 or more packs guarantees on GF promo card per 1000 packs
1000 or more packs earns you "The Legionnaire" in-game title NFT for each 1000 packs purchased
top 6 purchasers get to work with the design team to design their own legendary card which will be added to the CL set at a later date
START DATE
Presale starts the week of November 24, 2021
Airdrops start after the set is released
PLAY FORMATS
Modern and Wild
Modern will allow: Untamed, Dice, CL, newer reward cards, and any cards added to the game before the next core set is released.
Wild will allow: ALL CARDS. Alpha through CL
Each format has its own separate DEC and SPS reward pools

THANKS FOR READING!

---
---
---
🔥 Updated Dec Burn/Power Chart 🔥
Note: You can also type $dec in the discord server for the same chart
---
💎 Still not signed up to play and EARN? Sign up HERE 💎
Note: It's free to play but to earn you need to purchase The Summoner's Spellbook for $10
---
📚 How To: Purchase The Summoner's Spellbook 📚
---
👹 How To: Unlocking Bronze League Beast Mode 👹
---
🌟 For more articles like this, check out my blog HERE 🌟
---
---
---