THE DJINN PLANS - SPLINTERLANDS STORY PT/EN

VERSÃO EM PORTUGUÊS

(nativo)


ENGLISH VERSION

(translate google)

CRIANDO UMA HISTÓRIA

Muitos Djinns foram lançados recentemente em Splinterlands, mas você sabe quem são essas criaturas? Seriam apenas gênios convencionais que realizam desejos igual em outros folclores? Claro que não.
CREATING A STORY

Many Djinns have been released recently in Splinterlands, but do you know who these creatures are? Are they just conventional djinns who grant wishes like in other folklores? Of course not.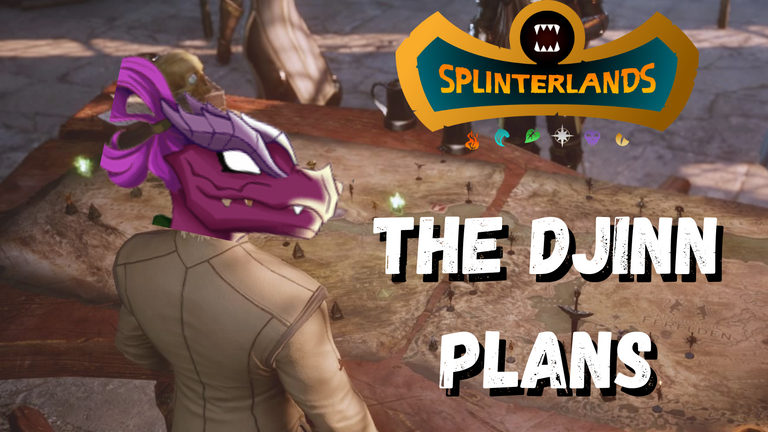 Na história de hoje me aprofundarei na história dos Djinns, contando sobre o que eles passaram e os desejos de um deles em libertar sua raça dessa prisão eterna (não canônico). Se você deseja acompanhar essa aventura e descobrir qual a ligação dos Djinns com Yodin Zaku (você sabia que eles são totalmente ligados?), pegue o seu café e tenha uma boa leitura.
In today's story I will delve into the history of the Djinns, telling about what they went through and the desires of one of them to free their race from this eternal prison (non-canon). If you want to follow along on this adventure and find out how the Djinns are connected to Yodin Zaku (did you know they are fully connected?), take a coffee and have a good read.

Apesar de quase todos os Djinns estarem presos à um território elemental e não conseguirem sair dele e nem mudar a sua forma, existem alguns poucos que firmaram um acordo mais vantajoso que lhe dá a vantagem de vagar entre os elementos (com algumas restrições), sendo um deles a Djinn Chwala.
Este Djinn representa os dragões, os seres mais poderosos de Splinterlands. Por estarem espalhados por todo o planeta, ele ganhou a permissão de poder vagar pelos territórios elementais, mas sempre com a vigilância de um dos invocadores dracônicos.
Chwala era orgulhosa e guardava todo seu ódio pelo planeta por sua raça ter sido subjugada duas vezes, sendo a primeira à milênios atrás durante a Guerra dos Mil Anos quando os Demônios Belludae que não podiam ser mortos foram presos à objetos através da magia Efreet, e agora que eles foram libertos mas novamente presos em amarras mágicas, vinculando todos os Djinns aos elementos, forçando-os à lutar em uma guerra que não era deles.
Although almost all Djinns are trapped in an elemental territory and cannot get out of it or change their form, there are a few who have signed a more advantageous deal that gives them the advantage of roaming among the elements (with some restrictions) , one of them being the Djinn Chwala.
This Djinn represents the dragons, the most powerful beings in Splinterlands. Because they were scattered across the planet, he gained permission to roam the elemental territories, but always with the vigilance of one of the draconic summoners.
Chwala was proud and harbored all his hatred for the planet for his race had been subjugated twice, the first being millennia ago during the Thousand Year War when the Belludae Demons that could not be killed were bound to objects through Efreet magic, and now that they have been freed but once again bound in magical bonds, binding all Djinns to the elements, forcing them to fight a war that was not theirs.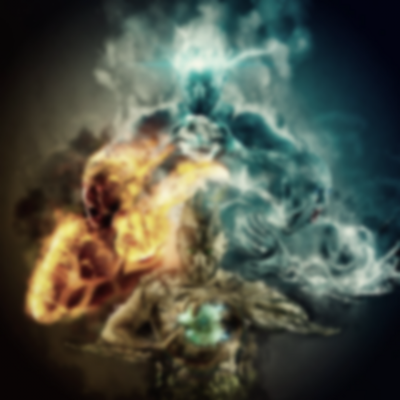 Chwala foi ordenada pelo invocador Neb Seni para ir até as Terras Ardentes por conta de uma força altamente poderosa e desconhecida que foi identificada na região. Sem escolhas a Djinn teve que ir, porém ela nem imaginava que lá encontraria alguém capaz de realizar os seus desejos de libertar o seu povo.
Enquanto vagava na busca por essa força desconhecida a Chwala observava em todos os cantos em busca de algum Djinn do elemento do fogo, visando conseguir aliados para por em prática o seu plano.
Sendo uma entidade de imenso poder a Chwala não respeitava as leis dos seres, então durante sua busca ela invadiu tocas de Spark Pixies, ninhos de Giant Rocs e de outras criaturas silvestres das Terras Ardentes, e todas as que tentaram atacá-la sentiram o peso de sua clava.
Chwala was ordered by the summoner Neb Seni to go to the Burning Lands because of a highly powerful and unknown force that was identified in the region. With no choice, the Djinn had to go, but she had no idea that there she would find someone capable of fulfilling her desires to free her people.
While wandering in search of this unknown force, Chwala looked around for any Djinn of the fire element, aiming to get allies to put her plan into practice.
Being an entity of immense power, Chwala did not respect the laws of beings, so during her quest she invaded the dens of Spark Pixies, nests of Giant Rocs and other wild creatures of the Burning Lands, and all who tried to attack her felt the weight of your club.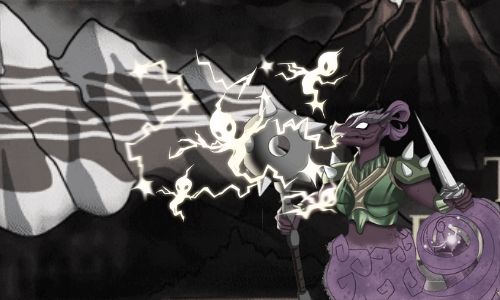 Sua forma grosseira de vagar fez com que muitas criaturas se irritassem, dessa forma Chwala acabou chamando a atenção de muitos seres das Terras Ardentes. A maioria eram fracos, então a Djinn simplesmente ignorou todos eles e continuou sua busca por um Djinn.
Horas se passaram até que ela finalmente sentiu a energia misteriosa. Ela era extremamente poderosa, superando e muito o poder de Chwala. Apesar disso aquela sensação era extremamente familiar, acendendo um calor interno no coração da Djinn, fazendo-a avançar rapidamente na busca da origem daquele poder.
No horizonte ela avistou um vilarejo totalmente destruído e em chamas, e aquele com certeza era o local de onde emanava aquela energia. Enquanto se aproximava a Chwala ouviu um rugido estrondoso que lhe restaurou memórias de milênios atrás... Ela conhecia aquela voz, era de um dos que lutou na Guerra dos Mil Anos...
His rude way of wandering made many creatures angry, so Chwala ended up catching the attention of many beings from the Burning Lands. Most were weak, so the Djinn simply ignored them all and continued her search for a Djinn.
Hours passed until she finally felt the mysterious energy. She was extremely powerful, far surpassing Chwala's power. Despite that, that sensation was extremely familiar, igniting an internal heat in the Djinn's heart, making her move quickly in search of the source of that power.
On the horizon she saw a village completely destroyed and in flames, and that was certainly the place where that energy emanated from. As she approached Chwala she heard a thunderous roar that restored her memories of millennia ago... She knew that voice, it was from one of those who fought in the Thousand Year War...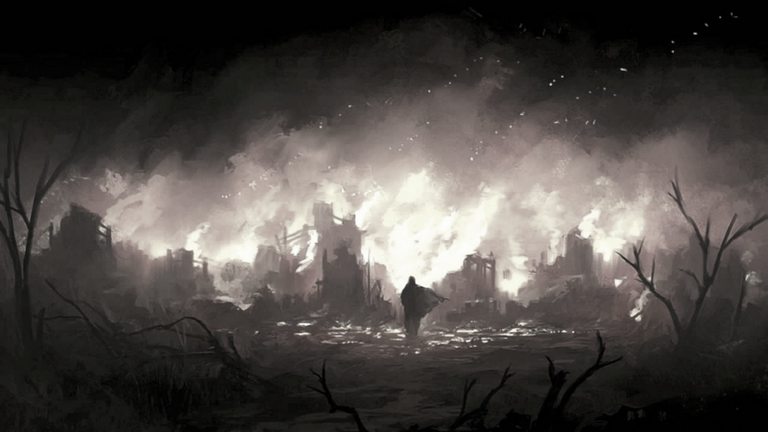 ---
O INÍCIO DA CENA A SEGUIR ACONTECEU EM OUTRA DAS MINHAS HISTÓRIAS. SE VOCÊ QUISER ENTENDER COMO YODIN ZAKU E JOAKEN SE REUNÍRAM, BASTA CLICAR AQUI.
THE BEGINNING OF THE FOLLOWING SCENE HAPPENED IN ANOTHER OF MY STORIES. IF YOU WANT TO UNDERSTAND HOW YODIN ZAKU AND JOAKEN GATHERED, JUST CLICK HERE.
---
"DIGA, DIGA QUEM EU SOU, EFREET JOAKEN!"
Disse aquele que rugiu. Em resposta ela pôde ouvir a voz de um ancião bem idoso e com aspecto cansado.
"Você é um Demônio Belludae, o último da sua espécie e que conseguiu se libertar dos encantamentos que o encarceravam. Você é o único sobrevivente da Guerra dos Mil Anos e aquele que carrega a última chama existente antes da Fragmentação, a chama que nunca se apaga. Você é aquele capaz de invocar a verdadeira chama e queimar todo o mundo, mas também aquele capaz de renovar a história de toda Splinterlands, você é Yodin Zaku!"
Ao ouvir o discurso do Efreet, Chwala foi tomada por um misto de emoções de felicidade e fúria e finalmente apareceu diante dos dois. Joaken olhou para o lado e demonstrou espanto, enquanto Yodin simplesmente sorriu.
"Único sobrevivente? Você quer dizer o único que conseguiu sair de sua prisão mágica sem precisar fazer um acordo com os seres deste plano. Vocês nos prenderam aos elementos e nos usam em sua guerra, e agora quer enganar o único dos nossos que está livre dessas amarras? É muito bom vê-lo novamente Grande Ordenado Yodin Zaku"
Pela primeira vez em séculos Chwala falou com tom de respeito, prestando uma reverência ao seu senhor que acabara de encontrar, pois aquele era o mais poderoso Ordenador da história dos Demônios da Guerra.
Agora cabia a Yodin decidir quem ele iria ouvir. Joaken, um Efreet descendente daqueles que traiu sua raça e os aprisionou ou Chwala, uma antiga Demônio da Guerra que assim como ele foi aprisionada e que até hoje ainda se encontrava presa sendo forçada a agir como uma Djinn em prol dos desejos de outros seres.
A sua decisão poderia decidir o rumo da história de Splinterlands.
"SAY, SAY WHO I AM, EFREET JOAKEN!"
Said the one who roared. In response she could hear the voice of a very old and tired looking man.
"You are a Belludae Demon, the last of your kind and who managed to free yourself from the enchantments that imprisoned you. You are the only survivor of the Thousand Year War and the one who carries the last flame existing before the Shattering, the flame that never You are the one capable of summoning the true flame and burning the whole world, but also the one capable of renewing the history of the entire Splinterlands, you are Yodin Zaku!"
Hearing the Efreet's speech, Chwala was overcome by a mixture of emotions of happiness and fury and finally appeared before the two. Joaken looked to the side and showed astonishment, while Yodin simply smiled.
"Only survivor? You mean the only one who managed to break out of his magical prison without having to make a deal with the beings of this plane. You have trapped us in the elements and used us in your war, and now you want to deceive the only one of ours who is free from these bonds? It's great to see you again Great Orderly Yodin Zaku"
For the first time in centuries Chwala spoke with a tone of respect, bowing to her lord she had just see, for he was the most powerful Orderer in the history of the War Demons.
Now it was up to Yodin to decide who he would listen to. Joaken, an Efreet descendant of those who betrayed their race and imprisoned them or Chwala, an ancient War Demon who was imprisoned like him and who to this day is still trapped being forced to act as a Djinn in favor of the wishes of other beings.
Her decision could decide the course of Splinterlands history.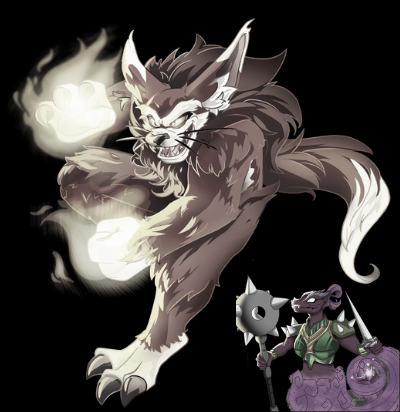 Se você gostou, peço que deixe o seu "like" nessa postagem e me siga para ver outros conteúdos sobre Splinterlands. Beijos e até a próxima!
If you liked it, please send a "like" on this post and follow me to see other content about Splinterlands. Kisses and until next time!
---
---