NewBoost V.7 Inbound // AUGUST 14th

WATCH THE REPLAY HERE...
What is NewBoost?
Every month the Splinterlands community gets together to give new players a boost. "Boosters" will play for 1 hour and then send their DEC winnings and/other prizes to the account @newboost. Then we have a livestream where we give out the prizes to Noobs. All of the Boosters that give at least 100 DEC get a fancy NFT.
Here is the NFT that is going out this month to our contributors from the last boost.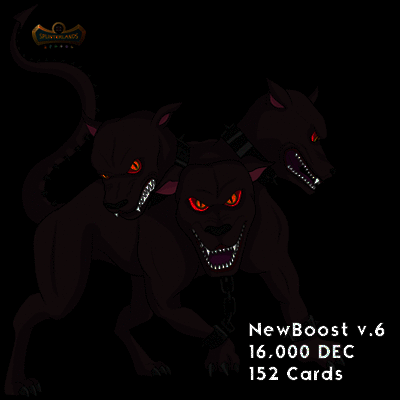 When is NewBoost
The NewBoost LiveStream Event will be on Saturday, August 14th @ 9am CST. You can send your donations any time from now until Saturday to get the limited edition NFT. Send donations to @newboost.
We've already got over 7,000 DEC and a handful of cards to give out.
Where can I watch the LiveStream With Massive Giveaways?
I've given away packs, plots, totems, legendaries and more. Make sure you subscribe to my YouTube Channel...
https://www.tinyurl.com/unitqm
How do you get a Boost?
I created a cryptic post a few weeks back telling people how to enter. Some of you lucky noobs figured out what I was looking for. As of Tuesday 8/10/21 we still have SEVERAL spots open. If you need a boost and you're not a total jerk drop your username in the comments below and you might just get on the list of noobs that we boost. Here are the people that are getting a boost
WE ARE FULL... NO MORE SPOTS OPEN... CATCH ME NEXT MONTH
Who is Getting A Boost?
chrynio13 - 400 DEC
cashew-harrison - 400 DEC
diogenes13 - 400 DEC
winty161 - 400 DEC
ninjobu - 400 DEC
ckoz - 400 DEC
zcaq - 400 DEC
mirage-mage - 400 DEC
pavz - 400 DEC
edward0099 - 400 DEC
seregnir - 400 DEC
adulruna - 400 DEC
godvisionz - 400 DEC
pwnappletea - 400 DEC
ballbagins - 400 DEC
thaddeusprime - 400 DEC
squishna - 400 DEC
lost-katze - 400 DEC
Who tried to get a boost in the contest but already got one.
Sorry folks... You all have already received a boost. BUT I didn't specify that you couldn't reenter. So I'll send each of you some SPS.
SORRY I DIDN'T SEND AS MUCH AS I SAID I WOULD... I DID THE MATH AND I'VE ALREADY GIVEN AWAY $120 OUT OF MY OWN POCKET AND I NEED TO COOL OFF.
kursen 10
weakbot 10
koition 10
megawolf 10
qxacexp - 10
the-phenom - 10
Who is getting an NFT from Newboost v.6?
magooz | ogde4.wam
vettev | l3uqu.wam
thegcc | s52qy.wam
peping | ioxf.wam
warrentrx | xciaw.wam
giemo | fmjb2.wam
homesteadhacker | ypbr2.wam
funferall | bsdb2.wam
ninjobu | npyu4.wam
cajacksparro | 4.fuc.wam
monstermother | a31r.wam
unitqm | wfbaw.wam
Who is getting an NFT from Newboost v.7?
yasufuma | uirw2.wam
pepinillo | ctrem.wam
takeaguss | .uvr.wam
giemo | fmjb2.wam
thegcc | s52qy.wam
ninjobu | npyu4.wam
yadood | h22vg.wam
thecrevolution | f.kre.wam
vettev | l3uqu.wam
warrentrx | xciaw.wam
unitqm | wfbaw.wam
magooz | ogde4.wam
bragurr | wxlb2.wam
chrynio13 | wiiwc.wam
wehaveall | ?
Super Secret Info
This boost is going to be a bit different. Now that prices have exploded people aren't as generous as they have been in the past. No problem. I have a few cards laying around. SEASON DELEGATIONS ARE COMING!!!!
Level 1 Magnor - VetteV - diogenes13
Level 1 Byzantine Kitty - unitqm - harayatim
Level 1 Yodin Zaku - unitqm - godvisionz
Level 2 Mimosa Nightshade - unitqm - cashew-harrison
Level 3 Pyre - unitqm - @adulruna
Bottom of the Post Spam
Sign up for Splinterlands using my referral link to get a free card when you first sign in. https://splinterlands.com?ref=unitqm
Check out the wiki. We're making a splinterlands wiki and need your help.
https://www.splinterwiki.com
Watch the full Starting out in Splinterlands series here...
https://www.shorturl.at/drJW3
Support/Follow Me:
https://cointr.ee/unitqm
Sign up and play these games with my referral code....
Upland
https://r.upland.me/YhDa
---
---