Everyday is for Power-ups: My first for year 2022 ($71 worth of Hive-engine Tokens)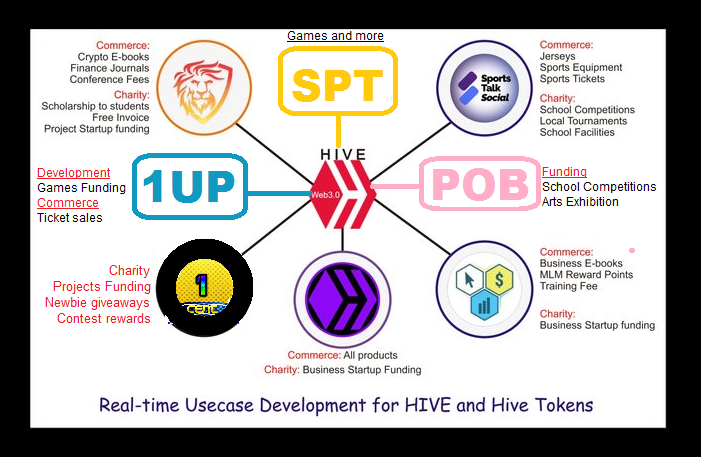 Yeah! here is the beginning of my financial journey and investment in year 2022. I had to take the first three weeks of the year thinking and agreeing with myself with what I really want at the end of the year when it comes to investment and my financial life. It has become necessary to stay well positioned to up my game when it comes to investment. By the end of year 2022, I want to have a balance of at least $50k from the opening balance of $8k.
Today marks my first day powering up Hive-engine tokens and there wasn't a better day than today. While we know the first day of the month foe Hive PUD, I have decided to make everyday in the year 2022 count when it comes to my crypto investment. While I would support the #hpud campaign, I'll ensure that I keep BUIDLing up each day as my earnings would also come on daily basis. Today, I decided to start the inevstment journey for the year with $71 worth of Hive tokens - CTP, POB, LEO, CENT, LIST, SPORTS, ONEUP and SPT. All the eight hive-engine tokens in my curation portfolio was well represented.

Right from the first day of this year, I have been investing in Hive though not by staking tokens, but through liquidity addition to dieselpools. Providing LP in DeFis has become the new way to HODL crypto and doing that on Hive helps me to meet-up with my staking goals faster. Infact, my new model to building up my portfolio is to EARN Tokens >>> Commit Tokens to DeFi Pools >>> Stake Bonuses from LP. I've committed over $200 so far from the beginning of the year and for me that's gonna help me double up the goals for the year. today, the following are the tokens volumes staked and their worth:
My choice for the Six tokens remain usecases, development and potentials for long term HODLing. I'm hoping to expand the holdings of these tokens to at least $5k each. Some are already one-fifth through the target but others are quite far away from that line. I'll be more committed to consistent engaging and earning through content creation, curation, gaming, LP and other promotional activities. On the long term, my plans for the tokens I'm loading are huge. Below are a brief of what the tokens mean to me and how they'll be utilized.
1. LEO and the @LeoFinance Community
Commerce (Crypto ebooks, Finance journals and Finance conference Fees)
Charity (Scholarship for Finance students, Free invoice for SMEs and Business Start-up funding)
2. ONEUP and the @NFTStudios Community
Development (games)
Commerce (gaming ticket sales)
3. SPORTS and the @Sportstalksocial Community\
COmmerce (sales of jerseys, sports equipment and tickets)
Charity (School sports competitions and School sports facilities)
4. CTP and the @Clicktrackprofit Community
Commerce (business ebooks, MLM reward points, and business training fee)
Business startup funding
5. POB and the @Proofofbrainio Community
Funding of school competitions
Sponsoring Arts Exhibitions
6. LIST and the @Hivelist Community
Commerce of e-products
Funding for Business startups
7. CENT and the @centtoken Community
Crypto charity
Funding of projects generally
Giveaways for newbies and referees.
Contest rewards
8. SPT and the @SPlinterlands Community
Some of these tokens may look insignificant but their values are more than we can see in the interim. It takes patience and long term focus to reap big from these intes
What is Hive?
Hive is an innovative and forward-looking decentralized blockchain and ecosystem, designed to scale with widespread adoption of the currency and platforms in mind. By combining the lightning-fast processing times and fee-less transactions, Hive is positioned to become one of the leading Web3 blockchains used by people around the world. source
What is Hive-Engine?
Hive-Engine is a smart contract platform on top of the Hive blockchain. It allows communities and businesses to build their own tokens, which are then built on top of the technology provided by Hive. This is the ultimate layer 2 solution. The token created on Hive-Engine is then immediately tradable with Hive on their exchange.
About me...
I am a called teacher, a serial entrepreneur and a Graduate of Agricultural Engineering. Nigeria is my root and a place full of opportunities. I dropped out of a Master's Degree program due to funds, yet I do not regret growing the courage to start my business from the scratch. Today, I've built layers of Businesses on the Hive blockchain in terms of Curation and it's a sustainable passive way of earning crypto while learning.
I am your favourite Hive Tribes Promoter and Curapreneur!
I am @Uyobong.
Let's connect on Twitter
Posted Using LeoFinance Beta
---
---