[ES/EN] My Battles With Kelya Frendul, SHARE YOUR BATTLE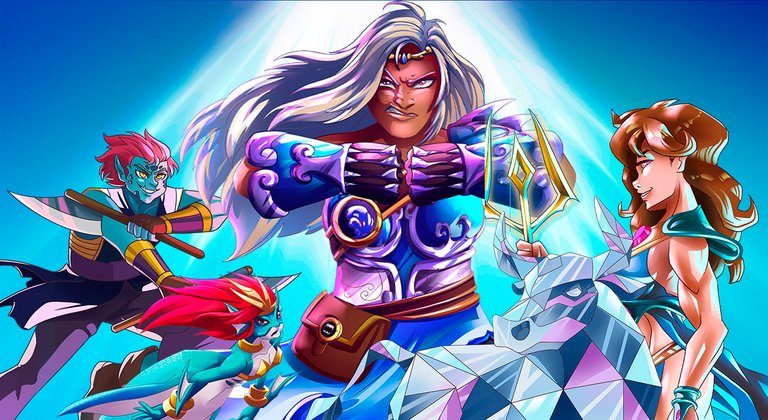 Hola hivers les comparto mis batallas con el invocador Kelya, deck de agua el cual estoy arrasando en silver league, aqui las cartas que mas uso de la clase agua, aunque también depende de las regla de batalla

Hello hivers, I share my battles with the summoner Kelya, a water deck which I am destroying in silver league, here are the cards that I use the most from the water class, although it also depends on the battle rules

DECK


KELYA FRENDUL: invocador buenísimo de chaos legion con dos habilidades molestas para el contrincante.
TORHILO THE FROZEN: aunque tan bien se puede llevar DJINN OSHANUS me gusta mas esta carta por su daño y su armadura.
NERISSA TRIDAWN: la mejor carta para mi es esta con su gran daño mágico y resistencia me encanta ya que si la silencia igual hará mucho daño al enemigo.
MERDALI GUARDIAN: en este caso el cura tanque del grupo aunque esta carta en niveles alto obtiene la habilidad reparar perfecta para hacer combo con TORHILO, pero para aquellos jugadores que están en liga oro.
AXEMASTER:todas las cartas que atacan dos veces son buenas pero esta es mucho mejor por su gran velocidad y esquive lo que tan bien le otorga precisión para no fallar ningún ataque.

KELYA FRENDUL: very good summoner of chaos legion with two annoying skills for the opponent.
TORHILO THE FROZEN: Although DJINN OSHANUS can be handled so well, I like this card better because of its damage and its armor.
NERISSA TRIDAWN: the best card for me is this one with its great magic damage and resistance. I love it because if you silence it, it will still do a lot of damage to the enemy.
MERDALI GUARDIAN: in this case, the tank healer of the group, although at high levels this card obtains the perfect repair ability to combo with TORHILO, but for those players who are in the gold league.
AXEMASTER: All cards that attack twice are good, but this one is much better because of its great speed and dodge, which gives it precision so well that it doesn't miss any attack.



ROUND 1
Empieza la batalla y el enemigo coloca cartas de melé y una de range lo que predije, por eso coloque el desintegrator pero el coloco una carta con la habilidad inspirar lo que hizo que quedaran igual de ataque.
The battle begins and the enemy places melee cards and a range card, which I predicted, so I placed the disintegrator, but he placed a card with the ability to inspire, which made them have the same attack.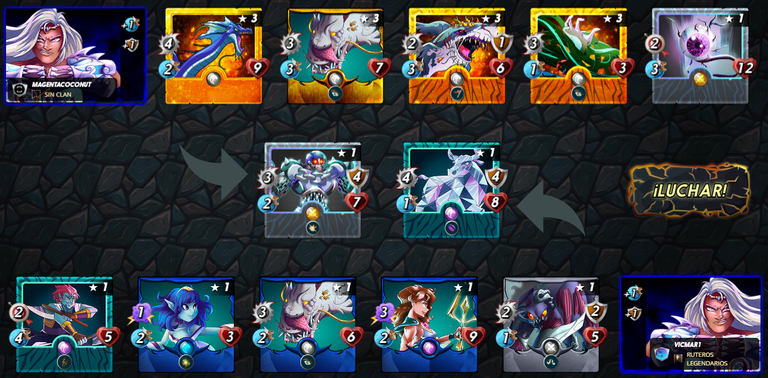 ROUND 2
El enemigo derroto mi carta mas débil pero yo acabo con su primer tanque
The enemy defeated my weakest card but I killed his first tank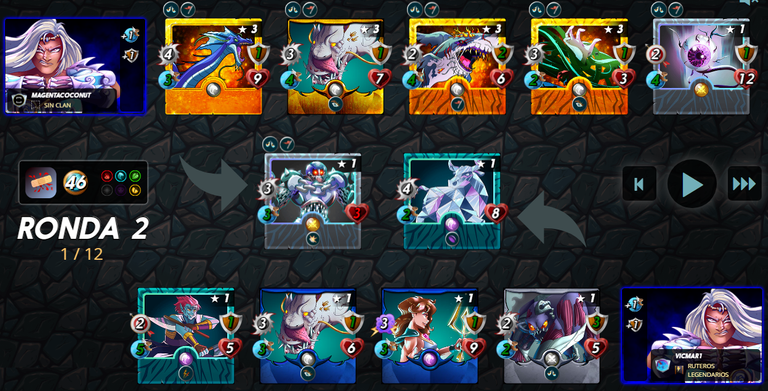 ROUND 3
Cae mi tanque y otra carta pero en esta ronda derroto dos cartas enemigas tan bien gracias a una equivocación en colocar cartas de curación que en esta batalla estaba silenciado
My tank and another card goes down but in this round I defeat two enemy cards so well thanks to a mistake in placing healing cards that in this battle was silenced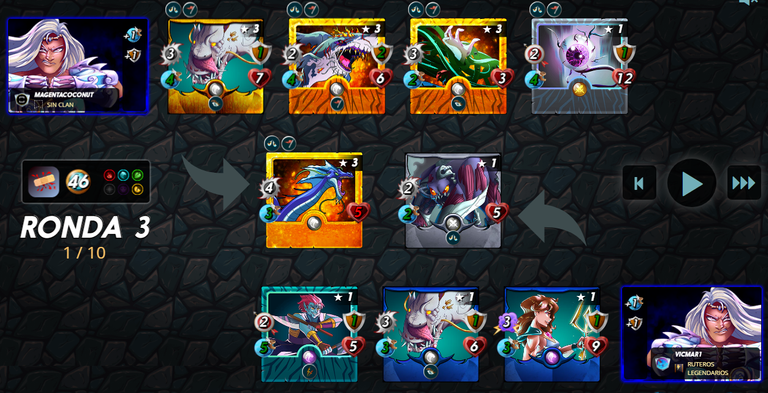 ROUND 4
En esta ronda nos queda a ambos tres cartas, pero una carta enemiga no puede atacar lo que claramente me da la ventaja
This round we both have three cards left, but an enemy card can't attack which clearly gives me the advantage.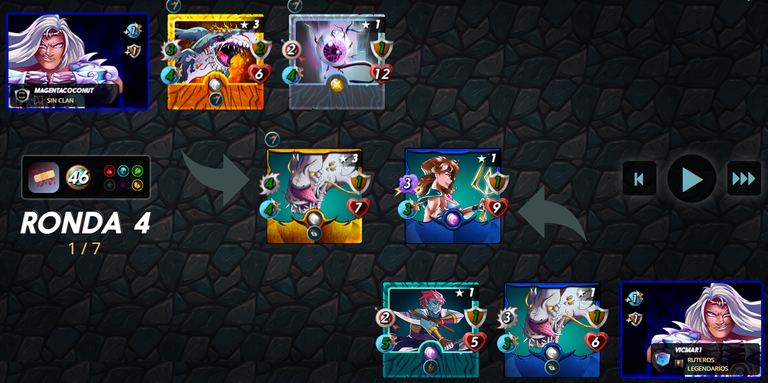 ROUND 5
En esta ronda ya estaba decidido el vencedor ya que su carta de range no puede atacar en la primera posición y esta prohibida su habilidad de curarse
In this round the winner was already decided since his range card cannot attack in the first position and his ability to heal is prohibited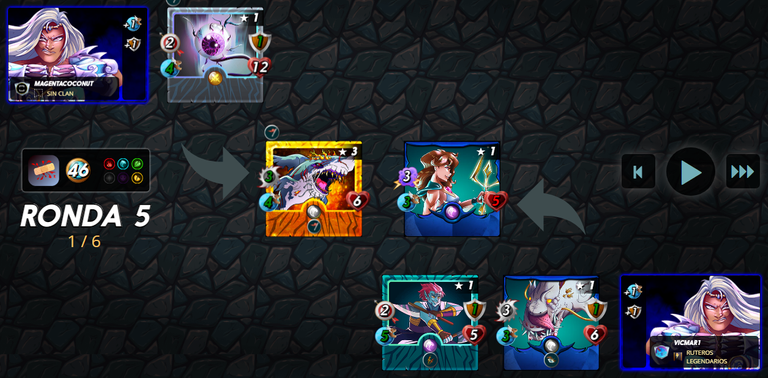 ROUND 1
Inicia la batalla y el enemigo coloca una carta con gran esquive lo que me preocupaba ya que si me derrotaba el tanque muy rápido mi carta de range no podría atacar en primera posición y perdería la batalla
The battle starts and the enemy places a card with great dodge, which I was worried about because if the tank defeated me very quickly, my range card would not be able to attack in first position and I would lose the battle.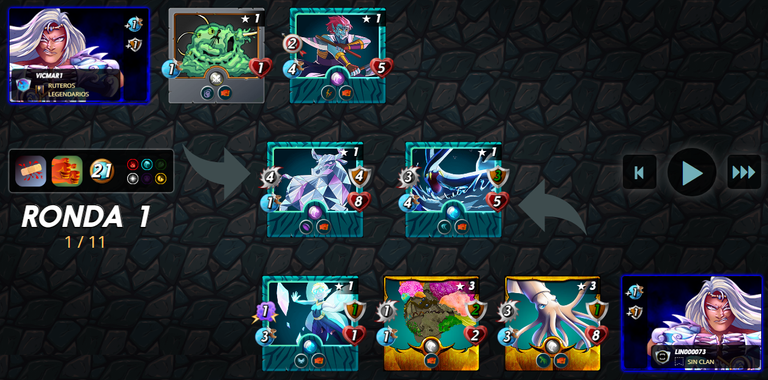 ROUND 2
Gracias a mi debuff de velocidad mi carta puede atacar primero y no falla muchos ataque lo que otorga mi ventaja y acabo con su tanque que era la carta que me preocupaba ya que no coloque cartas de magia
Thanks to my speed debuff my card can attack first and doesn't miss many attacks which gives me an advantage and I end up with his tank which was the card that worried me since I don't place magic cards


ROUND 3
Aun no estaba decidido el ganador ya que si esquivaba un ataque podría perder
The winner was not yet decided since if he dodged an attack he could lose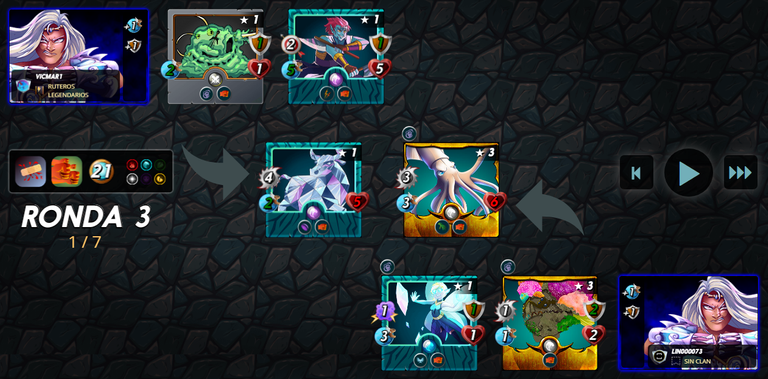 ROUND 4
En esta ronda por uno de daño no me mataron el tanque ya que si lo lograba ya perdería esta batalla ya que la carta de range no podría atacar desde la primera posición
In this round for one damage they didn't kill my tank because if I succeeded I would already lose this battle since the range card couldn't attack from the first position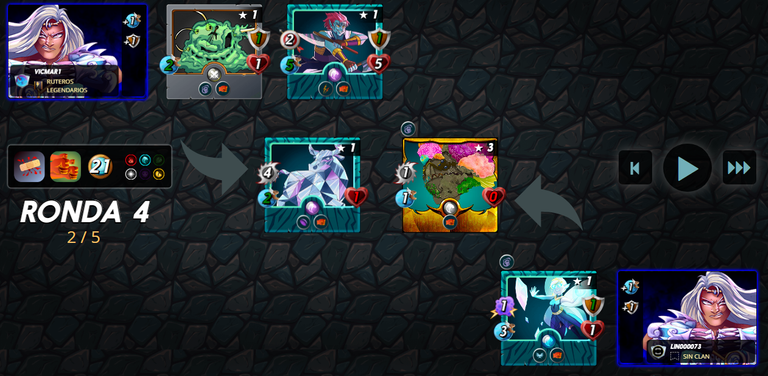 ---
---