New Reward Cards - DEATH

Welcome guys to the review of the new rewards cards. In this first part, we are reviewing the Death team. New cards are very interesting and I hope that it will be the same with the Chaos Legion expansion. At the moment prices of the new cards are falling as there are many available on the market and many are to be printed in upcoming weeks. This means that maybe now is not the best time to buy those cards.
We currently have these cards only for a week or two and new reward cards are not played that often. It is possible that meta will change. That would mean that this review could be a bit off in the future, so take this into consideration while reading.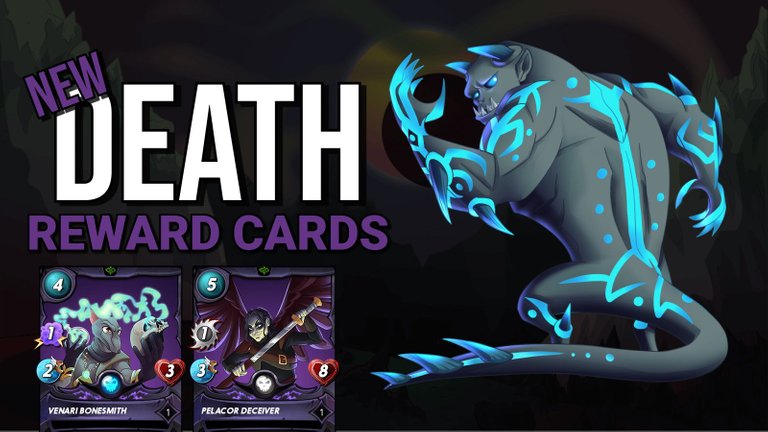 Harklaw - Very interesting card but we will see the real potential with Chaos Legion expansion. For now, Harklaw looks like a decent tank with nine health and three armor at level one. Two attacks in not bad either for a tank. Low speed means he will attack last most of the time, but this could be used in the Reverse Speed ruleset.
Shield - Reduced damage from Melee and Ranged attacks.
His Shield ability is what makes him such a good tank. He will take reduced damage making him very durable against melee and ranged attacks. That leaves him vulnerable only to magic attacks.
Immunity - This monster is immune to negative status effects.
On higher levels, he will get Immunity and Demoralize abilities. Immunity is great in Earthquake and Poison rulesets. This ability makes Harklaw an even better tank.
Demoralize - Reduces the Melee attack from all enemy monsters.
Demoralize is here to reduce that melee and ranged damage even more. In combination with Shield ability, most of those attacks will do only one or two damage. A nightmare for the Fire Splinter. Harklaw could be even better in combination with Owster Rotwell. This summoner will give a Magic Reflect ability to Harklaw making him even tougher to kill.
Harklaw is a must-have card for me. I do hope that I will get him as a reward but I will make sure to buy a few copies. At the moment you can find one for around 13 USD but my target price is under 10 USD per BCX so I will wait for a week or two.
---
Venari Bonesmith - This card seems like a slightly less powerful version of Antient Lich though I can see Venari Bonesmith played more due to lower mana cost. Base stats are good, one magic damage, two speed, and surprisingly three health.
Life Steal - Monster's health increases each time it damages an enemy Monster's health in proportion to the damage dealt.
Life Steal ability is what makes this card so strong. If placed right he can end up with a lot of health and therefore very hard to kill.
Poison - Attacks have a chance (50%) to apply poison, which does automatic damage to the target at the beginning of each round after the poison is applied. Poison does 2 damage each end of the turn and is not affected by shield or void.
With Life Steal ability, Poison is another amazing ability that makes Venari Bonesmith so strong. With poison applied to the target, he will deal three damage per turn. Poison damage will ignore armor or Divine Shield.
Dispel should not be ignored as it will clear all positive status effects from the enemy monster. Venari Bonesmith is a very good card that you could buy for 0.6 USD. I will wait for a week or two and try to buy in in a range between 0.2 and 0.3 USD per BCX.
---
Pelacor Deceiver - When I first saw this card it doesn't seem like anything special but on a second look you can see a big potential. That potential could be unlocked through Backfire ability.
Backfire - If an enemy misses this Monster with an attack, the attacker takes 2 damage.
It seems that Backfire could be a thing in the Chaos Legion expansion and Pelacor Deceiver could be an interesting tank that relies on avoiding attacks. I see that Pelacor Deceiver could shine on level six, at the exact level when this card gets Backfire ability. I don't see that this card could shine on the max level as speed is not high enough but maybe with some buffs from other monsters, it could work.
Retaliate is another ability that Pelacor Deceiver will get on max level. These two abilities ensure that if you hit this card with a melee or ranged attack you will damage yourself too.
The price is quite low at the moment 0.13 USD but I will wait until it falls under 0.10 USD - would be very happy at 0.04 - 0.05 USD per BCX.
---
Summary
I hope that you are enjoying new reward cards the same as I am. There are quite a few interesting cards that we could see more often in the future. For now, I am not buying anything as I am expecting prices to drop due to a surplus of freshly printed cards.
---
If you are new here, #splinterlands is the amazing #NFT trading card game with #play2earn model. That means you can have a lot of fun AND you can earn money (DEC - Dark Energy Crystals) at the same time. If you don't have an account yet consider registering with my link.
---
---