Some Deep Pockets Going For The Top Spot... And What It Means For The Rest Of Us
The first pre-sale for Chaos Legion is about to end, and as we all know, the first six spots get to help create their own card.
As a marketing person, having a card named after your company is pretty smart, especially if our beloved Splinterlands continues to grow.
When you look at the top spot, and who might get a card named after them... it is two companies battling it out.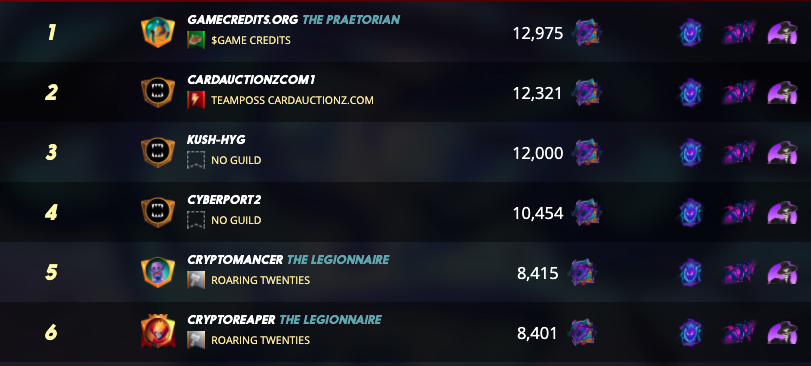 Game Credits and Card Autionz are going at it.
I think this is good for people like us. We're just tring to solidify 50 or 100 packs to gurantee an airdrop. Or pick up packs on Hive-Engine to be able to have cards.
Some people really went for it, and spent hundreds of thousands of dollars buying packs. That is a good thing. It means there is a ton of demand and some deep pockets.
It also means that some people have been dumping packs to try and help fuell more voucher buying and official pack buying.
I'm loving it. I'm picking up packs under $8 every single day. I'm actually still staking my SPS and selling older cards to buy packs.
If I can sell some random card for 22,000 DEC and buy 30 or so Chaos Legion packs... I'm trying to do that all day.
That is one card traded for 150! In that 150 I'm almost guranteed a few gold and maybe a gold legendary.
After the pre-sale, these pack are going to start inching up as we get closer to the 8th. NOT FINANCIAL ADVICE...
In my opinion, the Chaos Legion packs are some of the best NFT investsments right now. Especailly since people that have packs now can open them before the public can even buy them for $4. There is going to be a lot of FOMO and people trying to buy them up early... to play over the holidays.
What is your strategy now?
PS. If companies and some individuals are spending $250K to buy with a voucher... it is not unreasonable to think they will spend $250K to buy $4 packs. That is a million packs....
These packs are not going to last months... they are going to last days at best.
Let me know your thoughts.
---
---