Buying land on splinterland
Since the announcement by the splinterland team of the first stage of the sale of land I was hyped, I sold some other crypto to stack up on credits in order to buy a Tract (100plots) in order to participate in the extension of the game which I have been playing for two years when it first started.
After putting on the side over $800 aside in credits I felt horrible when I wasn't able to place my order on the first stage because it sold out within seconds.
And after reading the explanation by the team I realized that there was a lottery system I could have entered but I had no idea and I didn't find information about how to participate, I felt worst even a bit scared when they announced that the next stage was gonna be only lottery, I thought i wouldn't be able to participate.
Fortunately for the second stage you could enter the lottery directly on the site which I did last week, I decided to put an extra $170(compared to the first stage) down to be able to get a full Tract and the bonus coming with that.
I am really hoping to be lucky this Saturday and to get my Tract during this second stage of the sale because I think the price is still reasonable and I am really hyped about the upcoming possibility of the land.
I really like the idea to finance feature of a game before developing it so you can see if people are really interested, it does bring forward a sense that the community is listened to.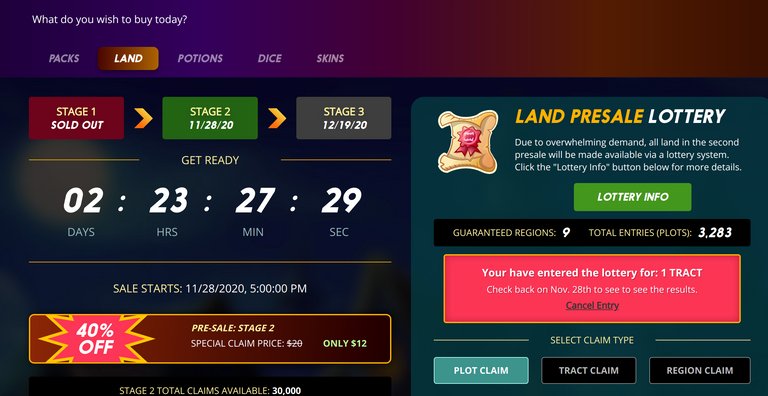 I wish you luck for anyone that is participating in the coming lottery for land.
Walt
---
---