Battling with the life gargoyle: Gargoya Scrapper

Hi there splinterlands players from around. In this weeks share your battle we are going to have a look at the Gargoyle from the Life splinter.
For this weeks entry i tested a level 4 card in a Silver I league battle with summoner Tyrus Paladium.
Gargoya Scrapper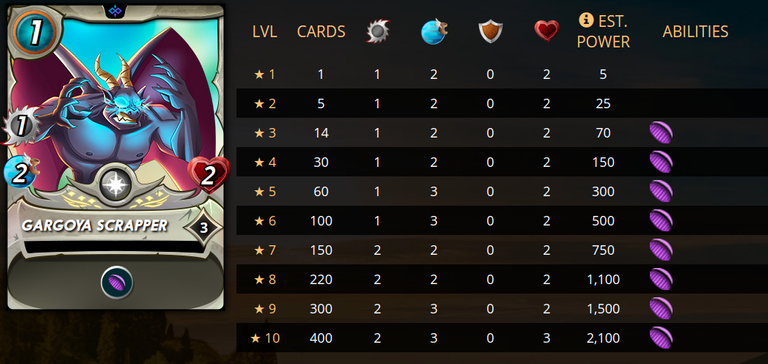 This stoney Gargoyle trades from owner for $0.034 for a level 1 and starting at $0.588 for a normal level 3. A gold foil level 3 will set you back around $0.86.
For this card, a level 3 is the minimum you should get because of it's added Void ability, giving it a little more use.

Pro's, Con's and Uses
Pro's:
Mana cost of only 1.
Void from level 3 and up.
Con's:
Low stats even on a maxed out card.
This little card can be used in some rule-sets as tank or 2nd line card, otherwise i wouldn't use it.
Where you can use it:
Low mana cap games (like under 12)
Equaliser: Because every monster will get the same health as the highest one, this means you will get a great tank for low mana cost.
Little League: With a cap of 4 mana per monster, this one will fit nicely.
Odd ones out: In this rule-set it can fill up that pesky 1 mana point that you couldn't fill up otherwise
Link to the full battle
Battle details
The battle was played according to these rules:
Rule sets: Healed Out & Odd Ones Out
Mana cap: 12
Tier: Silver I
And my line-up consisted of the follow monsters and there levels, and why:
Summoner: Tyrus Paladium, +1 defense
1st line: Gargoya Scrapper (level 4). I put it in tank position, because if we were up against magic monster, it would absorb some of the damage done
2nd line: Stitch Leech (level 4). A sneak monster with 3 attack. Combined with the Gargoya Scrapper to give the Portal Spinner some attacking possibilities
3rd line: Portal Spinner (level 4). With defense, 2 ranged attack and Scattershot a great closer.

Did it work?
My tactic worked great this time. Despite the opponent using Thruthspeaker for extra defense, it got taken down quickly. Also i was lucky enough for Portal Spinner to hit the back monsters first, leaving them open for the Stitch Leech to defeat.
And with the defense added by the summoner, the Gargoya Scrapper could stand long enough to leave only 1 opponent left.

Would you use it again?
If you like battling with the life splinter, and the Odd ones out rule-set apply, i would try to fit this little one 1. But it needs to be a level 3 at least if possible.

I hope you enjoyed my entry for this weeks battle, and if you do, don't forget to like and follow!
Hope to see you on the battlefield or in the next share your battle by @splinterlands!
If you want to give splinterlands a try, you are welcome to use my referral link
Images used in this post are owned and open-sourced by splinterlands.io
Dividers made by @rqr4, and if want to use them, you can find them in this post.
---
---