Splinterlands Vouchers... You Will Never, Ever Have Enough!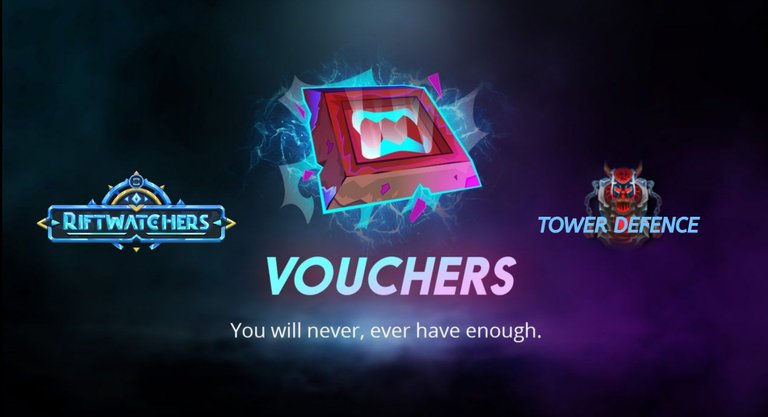 Evening
So, as expected Vouchers have started to pump in wake of Rift Watchers(RW) and Splinterlands Tower Defense(SPLTD). As of now, Vouchers have been going around $0.95 a piece.
Those who are planning on to participate in upcoming pre-sale events have been buying Vouchers. And many other who have been holding vouchers in hope of making a profit have already started dumping.
So the real question is what's the real value of Voucher? Once you ascertain their valuation, it would become more easy to decide if the pump have gas behind it or have been driven by Fomo.
To me the best way to assign value to Vouchers is the price Splinterlands treats them for pre-sale events. As of now, we have two SPLTD pack main events responsible for Vouchers price hike, Rift Watchers(RW) and Splinterlands Tower Defense(SPLTD).
Rift Watchers
In case of RW, Vouchers are a necessity (even for getting the extra bonus packs).
Please note that unlike Chaos Legion packs, EVERY Riftwatchers pack will require a VOUCHER token to purchase, both during the presale phase and afterwards.
Total supply of RW set is 3 million which coincides with the maximum circulating supply of Vouchers. So, in context of RW, vouchers are invaluable. Those planning on buying RW are gonna do so even if they had to purchase Vouchers off-market at a hefty price. If you ask me even at current price of $1.0 Vouchers are still undervalued and they may pump as high as $2.0 or above as pre-sale date draws near.
Splinterlands Tower Defense
RW aren't the only thing driving the Vouchers pump, as splinterlands team have another thing in pipeline called SPLTD which will certainly help Vouchers sustain their price. SPLTD values Vouchers at $3 a piece, meaning every purchase in SPLTD is gonna get a $3 discount with Voucher.
Each pack purchased with a VOUCHER will reduce the price of a pack by $3.
So, once SPLTD presales starts and eventually the mode gets going Vouchers are gonna pump even more because of SPLTD $3 discount impetus being always there to pull the price. I feel that this might be the last time we are gonna see Vouchers price below $1. Because who know what other things SL team have in pipeline to support Vouchers price.
Impact on SPS Price
The only way to get Vouchers apart from secondary market purchase is via SPS staking and Nodes. With Vouchers being in high demand a supply crunch is inevitable, which is gonna push people to stake more and more SPS to get larger quantities of Vouchers. And with increased staking, SPS price is also gonna pump in long run.
The ways things are getting placed, as evident from two recently announced events, it is clear that Vouchers are slotted to become an integral part of SL internal market. And once again I am tempted to quote, " You will never, ever have enough".
That will be all for today!
What do you think about Vouchers price?
Do let me know in comments below👇



---
---