Six focus chests of nearly nothing, while being amongst the top 10 000 Splinterlands players in the Silver III League (2022.07.27)
A common Pelacor Bandit card (currently worth $0.01 USD), and 34 Dark Energy Crystals (DEC), and six Merits. I am not even in a guild.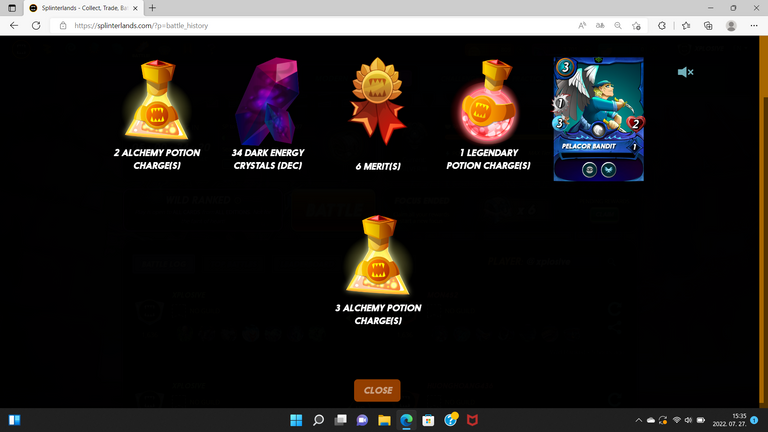 But currently I am amongst the top 10 000 Splinterlands players. I am currently the 9590th. And this is what I receive for playing Splinterlands for hours and hours.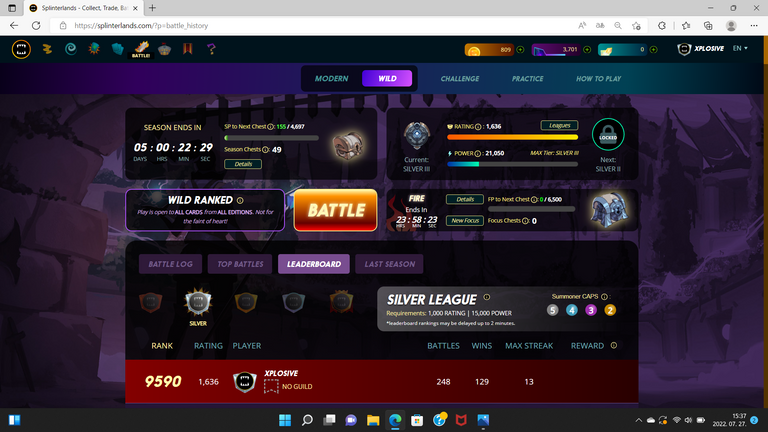 The five Alchemy potion charges, and one Legendary potion charge is a complete bullshit. Actually the biggest bullshit I have ever seen in Splinterlands so far. This is like as if Splinterlands would laugh in our faces. Or rather slap our faces.
I played 248 battles in this season so far, and I won 129 battles, so my current win rate is 52.01%. I really try to assemble good teams with what I have, and I even win more than the half of the time, and this is what I receive as a reward.
This is ridiculous. Shame.
I think twice before I will play more battles. Maybe I will just put up a part of my Splinterlands card collection to the rental market to lease them out.
I managed to get into literally the top 10 000 Splinterlands players, and the rewards are still shit. It is not worth it to play this game anymore.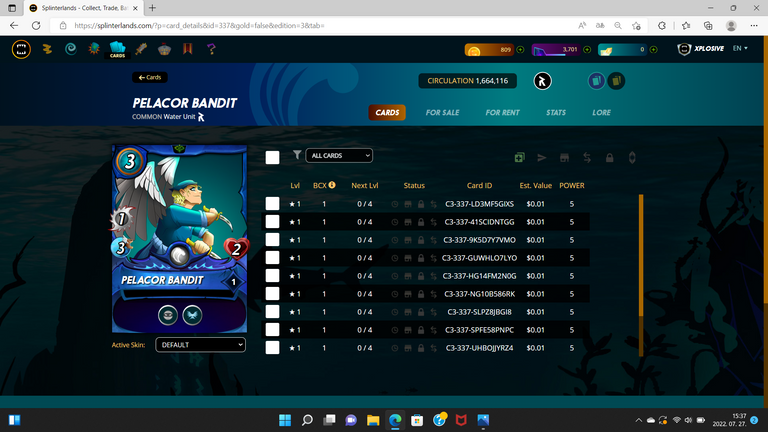 A $0.01 USD common card. For successfully playing hours and hours, and for being amongst the top 10 000 players in the Silver III League. Well done, Splinterlands. Well done.
But now seriously. A great way to discourage and scare away the players.
I am nearly done with this game. Absolute and complete disappointment. Literally time wasting.
This feels very bad to write down, because I am playing Splinterlands since 2018.12.30, and this game was one of my favorite games in the past.
I heard that many players are complaining, so I maybe the developers are listening to us. Maybe they will make Splinterlands good away. I still have hope for this game. But today's reward is like a slap in the face.
Good luck and have fun.
Have a nice day. All the best. Greetings and much love from Hungary.
---
---