Beware those souls that stalk you on foot.
Welcome back to my Battle challenge blog 😉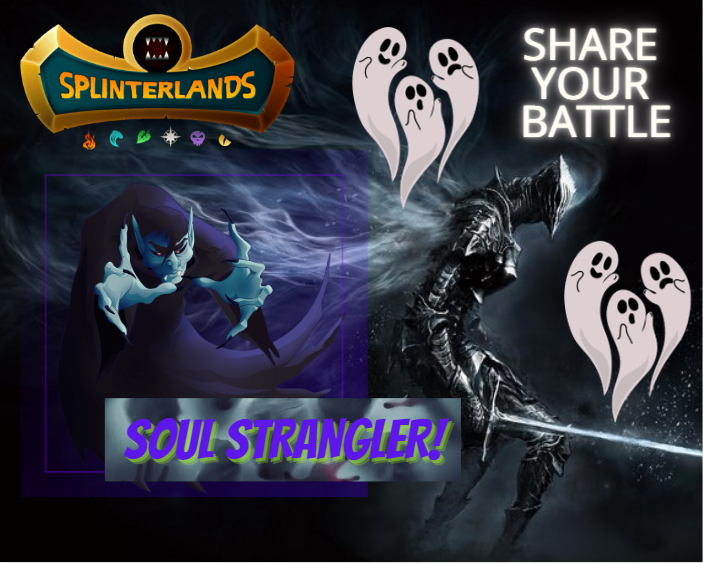 Thoughts : 🤔
This Week's Challenge is Fairly Good; I enjoy the concept of the Card Soul Strangler and plan to use it to advance in the rankings this season. I wish to use Soul Stranler in the battlefield in more combos and strategies. Conqueror Jacky is the name of the legendary card that will be released in the upcoming airdrop. I can't wait to use that card as well. Those who can afford to do so will be among the lucky ones to participate in the anticipated airdrop after the purchase of one million cards by users and players.
SPS Price Update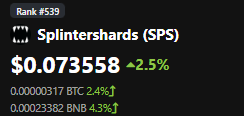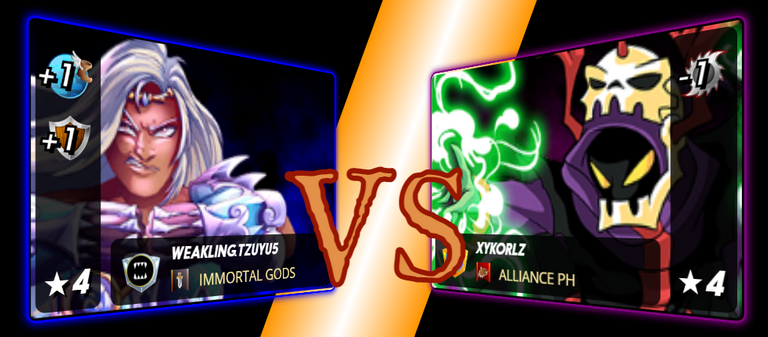 Great job, mate; that fight was fierce!

Silver Division League


Soul Strangler - Challenge of the week⭐️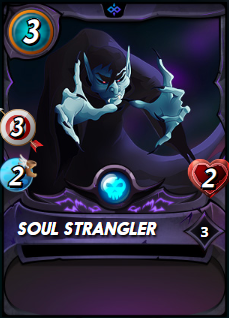 I just rent a level 3 Soul Strangler Card.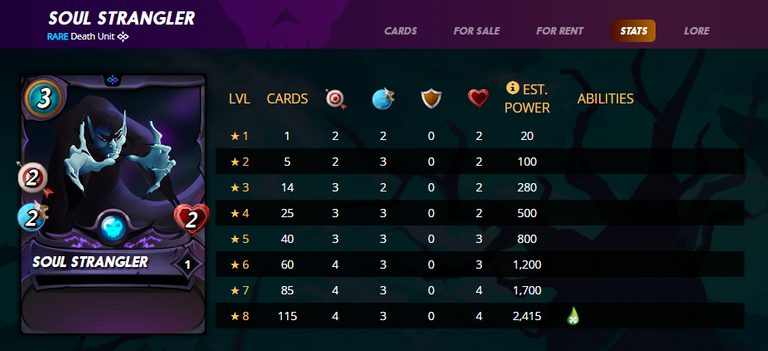 Sharing my battle story fighting with Soul Strangler
---
==RULES OF THE GAME==
Heavy Hitters: All monsters had the ability to knock out the opponent creatures' cards.
Lost Magic: Monsters that have magic abilities cannot use on the battlefield.


Mana Cap 15
~~ Elements that are not Active ~~

Life

15 Mana Cap is the struggle on this challenge!


My winning bonus shares

Youtube Video Battle

I made a video to illustrate the audience the intense moments when I deploy Soul Strangler as part of my combat approach.

(Unsupported https://youtu.be/Xpp6rQlG-mU )

Short Film Battle Link : Splinterlands Battle Challenge Soul Strangler 💪

BATTLE SUMMARY

Round 1

I lost my Soul Stragler in the first round because I was too slow in the first combat round and I didn't anticipate that my opponent would unleash sneak attackers. I can definitely feel myself getting frustrated and upset, but I still need to keep fighting without my Soul Strangler. I'm merely protecting my monster in the field while my attacker made a significant impact and launched the initial assault.

Round 2

In the following battle, my range attackers were consistently destroyed. I believe that this round will not result in victory for me since I lacking the damage necessary to penetrate my opponents' cores. My range attackers, which only last for the second round, are what I think will make the difference in this battle. Without them, I fear that I would fall.

Round 3

I pay attention to how my opponents punish my back lines in the third round as my Shadowy Presence steadily takes a lot of damage from Sabre Shark and Pelacor Bandit. as I only defeat the frontline tanker of my opponent's team which is Ooze.

Round 4

In round four, all of my support was destroyed by sneak attacks; my corpse fiend and furious chicken died instantly because they didn't have a lot of hit points. Their purpose was to support my tank and sustain the battle, but since I don't have a range attack to defend anymore, it's okay that they lost this round. My Curse Windeku is the only monster left to face my enemies' cards.

Round 5

I managed to survive all of the lethal strikes delivered by the Elven Cutthroat, Pelacor Bandit, and Sabre Shark in this round, so it was pretty good. Elven Cutthroat was the first monster to be defeated by the thorns followed by Pelecor Bandit because as they deal damage, I deal more damage because to Curse Windeku Skills Torns. as a result of others who broke their armor and became vulnerable for the upcoming round. My Curse Windeku has a low hit point count, but despite this, I believe it can still manage that time and control the phase of the combat.

Round 6

In Round Six, despite the damage that my monster took, my Curse Windeku was still standing with only 2 hit points remaining, and that Gold Furios Chicken had the 1 Damage to attack with, making the combat extremely intense. However, those 2 hit points prevented me from eliminating Curse Windeku. I've just damaged the furious chicken's armor, leaving it open to attack in the following round.

Round 7

In the last battle, I delivered the killing blow because I have 3 speed points while the chicken only has two. Even if the chicken had been the first to attack, he would have perished and a draw would have resulted, but I had rented a level 3 Curse Windeku to maximize its stat potential, going to guarantee a win.

==Quick Battle Link==

Battle link





The Combat Link that leads to the actual battle on the website of the Splinterlands.


Did your strategy work? What will you try differently next time? Do you like the Soul Strangler ? Why or why not?

1ST Question

Yes, my approach worked extremely well. I was in a bad situation when I saw there were only one of my creatures left on the battlefield, and I honestly believed I would lose the game. However, Cursed Windeku was able to defy the odds and eliminate every last monster of my opponents. I was able to maintain a decent lead thanks to my thorns and health points until the seventh round when I knocked his furious chicken. Despite my best attempts, I was unable to force my Soul Stranger to survive the first round of combat because of my opponent's sneak attack.

2ND Question

The next time I take on this challenge, if I am enabled to utilize Thaddius Brood, I think I'll try a different methodology because it can enhance health points and reduce magic damage by 1, which is a powerful counter against magic and in circumstances where poison gives me an edge to start with one health point. If there is no sneak attack, I believe that my Soul Stranger strategy method will allow me to perform well since soul strangler would still be in the last position fighting my enemies.

3RD Question

Soul Stranlger, a card with a low mana cap and increased attack damage when it is a level 3 card with 3 attack, is one of the best in the modern league. This is ideal for approaching battles with low mana caps. This card can be used in your backfield to assist you win ranked battles and tournaments.


Join the game with my referral link: https://splinterlands.com?ref=xykorlz
if you like my content please follow me for more 🤗





---
---